During President Trump's inauguration in January, George W. Bush's wardrobe malfunction in the stands nearly stole the show.
Watching the former president's comic exasperation as he struggled with a rain poncho was a moment that all Americans could appreciate.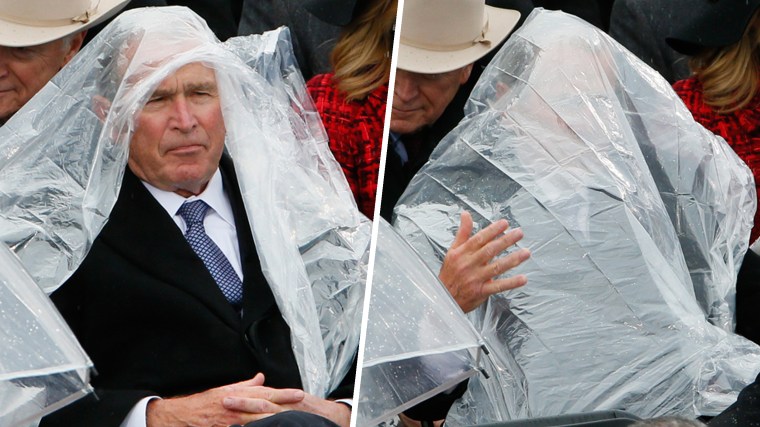 On her show Wednesday, Ellen DeGeneres couldn't help but needle Bush about it as she tried to get to the bottom of his struggles with the translucent plastic sheet.
"There's, there's...have you put one on?'' she asked as pictures of Bush fumbling with it flashed on screen. "Is that the first time?"
"It looks like it, that's for sure,'' Bush said.
RELATED: George W. Bush opens up on Trump's war with the media, travel ban, Russia and veterans
At least Bush wasn't alone in his utter confusion over the workings of the poncho.
DeGeneres showed a photo of Bush's mother, former first lady Barbara Bush, also seeming mystified by how to properly wear the rain protector.
"I feel like it must run in the family because your mom had an issue also,'' DeGeneres said.
"It's genetics,'' Bush said.
DeGeneres then decided to help out by giving him a poncho that had a crucial bit of instruction written right on it: "This side up."
Follow TODAY.com writer Scott Stump on Twitter.