Ten years after being rescued following a brutal nine-month kidnap-rape ordeal that she says left her "absolutely broken, absolutely shattered," Elizabeth Smart joined NBC special correspondent Meredith Vieira to revisit the chilling scene where she was held captive.
"There was a point that I stopped crying,'' Smart says in a Meredith Vieira Special that will air at 10 p.m. ET Friday on NBC. "It's not just because I didn't feel pain any more, not because I didn't feel sorrow. It was just to keep going. I mean, it just was to survive, to live."
Smart wrote a book, "My Story," to be released next week, about traumatic experiences that include being chained, disguised in public, repeatedly raped and threatened with death after being abducted in June of 2002. At age 14 she was taken at knifepoint from her bedroom in Salt Lake City by Brian David Mitchell, after which Mitchell forced her to climb up the mountainside behind her home for hours before leading her into a remote camp with a tent.
Smart and Vieira went to the scene where that tent once stood, and Smart remembered a strange woman in long linen robes ordering her to undress. It turned out to be Mitchell's wife, Wanda Barzee. Mitchell then began performing some kind of marriage ceremony.
MORE: A decade after her rescue, Elizabeth Smart says, 'I didn't feel human'
"I was begging and crying and just so scared,'' Smart told Vieira. "I remember thinking, I know what comes after a wedding. And that cannot happen to me. That cannot happen."
Only a few hours earlier, she had been at home in her bed. Now Mitchell had her trapped.
"I remember him forcing me onto the ground, (and) fighting the whole way,'' she said. "And then when he was finished, he stood up, and I was left alone, feeling absolutely broken, absolutely shattered. I was broken beyond repair. I was going to be thrown away."
Mitchell later chained her to a tree, and months of abuse followed. Smart was able to outwit her captors in order to stay alive until a biker who had heard of the kidnapping on television alerted police when he saw Smart, disguised in a wig and sunglasses, with Barzee and Mitchell. 
"It was a means to an end,'' Smart said. "I felt that that was my greatest chance I had at getting home, at being rescued."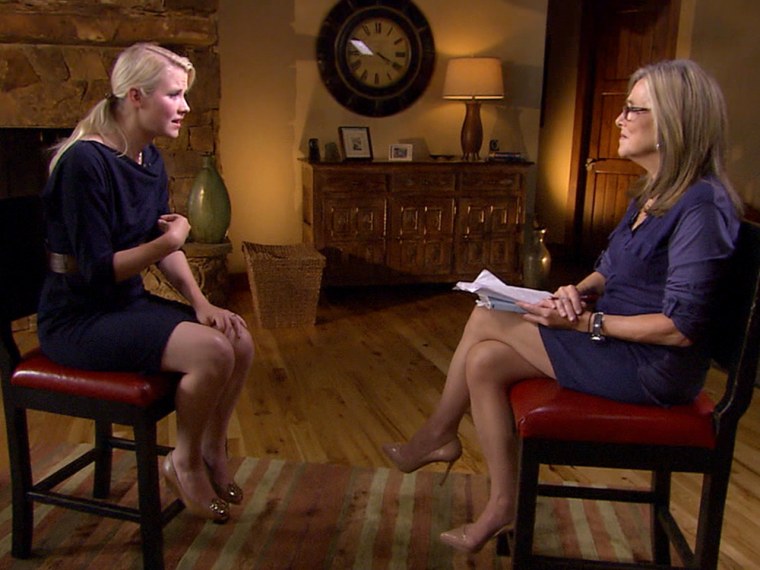 Despite going back to the area where she was abused and held for nearly a year, Smart was not overly emotional. 
"Once you go up there and see how remote it is, and the underbrush is so thick, there's not a chance she could've escaped from that campsite,'' Vieira told Willie Geist on TODAY Friday. "I said, 'Does this give you the creeps just being back here?' She said, 'You know, it doesn't. I was totally comfortable here because this place didn't hurt me. Brian David Mitchell and Wanda Barzee, they're the ones who hurt me.'
"I don't think she wants to show emotion, particularly crying at this point, because it would just make (Mitchell) feel that he still has some control over her," Vieira added. "The only time she gets really agitated is when you ask her, 'You had these opportunities to escape, why didn't you?' That's when she gets extremely agitated. She's a remarkable young woman."
With the help of Smart's testimony, Mitchell and Barzee were convicted. Mitchell is serving a life sentence and Barzee is serving 15 years to life.
In addition to writing the book about her ordeal, Smart has also created the Elizabeth Smart Foundation to help prevent crimes against children, and has gotten married. She will also appear in an exclusive, live interview on TODAY Monday, Oct. 7, to talk further about her story.