/ Source: TODAY contributor
It was lust at first sight. She was 42 and divorced. He was 10 years her senior and a United States senator from North Carolina.
"You're so hot," the sexy blonde told the handsome politician the day they met on the corner of 61st and Park Avenue in New York City.
"Why, thank you," he replied.
Within hours of that February 2006 meeting, according to Rielle Hunter, the affair between her and presidential candidate John Edwards had begun.
"Falling in love with you could really f--- up my plans for becoming president," he told her.
"If you want to make God laugh, tell him your plans," she replied.
The affair, initially denied by Edwards, resulted in the February 2008 birth of a daughter, Frances Quinn, and ended Edwards' political career.
Breaking her silenceSince the affair was revealed by The National Enquirer in July 2008, Edwards has talked about it. His estranged wife, cancer-stricken Elizabeth Edwards, has written about it. Even Andrew Young, the campaign aide who initially claimed paternity of Frances Quinn in an effort to protect Edwards' presidential candidacy, has had his say. Through it all, Hunter remained silent.
Now, Hunter is finally giving her side of the story in a 10,000-word Q & A interview with writer Lisa DePaulo in the current issue of GQ magazine. Most of the interview took place in Hunter's rented North Carolina home over two days in January.
First things first: DePaulo reports that Frances Quinn "looks exactly like John Edwards." And, while she could have sold the story for big bucks, Hunter is not making any money from the GQ story.
DePaulo told TODAY's Matt Lauer Monday in New York that she feels Hunter simply wants to tell her own story in her own words.
"It's been several years of people defining her. Rielle really wanted to put the whole story out of there. She wanted her words to be her words, unspun, unfiltered," DePaulo said.
'I know he loves me'In addition to giving the interview to GQ, Hunter also posed for pictures, including several sultry poses on a bed as well as a picture of her with her 2-year-old daughter. But on "the View" Monday, Barbara Walters said that the 45-year-old Hunter had told her that morning that she found the photos "repulsive" and "cried for two hours" upon seeing them. During the shoot, "I went with the flow," Walters said Hunter told her.
As for the interview, DePaulo started it by asking Hunter why she has waited so long to finally give her side of the story that ended a political career.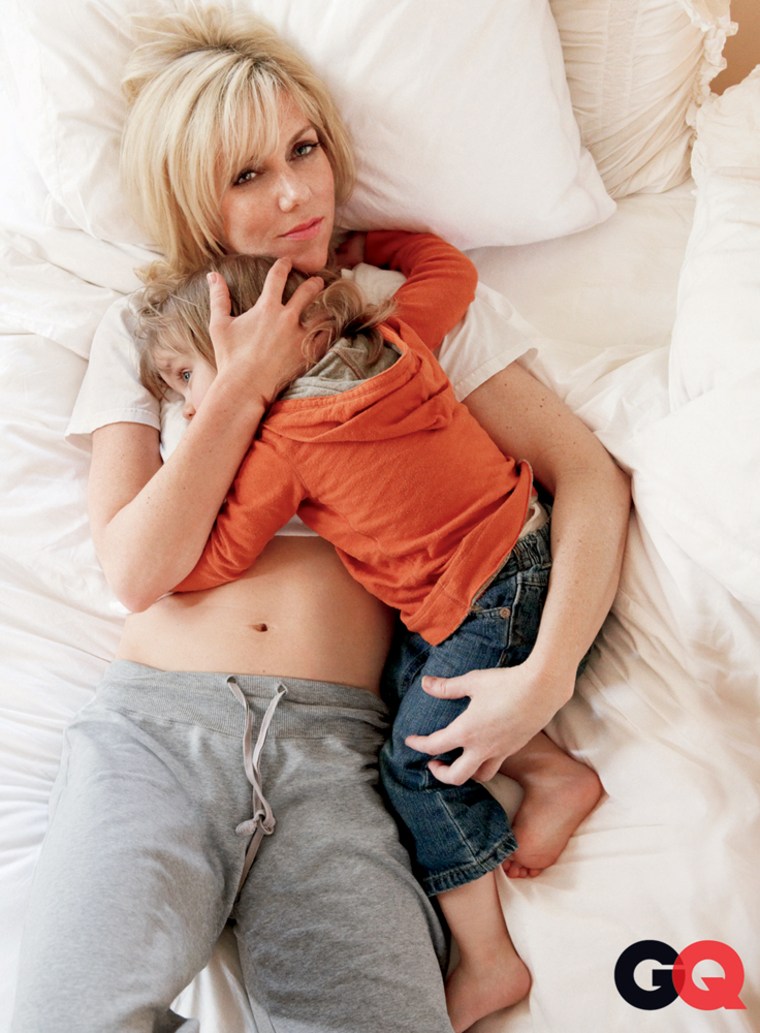 "I feel comfortable talking now, because Johnny went public and made a statement admitting paternity. I didn't feel like I could ever speak until he did that. Because had I spoken, I would have emasculated him. And I could not emasculate him," Hunter said.
And, yes, Hunter calls Edwards "Johnny."
"When I first met him, the first week of our relationship, I said to him, 'For some reason I cannot call you John, it doesn't come out. Could I call you Johnny?' And he said, 'That's my name.' And I didn't know that, but that's his actual birth name," Hunter told DePaulo.
Hunter told GQ that she and Edwards, who is now separated from his wife, are still in love.
"I know he loves me. I have never had any doubt at all about that," she told DePaulo. "We love each other very much. And that hasn't changed, and I believe that will be till death do us part. The love doesn't go away. It's unconditional. It's unconditional on my part, but our connection is profound. There's a lot of passion there."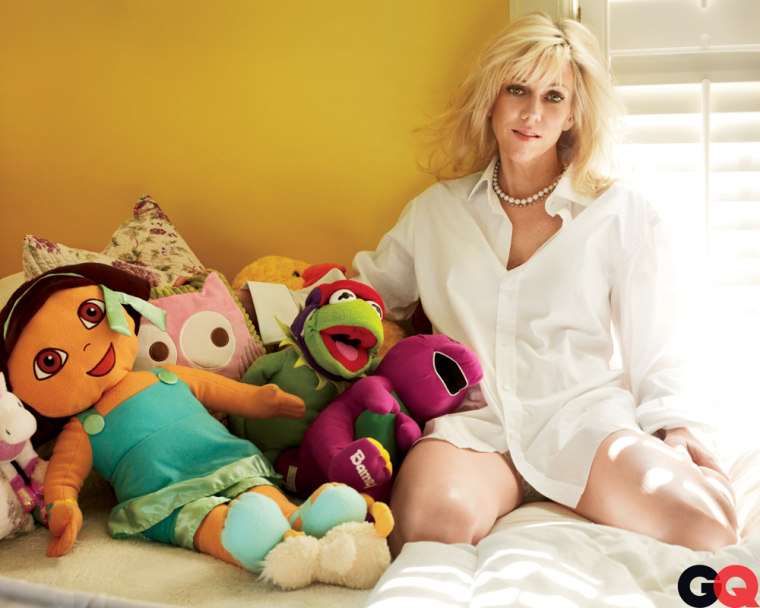 DePaulo told Lauer that the relationship between Edwards and Hunter is continuing but defies easy description.
"I think the short answer is, they're together," DePaulo told Lauer. "It depends how you define 'together.' It's not a conventional together."
'The wrath of Elizabeth'The public narrative equates the affair with Edwards' fall from grace. Hunter told GQ that's totally wrong.
"In reality, he's fallen to grace," Hunter said. "He is integrated. He is living a life of truth. He has grown in awareness and humility."
Edwards was painted as a liar and a coward for not admitting to the affair and then getting his aide, Andrew Young, to claim that he was Frances Quinn's father in an effort to protect Edwards' fading candidacy.
DePaulo said that Hunter believes Edwards has been totally honest with her. "She said, 'I know him and he doesn't lie to me,' " DePaulo told Lauer.
Hunter blames Elizabeth Edwards for the mistakes Edwards made in handling the affair.
"Most of his mistakes or errors in judgment were because of his fear of the wrath of Elizabeth," she said in the GQ interview. "He's allowed himself to be pushed into a lot of things that he wouldn't normally do because of Elizabeth's story line. And the spin that she wants to put out there. He was emasculated. And you know, the wrath of Elizabeth is a mighty wrath."
Hunter said in the interview that Edwards wanted to abandon his presidential run, but Elizabeth wanted him to stay in: "I really viewed it as reckless," Hunter commented. Hunter said that John and Elizabeth Edwards' marriage "was a toxic relationship."
'He's a great father'
Edwards initially wanted Hunter to abort their baby, she says in the interview. She refused, and he has become an involved and loving father, Hunter said.
"He's a great father. Once Johnny and Elizabeth separated, we were able to move forward quite quickly. And it has to do with him not hiding in order to see his daughter. He very much wants to be in her life full-time, and he doesn't want to hide," she said in the interview.
Hunter has been an actress and a writer, but most enjoys making documentary videos, DePaulo said. It was as a documentarian that she originally joined the Edwards campaign. DePaulo told Lauer she feels Hunter wants to move on now that she's told her side of the story.
"I think she very much wants to get on with her life, and that's one of the reasons she wanted to answer every question," DePaulo said.
While Hunter hopes to move on, DePaulo said, a paparazzo with a camera on a tripod stakes out her rented home in North Carolina. When he shows up, local police chase him away. Then he comes back. DePaulo doubted that Hunter's interview will satisfy the tabloids.
"Will The National Enquirer say, 'Well, thank you, Rielle, now we're going to leave?' " DePaulo asked rhetorically. "I think not."