Best week ever!
Injured Philadelphia Eagles quarterback Carson Wentz has proposed to his girlfriend, Maddie, following his team's win in Super Bowl LII on Sunday, and the football star couldn't help but gush about his engagement on social media.
"She said YES! And now Maddie and I both got us a ring," he captioned a sweet slideshow of the pair on a rooftop, complete with candles and dangling lights. "Can't wait to marry my best friend! God is doing some amazing things and I can't thank him enough!"
In one photo, the athlete is down on one knee as Maddie looks down at him.
Wentz, 25, shared a number of photos from the proposal, including a few photos of Maddie jumping into his arms in excitement.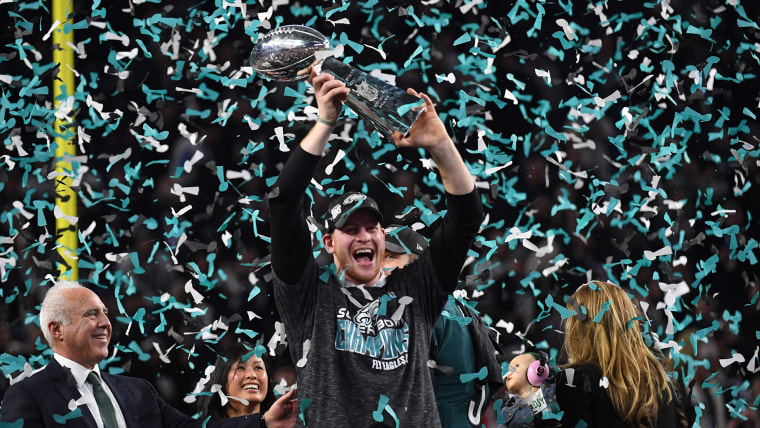 Wentz suffered an injury to his left knee in December during a game against the Los Angeles Rams and was unable to play in the Super Bowl Sunday night. The Eagles were instead led by backup quarterback Nick Foles in their 41-33 victory over the New England Patriots.
"Last year, I went to the Super Bowl and did appearances and everything," Wentz said prior to Sunday's big game, according to The New York Times. "I said, 'I'm not coming back until I'm playing in it.' Here I am, and I'm actually not playing in it."
But to Wentz's credit, getting engaged to the love of his life is perhaps the biggest win of all. Congrats to the quarterback and his bride-to-be!