Dwayne "The Rock" Johnson made his uncle's Christmas merry and memorable with the gift of a thank-you — and a shiny new truck!
Sharing the story Sunday with his substantial Instagram following, the "San Andreas" star posted a photo collage of Johnson and his uncle, Tonga Fifita, smiling in front of the expensive present, and two vintage pictures from their wrestling days. A fellow wrestling champ, Fifita trained with Johnson's grandfather, High Chief Peter Maivia, and was nicknamed "King Haku" in the '70s, back when the WWE was known as the WWF.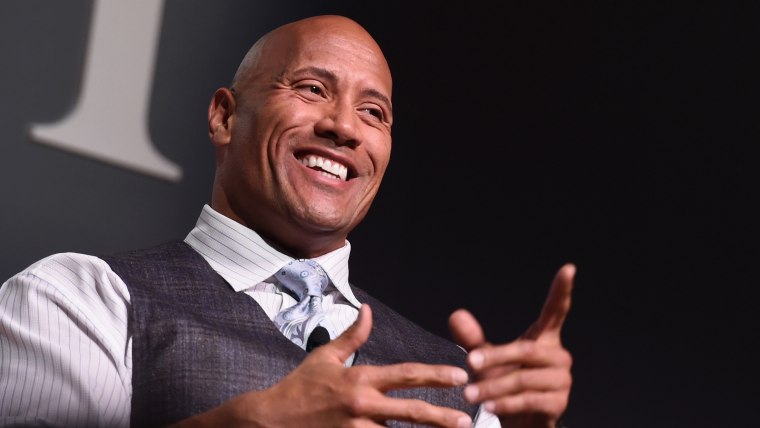 A decade or two after Fifita's career wrapped, Johnson was recruited by WWE owner Vince McMahon for a tryout match. Johnson was thrilled, but there was one major problem: "For me, I wasn't just having 'a tryout match', because I had never actually HAD a real match in my life," reads the part of the photo caption. "Ever."
RELATED: Dwayne 'The Rock' Johnson serenades newborn daughter, Jasmine, in precious video
He didn't even have the bare necessities to climb into the ring. "What they also didn't know was that I was broke as hell and didn't actually own wrestling gear," he wrote, "no boots, knee pads or most importantly, wrestling trunks." Although he was able to find bright white volleyball knee pads at a sporting goods store, he still needed shorts.
"[I] called my Uncle and asked if he had ANY trunks I could use for my tryout," reads Johnson's caption. "He said all I have is a pair of shiny purple trunks (purple was his signature color), I told him I don't care if the trunks are all the colors of Skittles, I'll happily wear them. When I picked the trunks up from him I'll never forget the monster hug he gave me, look me in the eyes and said, 'I'm so proud of you. Go get 'em nephew!'"
The vintage photo of Johnson in the photo collage shows Johnson wrestling in his first match in Corpus Cristi, Texas, where the budding superstar did his thing "proudly in my lucky purple trunks."
Fast forward to this holiday season, when Johnson decided to repay his uncle — described in the caption as a "family man, humble man and champion [and] one of the greatest human beings I know" — in grand fashion.
"So we walk outside and I said 'Uncle how do you like my truck?' He said, 'Whoooaaa nephew it's beautiful... I love it!' I said 'Good 'cause it's yours.' He was speechless," reads the caption. "Thru tears (manly of course;) we monster hugged 'cause I'll never forget what he did for me when I had nothing."
RELATED: Dwayne Johnson gets emotional while talking about his relationship with daughter
In addition to wishing his uncle a merry Christmas, the actor concluded his post with "ofa atu" (translation: "I love you") and the hashtag #LuckyPurpleTrunks.
Last month, in a candid discussion about his battles with depression, Johnson thanked his father for helping to prepare him for that fateful day in Corpus Cristi. "My dad rose to the occasion," Johnson said in a YouTube video posted by Winfrey's OWN channel Nov. 12. "He said, 'I'll train you.' And it wound up being one of the greatest chapters in my life."
Follow TODAY.com writer Chris Serico on Twitter.