Describing the alleged bullying that caused him to leave the Miami Dolphins this season, former offensive lineman Jonathan Martin told NBC Sports analyst and former NFL coach Tony Dungy that the attacks were both "personal" and "racial."
"There was persistent comments of a racial nature, aggressive sexual comments related to my sister and my mother,'' Martin told Dungy in the interview, portions of which aired on TODAY Wednesday morning. "I've spoken to my former teammates in other locker rooms across the NFL and I asked them, does this stuff go on? Is this normal rooking hazing? The consensus was, this is not normal." 
The harassment was constant and extended beyond his rookie year, according to Martin. "I have no problem with the normal hazing that you see in the NFL. 'Get a haircut,' stuff like that, little pranks. The personal attacking nature, I don't think there's any place for that."
The full interview airs on NBCSN's "Pro Football Talk" Wednesday at 6:30 p.m. ET. 
Martin, 24, left the team on Oct. 28 in the midst of his second season with the Dolphins, alleging that he was harassed by fellow offensive lineman Richie Incognito and others. But Martin told Dungy the alleged hazing went beyond Incognito, who was accused of leaving an expletive-filled voicemail with racial slurs. Martin said he only spoke to his position coaches about it, but never to Dolphins head coach Joe Philbin. 
"There were other people that got it, too,'' Martin said. "I can't say why I may have gotten more."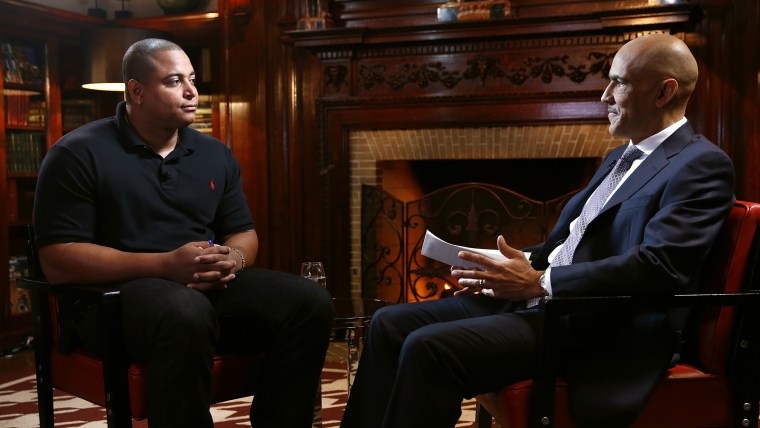 Incognito, 30, was suspended on Nov. 3 for conduct detrimental to the team in the wake of the bullying scandal and has not played since. An NFL investigation is ongoing, and the Dolphins declined comment to TODAY until the investigation is concluded. A representative for Incognito also declined comment.
"I'm embarrassed by my actions,'' Incognito said in a November interview with Fox Sports. "But what I want people to know is, the way Jonathan and the rest of the offensive line and how our teammates, how we communicate, it's vulgar. It's, it's not right."
"I understand why a lot of eyebrows get raised, but people don't know how Jon and I communicate to one another," he added.
In his interview with Dungy, Martin indicated that he hopes to get a second chance with another team and is ready to return to pro football. On TODAY Wednesday, Dungy told Carson Daly that he has spoken with the general managers of three teams who said Martin is a good player and will get an opportunity, but the controversy with the Dolphins could have teams thinking twice before acquiring him. 
"They're all afraid of the scrutiny that comes with it,'' Dungy said. "He's got to get to the right environment, not a place like the Miami locker room."
Dungy told Daly he believed that the alleged bullying Martin described went well beyond normal locker-room hazing. "Jonathan is very much like a lot of players that I coached,'' Dungy said. "He's intelligent, he's passionate. I didn't see him as any different. The thing that maybe didn't come across in this was just how personal this was for him. Not the normal things. I listened to some of the voicemails and saw the text messages, and it was, as he said, racial, personal, attacking his family. It was a tough, tough situation. I couldn't picture anything like this going on in the locker rooms that I was involved in." 
Dungy hopes Martin's situation can be a catalyst for change in NFL locker rooms when it comes to hazing. 

"I think we've got to be sensitive to what's going on in this whole environment,'' he said. "I don't know how it started, but it definitely escalated into something more than you would want in your locker room."