Kate Middleton may have her own crown jewels one day, but for the time being, she's choosing bargain jewelry.
No stranger to making affordable finds from Zara and Whistles look like a million bucks, the Duchess dazzled in faux diamond and pearl drop earrings from jewelry designer Belinda Hadden's "Fabulous Fakes" line during Thanksgiving service in London — part of Queen Elizabeth II's Diamond Jubilee celebration — on Tuesday.
PHOTOS: Every moment from Queen Elizabeth II's Diamond Jubilee
The sparklers, which retail for $75, sold out immediately on the designer's site — the same effect that has followed the Duchess' other fashion picks, like her Reiss dress from last year.
"Within the next 24 hours, I had sold out. I sold 60 on my website, which is the amount I would usually sell in a whole year," Hadden tells the Daily Mail.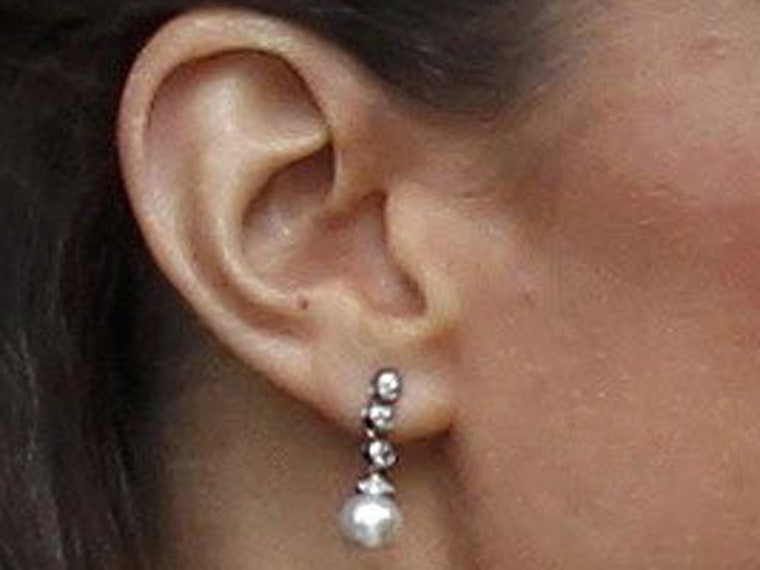 "[The earrings] are made of finest grade cubic zirconia, but what makes them look authentic is the settings they are in," she continues, adding that "the pearls are made from ground-up freshwater pearls reconstituted with resin."
PHOTOS: Prince William and Kate Middleton's first year of marriage
With husband Prince William and her other in-laws at her side, the 30-year-old royal chose the earrings to accessorize her pale pink Alexander McQueen dress, which she topped off with L.K. Bennett heels and a Jane Taylor hat.