Duchess Kate rarely disappoints her fans, but when she visited Grimsby, England last month, she left one school girl wanting more.
10-year-old Isabella Clarkson had been on her way with her brother and sister to see the Duchess at the Havelock Academy, but arrived too late to even catch a glimpse after the family was delayed by severe weather conditions.
Slideshow: Duchess Kate's maternity style
Isabella was so disappointed that she wrote to the Duchess of Cambridge to tell her what had happened, and was rewarded with a letter back from St James' Palace — complete with the royal crest and a picture of the Duchess.
Isabella told the local paper: "My mum was so excited when it arrived at our house that she brought it into school and the teacher read it out to the class."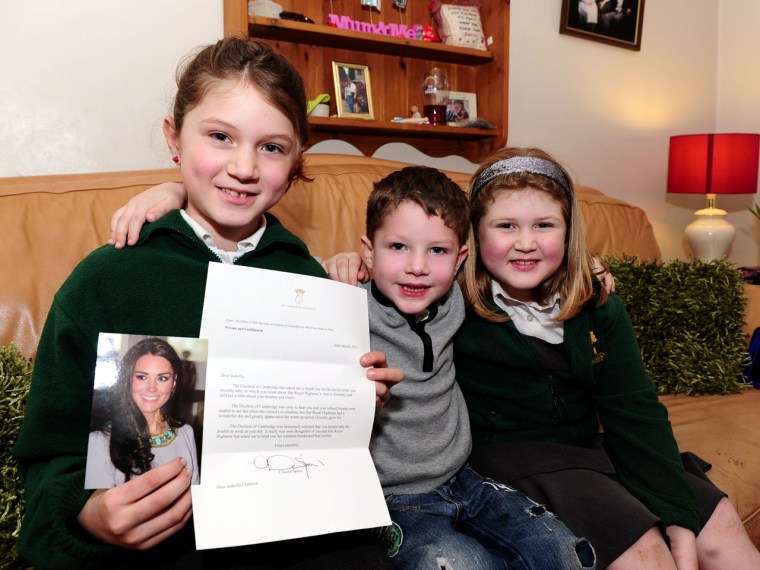 The letter, which the Palace confirms is genuine and was sent by Kate's office, reads:
"Dear Isabella, the Duchess of Cambridge has asked me to thank you for the lovely letter you recently sent, in which you wrote about Her Royal Highness' visit to Grimsby and told her a little about your brother and sister.
"The Duchess of Cambridge was sorry to hear you and your schoolfriends were unable to see her when she visited Lincolnshire but Her Royal Highness had a wonderful day and gratefully appreciated the warm reception Grimsby gave her.
"The Duchess of Cambridge was immensely touched that you should take the trouble to write as you did. It really was most thoughtful of you and Her Royal Highness has asked me to send you her warmest thanks and best wishes."
Isabella's mother, Jackie Clarkson, said: "It's a lovely thing for her to keep and look back on in the future, especially as Kate will be queen one day."
Duchess Kate returns to the spotlight on Thursday as she and her husband Prince William are due to visit Glasgow, Scotland.
Follow Georgina on Twitter at @GeorginaITV