Palace officials announced Monday that the duchess and Prince William are expecting an heir to the throne.
The recurrent headline had become increasingly persistent in recent months, with the slightest lump in dress fabric or change in hairstyle generating a frenzied round of pregnancy rumors.
This will be the first grandchild for both the royal and Middleton families.
The duchess was admitted Monday to King Edward VII Hospital in Central London with hyperemesis gravidarum (or severe morning sickness), according to a release from the palace. As the pregnancy is in its "very early stages," Kate will stay in hospital for several days, the palace said, and then she will "rest thereafter."
Hyperemesis gravidarum: 'You just feel like you're dying'
A palace spokesman confirmed to TODAY.com that Kate's attendance at three upcoming engagements (the ICAP Charity Day in London on Wednesday, the Winter Whites Gala in aid of Centrepoint on Saturday and the British Military Tournament at Earl's Court, London on Sunday) has been cancelled.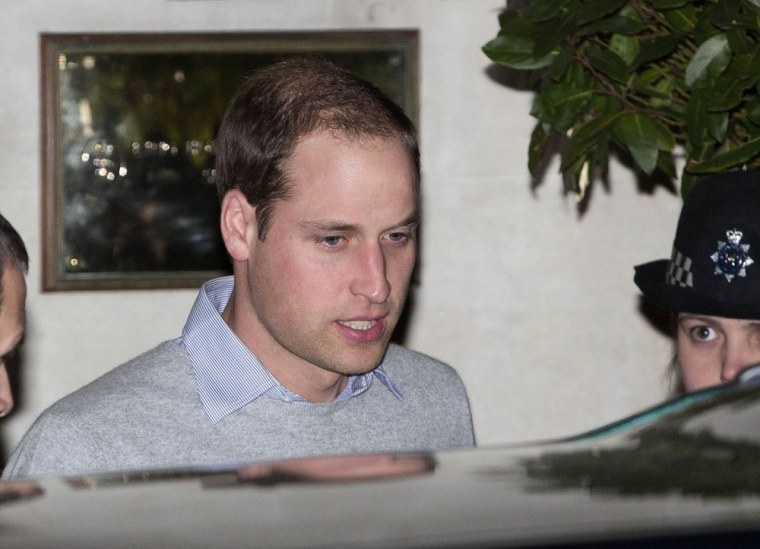 News about the future heir should come almost as a relief to royal watchers who have scrutinized every public appearance by Kate, 30, for signs of a baby bump. The duchess sparked pregnancy rumors no matter what she did or where she went in the past year.
Watch video: Duchess Kate's photos of William released
The most feasible story emerged after the duchess used a glass of water instead of wine during two toasts at an official state banquet in Singapore last September. Prince William and others present raised glasses of wine.
Most recently, speculation has arisen from her choice to wear long coats, lots of dark colors and looser dresses to hide her small frame.
Slideshow: Duchess Kate's royal style
The young royal couple, who wed in April 2011, have been very open about wanting to have children. Prince William has been quoted as saying he wanted two kids during that same visit to Singapore.
But they also have made clear that they plan to enjoy married life before becoming parents. That's was made quite clear in photographs of the playful couple having fun at the Summer Olympics in London and, just before that, during the Queen's Jubilee.
Archive video: Britain celebrates the birth of Prince William
Kate and William have had more childless time together than their predecessors. The prince's mother, Princess Diana, got pregnant with William a few months after her July 1981 wedding. Prince Charles, the next in line to the royal throne, was born just days before Queen Elizabeth's first wedding anniversary to Prince Philip.
The new baby will become third in line to the throne, following its father and Prince Charles. The child's birth also will bump William's brother, Prince Harry, down a notch in the sequence. 
Slideshow: Kate and Will's royal wedding
The much-anticipated birth of the baby prompted recent changes in a centuries-old tradition known as primogeniture, which puts male heirs ahead of older sisters in the line of succession.
That rule was recently scrapped, meaning that the newest royal addition, regardless of its gender, will succeed Prince William to the throne.
More: 
Boy or girl, the royal baby will be third to the throne
Prince Charles 'impatient' comment seen as metaphor on life 
Kate's royal snaps revealed on official site 
Will and Kate, looking adorably in love