/ Source: TODAY contributor
The family of Tina Watson have had to live with the horrible image of their loved one stretched out face-up on the bottom of the ocean, her body motionless, her arms reaching out and up, as if imploring for help. Now, nearly five years after her death, they may finally have the answers they've been looking for.
The 26-year-old Alabama woman died on Oct. 22, 2003, while on a scuba dive with her husband of 11 days, Gabe Watson, near a shipwreck at Australia's Great Barrier Reef. Initially ruled an accident, the death was ruled a homicide last Friday, June 20, and her husband charged with the crime.
"The wedding was a fairy tale," Tina Watson's sister, Alanda Thomas, told TODAY's Matt Lauer Monday in New York. But Watson was no Prince Charming, she and Tommy Thomas, her and Tina's father, said.
Alanda Thomas told Lauer that there had been warning signs before the marriage that Gabe Watson was a controlling person with a bad temper.
Anger and abuse
"One time when we went out to eat after work, and he came, we went to a pizza place and he showed up; he was angry and glared at Tina the whole time," Alanda Thomas said. "When our pizza came, he actually physically picked up a piece of pizza and threw it at her."
In other interviews, she has said that when Watson gave his fiancée her engagement ring, he gave it to her in a bag, which he put on top the television, telling her she couldn't look at the ring inside for six months.
"Did she complain about abuse or controlling behavior?" Lauer asked.
"She wouldn't have done that," Alanda Thomas replied. "She was more the one that makes excuses and tries to make peace with everybody."
A former model, Tina Watson embraced life, her father said.
"She was a beautiful girl both inside and out; just a treasure for us," Tommy Thomas told Lauer, smiling at the memory. "She was fun-loving, always joking and cutting up. She made a lot of fun for all of us."
When he got word that his daughter had died on her honeymoon, just a few minutes into the first dive she made on the reef with her husband, Tommy Thomas said that he accepted the initial ruling that it had been an accident.
"The very first thought that came to my mind, in all honesty, I just went to my knees. It was unbelievably devastating," he said. "You wonder why and how this could have happened to such a beautiful young person."
He said he had questions about what happened, "but initially, I thought it was an accident."
Watson's storyA tape of the inquest shows Gabe Watson, dressed in a T-shirt, sitting with investigators and lawyers at a table telling how his wife sank to the bottom, holding his arms out to mimic the way she seemed to be reaching back up to him.
Watson testified that his wife, a novice diver with about a dozen dives under her belt, experienced difficulty with her breathing apparatus.
Gabe Watson was a certified rescue diver. He testified that his wife got caught in a current and panicked. He said she tried to rip his mask off, and that he was unable to bring her to the surface, so he decided to return to the surface for help while she sank to the ocean floor.
"The fact of the matter is, that the version about her panicking doesn't stand up to the fact she had a very keen sense of self-rescue," Tommy Thomas told Lauer. "Had she panicked, unless something prevented her, in 40 feet of water, she would have made it to the surface."
A post-mortem found nothing physically wrong with Tina Watson that would have caused her death. It also found nothing wrong with her diving equipment. Investigators reenacted the scenario that Watson provided and concluded that it was inconsistent with the death.
Embrace of death?Queensland coroner David Glasgow, after a lengthy inquest and investigation, determined there was enough evidence to charge Watson with murder. On Friday, June 20, Watson was charged with murder and a warrant issued for his arrest.
Glasgow said that there were inconsistencies in the stories Watson told police. The coroner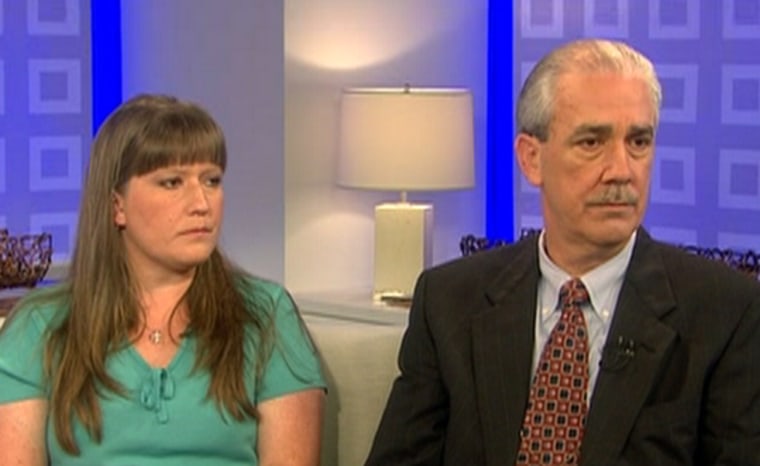 concluded that during the dive, Watson held his 26-year-old wife in a bear hug while he cut off her air supply until she was dead or nearly dead, then turned the air back on and let her sink to the bottom while he surfaced and called for help.
At the inquest, investigators heard from another person on the dive, Stanley Stutz, who testified that he saw Watson, a former high school football player, hold his wife in a bear hug for about 10 seconds before releasing her.
"The look on her face was awful; I had the belief she knew she was in danger, her eyes were wide open," he said. After Watson released her, he said, she sank to the bottom, her eyes staring wide open and her arms outstretched like "Jesus on a cross."
"There are only two persons who know what in fact actually occurred," Glasgow said. "One is Tina, who cannot tell us, and the other is Gabe."
Watson, now 31, is a cardboard salesman who lives now in Hoover, Ala., in the house he inherited from his wife, who was once a model. His lawyer, Bob Austin, told reporters that his client would fight extradition and maintains there is no evidence to charge him with murder.
Watson's Australian lawyer, Steve Zillman, had told the inquest the same thing and suggested his client was being unfairly singled out. "The police have, at some point, decided Gabe Watson was guilty of murder and formed a case to support that hypothesis," he said.
Possible motives
There was testimony that before the couple were married, Watson had asked his fiancée to increase her life insurance. She did not comply with the request, but told him that she did. According to her father, who works in the insurance industry, Watson did file a claim after Tina's death, but did not collect because he was not named as a beneficiary on the policy.
Another possible motive given at the inquest was jealousy. Watson, police said, had learned that his wife had had a brief affair before they were married and may have killed her out of spite.
Watson is expected to fight extradition to Australia to stand trial.
Tommy and Alanda Thomas said Watson has made no effort to contact them since Tina's death.
"The last contact we had was the day before Thanksgiving 2003, about 2½ weeks after the funeral," Tommy Thomas said.