Dr. Mehmet Oz said Donald Trump's medical records indicated to him that the GOP candidate was "healthy enough" to be president, based on the limited documents the candidate provided him from his physician.
"The letter I read would be typical for a person running a company, and I think that's pretty parallel — it's not exactly the same, but pretty parallel to what you want to have, to judge if someone is going to be healthy enough to lead you," Oz told Savannah Guthrie and Willie Geist on Thursday.
Trump taped an appearance on "The Dr. Oz Show" Wednesday, shortly before Hillary Clinton released to the media medical records about her pneumonia diagnosis and general health.
Trump's segment on the medical show will air Thursday.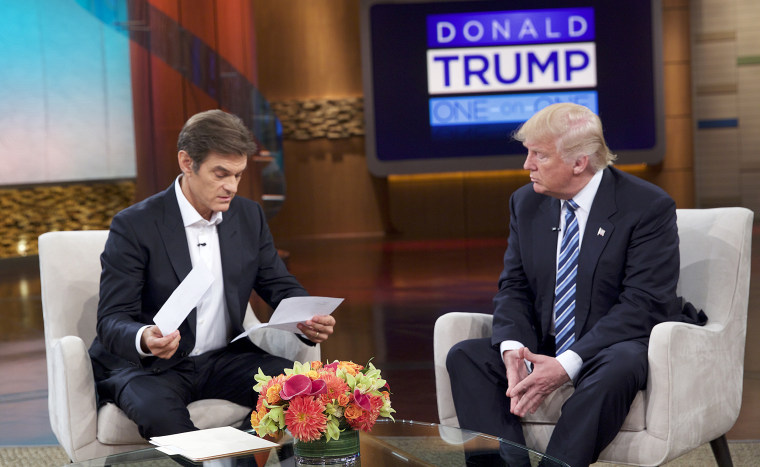 Oz did not conduct any exam of Trump, 70. Instead, he reviewed only what the Republican candidate chose to give him. Trump handed Oz a letter revealing medical details from an exam conducted last week by his personal physician, Dr. Harold Bornstein. The doctor was the same person criticized for a hastily written note he penned earlier this year vouching for Trump's heath.
Trump, who would be the oldest president inaugurated, has revealed very little about his health so far. In comparison, when John McCain ran for president, the Arizona senator released more than a thousand medical documents during his campaign.
Oz said that Trump's doctor found him to be overweight and revealed he takes a statin medication, a drug often used to lower cholesterol, but was in good health overall.
Trump's appearance followed an invitation Oz said he extended a month ago to both White House candidates. Trump accepted the offer last week and his appearance comes after Clinton made news with her current bout with pneumonia, which she kept from the public for several days.
Oz said his intention was to confirm that both candidates had comprehensive medical exams and review those findings.
"I did head-to-toe, just give me a quick idea of what's going on every part of your body. I wanted to try to help bring some clarity to the health of the candidates, which is why I'm hoping Sec. Clinton will accept the invitation," he said. "But I'm glad she released her records, because we're a much more informed country today than we were yesterday about the health of our candidates."
RELATED: Clinton gave Trump a 'big hammer' with 'deplorables' remark, Bill O'Reilly says
A polarizing television figure, Oz defended Trump's decision to come onto his show and dismissed the idea he was being used by the candidate.
"I'm a real doctor. I still practice medicine. I have a show that reaches millions of people, especially folks who are focused on the health topic," he said. "I think it's a very logical thing. Why not release it on a show that talks to people every day about health, and have some context put on the results? You're not just throwing a bunch of numbers in a newspaper or a reporter, you're actually with a doctor who can guide you through what it means."