Whether it has been her dazzling Olympic performance, her famous haircut or her work with children with disabilities, figure skating legend Dorothy Hamill has always found a way to leave a lasting impression.
Forty years after she won the gold medal at the Winter Olympics in Innsbruck, Austria, Hamill, 59, looked back with Natalie Morales as part of TODAY's "Where Are They Now?" series on Olympic greats.
"I just found something I loved to do, and it's taken me to places that I never dreamt,'' Hamill said.
Hamill went from skating on a pond in Riverside, Connecticut, as an 8-year-old to becoming America's sweetheart after grabbing a pair of gold medals at 19.
She also inspired a generation of girls, including Natalie, to imitate her famous bobbed hairstyle dubbed "The Dorothy." Natalie also fulfilled a childhood dream by getting to skate with her idol.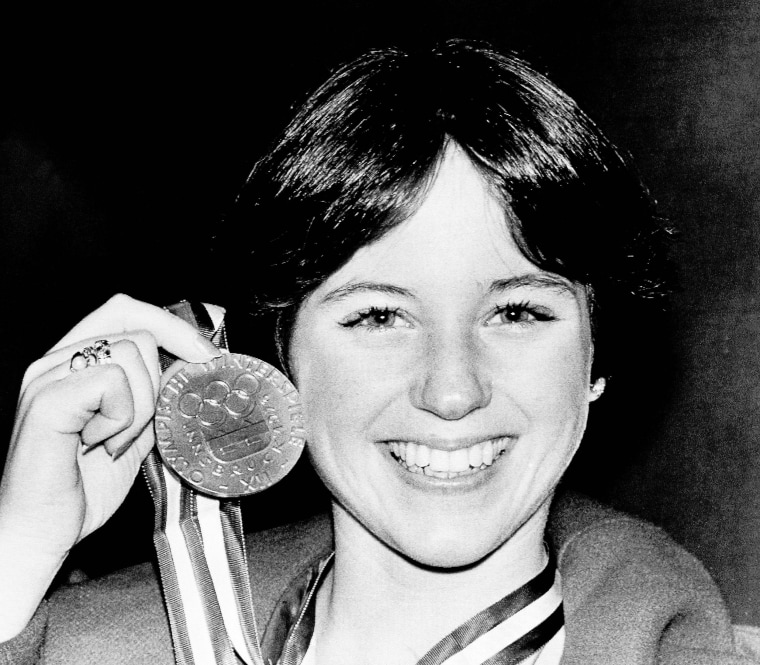 "It's wonderful because I did the same thing when I was watching Peggy Fleming and Janet Lynn skate, and I'd be in my living room with socks on twirling,'' Hamill said. "So it certainly means a lot."
RELATED: Mark Spitz: I'm 'just a regular guy' who achieved Olympic swimming glory
Instead of turning to professional skating following her win at Innsbruck, she entered the 1976 World Championships and captured gold after having been the runner-up the previous two years.
"I knew I'd always regret it if I didn't at least try,'' she said.
In the process, she created a new skating maneuver known as the "Hamill Camel."
"I don't think it's what (coach Gus Lassi) had in mind, but it stuck because somebody at the rink said, 'Hey Hamill, how's your camel?'" she said.
RELATED: Dominique Moceanu: What life is like after you win Olympic gold at 14
Hamill went on to skate professionally with numerous productions, including eight years with the Ice Capades. She also won an Emmy for her starring role in the TV movie "Romeo and Juliet."
The figure skating star also has had her struggles, including breast cancer, depression and three marriages.
She has been married to her current husband, John MacColl, for seven years, and has a daughter, Alexandra Forsythe, 27, with her second husband.
RELATED: 'Magnificent Seven' gymnasts reunite, revisit Olympic triumph 20 years later
"I didn't know how to have a real relationship,'' she said. "I've lived a gypsy life, you know every night a different city. It's really hard to keep a relationship together in that respect.
"And I'm so appreciative now. Better late than never."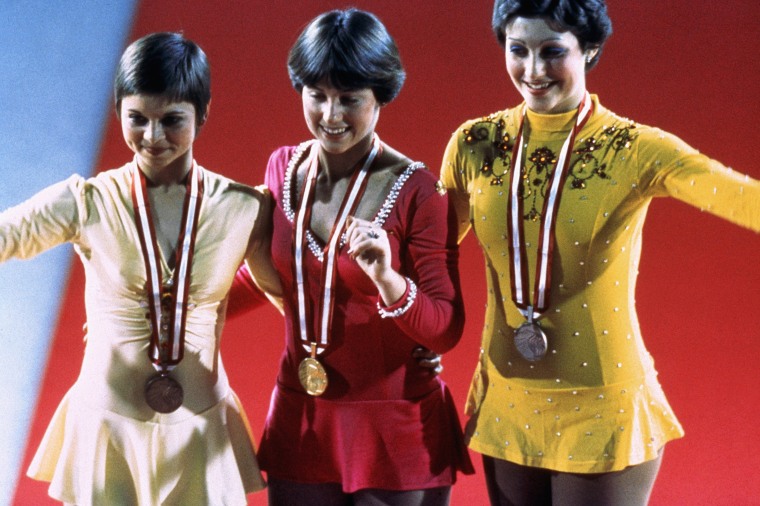 In her 2007 memoir, "A Skating Life: My Story," Hamill opened up about suffering from depression.
"It was really important for me to try and make people aware and to know that they're not the only ones going through that,'' Hamill said.
She also has been a passionate supporter of several breast cancer organizations after being successfully treated for the disease.
Hamill now spends her time working with I-Skate, a program she created at the Kennedy Krieger Institute in Baltimore that allows children with physical disabilities to take to the ice.
"It was a wonderful way to get youngsters to get out and to be able to really feel what it's like to be out there and moving around,'' she said. "It was just the magic of someone who's completely not able to walk or move on their own to have that independence and that freedom for one little bit of time."
Follow TODAY.com writer Scott Stump on Twitter.