With so much attention on Black Friday and Super Saturday, people often overlook what could be considered the red-headed stepchild of the holiday shopping season: the day after Christmas.
But it's important to remember that holiday spending doesn't end when the gifts are opened on Christmas Day—a fact that will be particularly significant this year, thanks to a small shift of the calendar.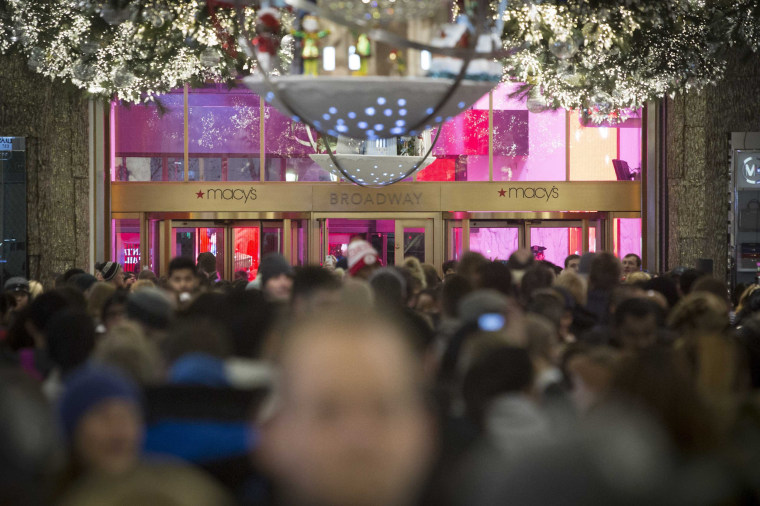 Because Dec. 25 falls on a Thursday this year, experts predict the 26th will see a boost in traffic compared to 2013, as many consumers take an extra day off work.

That momentum is expected to carry into the weekend, helping retailers lure customers into their stores to spend their gift cards, and at the same time, potentially avoid dramatic markdowns on holiday merchandise.
Read MoreExcuses, excuses: Retail can't blame the weather
The shift comes one year after the calendar bore much of the blame for weak holiday sales, when retailers had six fewer days between Thanksgiving and Christmas.
"We do expect to see a lot of traffic in the stores as a result of the calendar," said Bill Martin, founder of analytics firm ShopperTrak.
According to PwC's holiday survey, which polled 2,200 shoppers, 8 percent of holiday spending is expected to take place after Christmas; that compares with 5 percent last year. ShopperTrak echoed this sentiment with its predictions for the 2014 season, forecasting the day after Christmas will be the second-heaviest traffic day—up four slots from last year.
This traffic could spur an early redemption of gift cards, especially because temperatures are expected to drop after the holiday. That should encourage shoppers to buy themselves cold-weather apparel and accessories, said Scott Bernhardt, president of global business weather intelligence firm Planalytics.
Read MoreStop blaming store size for weak results: DDR CEO
Retailers want consumers to spend their gift cards as quickly as possible because they can't log the sale until they are redeemed. With the National Retail Federation calling for shoppers to spend a record amount on gift cards, that translates into $31.74 billion in pending sales.
"You'll see a lot of redemptions come into December that otherwise would have come into January, and that can't hurt," Bernhardt said. 
Shelley Kohan, vice president of retail consulting for analytics firm RetailNext, said one way retailers can capitalize on post-Christmas shoppers is by previewing their spring and resortwear lines next to their sale merchandise (resortwear is typically made up of swimsuits and warm-weather apparel meant for after-holiday traveling). That way, they aren't just getting rid of extraneous merchandise at deep markdowns, but they're also sparking interest in their full-price offerings.

"Your goal ultimately is to get that customer to buy lots of sale stuff, because you want to get out of that merchandise, but also, you know, trying to sell some regular-price merchandise," Kohan said. 
Read MoreThe price is (no longer) right: Retail's big game
That's not to say shoppers won't be holding out for deals. DealNews has already put out a list of things that consumers shouldn't buy before Christmas, because they're sure to go on sale after the holidays. Those items include clothing, fitness gear and laptops.
Because of these discounts, along with the fact that much of the activity after Christmas is tied to returns, ShopperTrak predicts the 26th will rank lower in terms of sales than traffic, coming in as the sixth-biggest sales day.
"All of that tends to put a little downward pressure on the sales volume side, but there's plenty of upside for the traffic," Martin said.
Another thing that could put a damper on post-holiday revenue: Planalytics' Bernhardt said there's a potential storm threatening to hit the Great Lakes region on Christmas Eve and then move east, which could keep shoppers home. But Bernhardt cautioned that it's too early to tell whether the storm will take shape and potentially dent sales.
Regardless of how the weekend plays out, DDR CEO Dan Hurwitz stressed that people shouldn't place too much emphasis on one day of the year. While speaking on a panel earlier this month, he said that because of the "enormous" gift card business, the Christmas season now rolls past December and into January, so one weekend doesn't paint an accurate picture of the season.
"Retailers have figured out they don't have to take markdowns on Dec. 26 right away, because people are going to come in and redeem their gift cards," he said.