James Robertson is a factory worker from Detroit, Mich., whose arduous daily commute caught the attention of local media outlets, and now the Internet is showing him some much deserved loved.
Ever since Robertson's car broke down, he's been making a 21-mile round-trip trek to and from his job. Despite the hours of walking each day, Robertson has never missed a day of work.
"I didn't want to end up doing nothing. Do you know how long it took me to find this job?" Robertson told TODAY. "No matter how tough things are, I like to stick it out."
Part of Robertson's journey includes a bus ride to get out of the urban center of Detroit, but a large portion is done on foot. Robertson's shift begins at 2 p.m. and ends at 10 p.m. He's home by 4. a.m., just in time to catch a couple hours of sleep before his alarm goes off at 6 a.m.
"You are physically drained. But in that moment you gotta pull something extra out of you," he said.
But thanks to an online fundraiser started by Wayne State University student Evan Leedy, 19, Robertson's commute may be changing. Leedy read about Robertson's story on Facebook via the Detroit Free Press and decided to help. He set up a GoFundMe page in hopes of getting a bit of money to help Robertson buy a car.
"At first I wanted to figure how to get James a ride to where he needs to go," he told TODAY.
His initial fundraising goal was $5,000.
"I wasn't expecting it to go anywhere," he told TODAY.com.
But within the first hour $2,000 had been donated. By the end of the day Monday, $37,000 had been raised, and now Robertson's fund is $140,000 and climbing.
"One of the coolest things to see is that there's been a few large donations, but 90 percent of the donations have been $50 or less," Leedy said. "There have been over 2,000 donors, and all of that has added up. All it took was a little bit of money from all these people."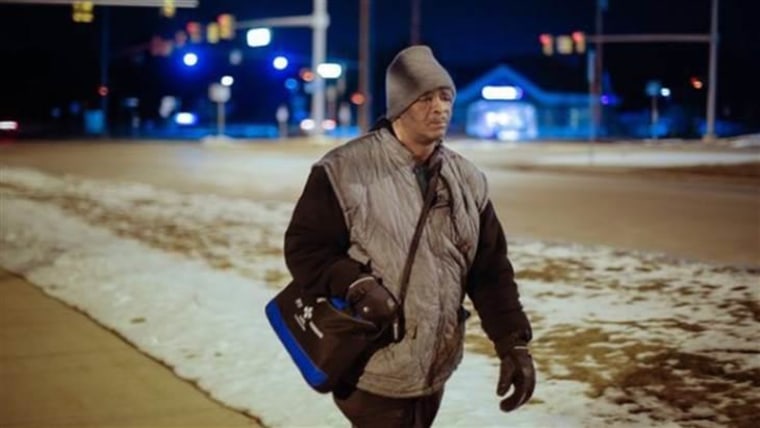 Robertson's girlfriend, Tanya Fox, 61, said all this attention is "weird for him" and confirmed his more introverted nature.
"He's kind of a private person, doesn't bother anybody," she told TODAY.com. "He's the kind of person you can depend on. He's a good man."
Robertson's reality brings into sharp focus the challenges of low wage hourly work. He makes $10.55, a good 30 percent above the Michigan minimum wage, yet he was unable to save enough money to cover the cost of a car. He lives with Fox, his girlfriend of 15 years, a therapist at a rehabilitation center, in a home she owns that she inherited from her mother.
But they're both grateful for the outpouring of help. "We're both elated and he's overwhelmed. He didn't think something like this would even happen to him."
Though Leedy and others are still figuring out how exactly to best get the vast amount of fundraising money to Robertson, one thing's for sure: there's a lot more sleep in his future.
TODAY's Eun Kyung Kim contributed to this report.