After receiving criticism for past negative comments about women, including controversies with Republican rival Carly Fiorina and Fox News host Megyn Kelly, Donald Trump said he believes his relationship with female voters will not be problematic in the race for the republican presidential nomination.
"I have tremendous respect for women, and I am going to protect women,'' Trump told Matt Lauer on TODAY Monday town hall event in New Hampshire. "(My daughter Ivanka) said, 'Dad, you respect and love women so much, could you talk about it more because people don't really understand how you feel.'"
"I think my relationship with women in terms of this whole situation has been really good. I actually score very well in most of the polls with women. It's hard to sort of prove it, but I do have my daughter and my wife saying, 'You have to talk more to women because your relationship with women and the respect you have with women has to be out there.' And I do have great respect for women."
MORE: Donald Trump's TODAY town hall covers guns, ISIS — and the last time he ate McDonald's
Trump feels the track record of his businesses speaks for itself on women, saying that 35 years ago he had a woman as the "number one person building Trump Towers."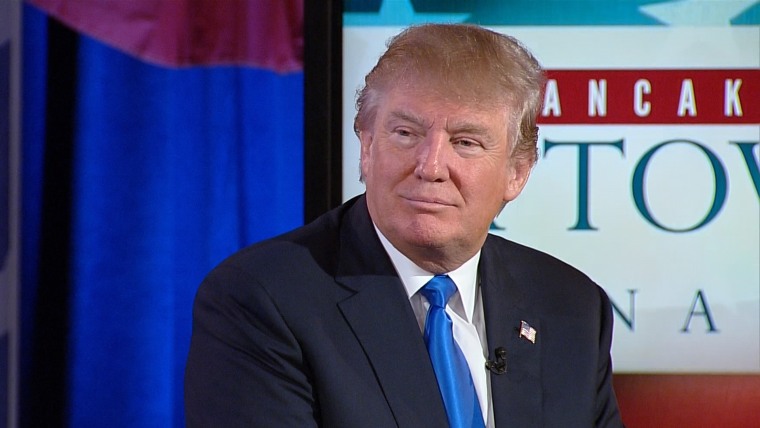 "Fifty percent of my executives are women, and many of them make more than the men executives, so I've had that great relationship with women,'' he said.
While Trump remains the Republican front-runner, a recent Quinnipiac University poll found that female voters strongly favored rival Ben Carson by 20 points, 33-13. Should Trump secure the nomination, he also could potentially face a woman in the presidential campaign, as Hillary Clinton is currently the Democratic front-runner and has been critical of Trump's comments on women in the past.
"My support with men is through the roof,'' Trump said. "The support with women is a little bit less than the men, that's why Ivanka said to me, 'Dad you have to go out and you have to talk about it because there's nobody that's better to women."
Follow TODAY.com writer Scott Stump on Twitter.