Donald Trump says Univision anchor Jorge Ramos was "totally out of line" during Tuesday's press conference that saw the Spanish-language anchor temporarily removed from the event.
"I would have gotten to him very quickly," the Republican presidential front-runner told TODAY's Matt Lauer in an exclusive interview Wednesday. "This man gets up and starts ranting and raving and screaming, and honestly being very disrespectful to all the other reporters."
WATCH: Jorge Ramos is kicked out of Donald Trump's press conference
"Sit down, you weren't called," a combative Trump said as the newsman tried to ask a question that the candidate saw as being out of turn. "Go back to Univision," Trump later added. Ramos was then escorted out of the room by security, but later returned to ask two questions.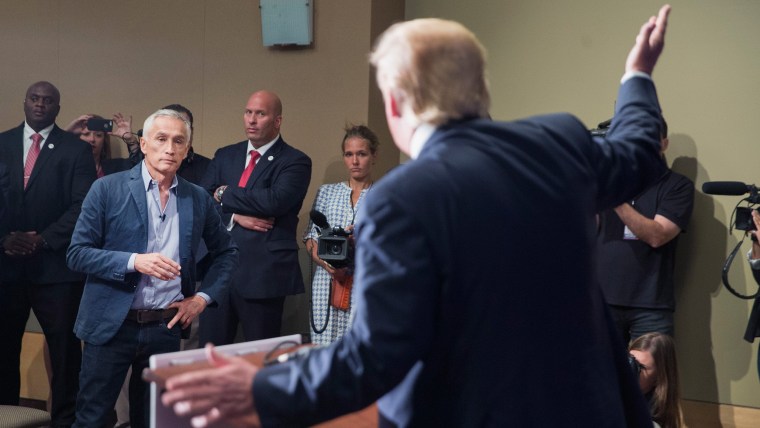 On Wednesday morning, Ramos took to Twitter to respond to Trump.
Fox News anchor Megyn Kelly has also been on the receiving end of some controversial comments by Trump, who continued to attack her on Twitter Monday after she returned from a 10-day vacation. He tweeted she was "off her game" and that her show would be better off without her, while retweeting comments criticizing her appearance and calling her a "bimbo."
Lauer asked Trump why he was letting Kelly get under his skin.
"I haven't,'' he said. "You tweet a few tweets, or retweets in this case, that's not getting under your skin. I personally am not a fan. I don't think she does a good job. I don't think she's a very good professional. I think frankly the show's better without her, but that's up to them and they can do whatever they want. I respect [Fox News chief] Roger Ailes, he can do whatever he wants. I don't care."
Lauer likened Trump's comments toward Kelly to a schoolyard crush when boys say the worst things about the girl they like the most.
"Trust me Matt, there is no crush, that I can tell you,'' Trump said. "As far as I was concerned, during the debate, she asked me questions that were totally inappropriate. A lot of people said that. Many people agreed with me."