Fresh off his first-ever election victory — one that further jumbled the Republican presidential race — Donald Trump spoke carefully about his ability to win the White House.
"I don't want to talk about favorites, I think we're doing very well. We have something very special," he told TODAY's Savannah Guthrie and Matt Lauer, speaking about his ability to draw crowds to rallies and political events.
"There's something going on, it's a movement. People want to see a smart country. They want to see us take the country back," he said.
The GOP front-runner sailed to victory in New Hampshire on Tuesday night by winning 35.1 percent of the vote, far outdistancing the other Republican hopefuls, including the next best vote-getter, Ohio Gov. John Kasich, who received 15.9 percent of the vote.
The win gave a huge boost of momentum in a crowded Republican race that Trump has dominated since his entry last summer but which was temporarily stalled last week by his loss in Iowa's caucuses. Ted Cruz emerged the winner of that contest, but the Texas senator was left clinging to a third-place finish in New Hampshire.
Trump declined to predict who among his rivals would prove to be his biggest competitor going into the next Republican contest, in South Carolina.
"I wouldn't want to pick one, because they're close enough, and we'll see what happens," he said. "They're all accomplished people."
Trump also defended his use of vulgar language during a New Hampshire rally on Monday night, when he repeated an offensive term used by a woman attending his rally to describe Cruz. He said if he were closer to clinching the party's nomination, he probably would have behaved differently.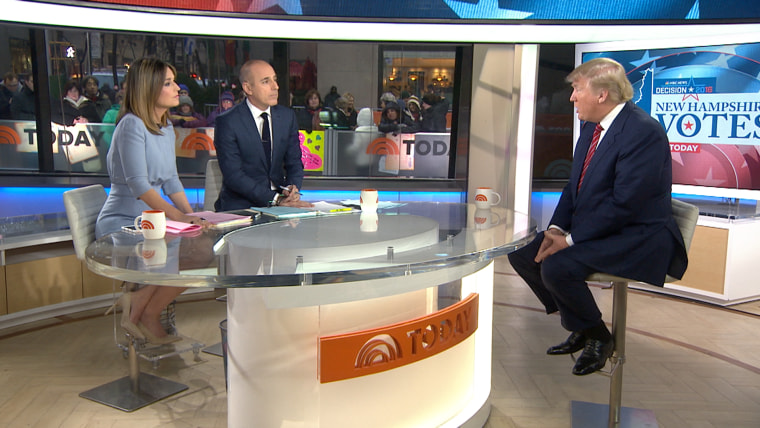 "If I got close, I wouldn't ever do it, but we were having a tremendous time. We got a standing ovation for doing that," he said of the moment, saying that "it wasn't the worst thing in the world."
Trump also repeated his promise to publicly release his tax returns "probably over the next few months," saying they were currently being worked on.
"They're very big tax returns. I guarantee you this — the biggest ever in the history of what we're doing so it's very complicated stuff," he said.
Trump said once released, the public will probably be surprised by how little he pays in taxes.
"I fight like hell not to pay tax. I hate the way the government spends my money," he said.
Follow TODAY.com writer Eun Kyung Kim on Twitter.