Shelly Sterling, estranged wife of Los Angeles Clippers owner Donald Sterling, vowed to fight the NBA's attempts "as far as I can go" to remove her as part owner of the team. 

Sterling sat down with TODAY's Savannah Guthrie to respond to her husband's interview with CNN Monday night, in which he made new controversial comments about basketball legend Magic Johnson.
"I'm very angry. And I'm very hurt. And I even cried listening to that, because I just feel bad," she told Guthrie in a sit-down that aired Tuesday on TODAY. "And then I feel bad. Why am I the victim when he's the perpetrator? If somebody killed somebody, does the wife have to stand trial too?"
In the interview Monday night with Anderson Cooper, Donald kicked up renewed controversy when he criticized Johnson, claiming he has not done anything to help others, particularly in the African-American community. 
"What kind of a guy goes to every city, has sex with every girl, then he catches HIV?'' Donald said. "Is that someone we want to respect and tell our kids about? I think he should be ashamed of himself. I think he should go into the background. But what does he do for the black people? He doesn't do anything."
"I never understood what he was talking about,'' Shelly told Guthrie after watching the interview. "And why would he bring Magic Johnson into the issue about what's happening now? I mean, that's why I felt pity because he couldn't get all the dots together. He couldn't connect the dots." 
The anchors weighed in on Donald Sterling's comments during TODAY's Take on Tuesday.
"The idea that Magic Johnson hasn't helped the African-American community is so preposterous,'' Willie Geist said. 
"(Sterling) doesn't need to get kicked out of the NBA. He needs to get kicked out of humanity,'' Al Roker said. "The charitable work that (Johnson) has done, the role model that he is — I think the best bet is we just need to ignore Donald Sterling, I don't think anyone needs to talk to Donald Sterling any more. Let the NBA deal with him, run him out of the league as he should be, and let him rant to himself in a closet and leave the rest of us alone."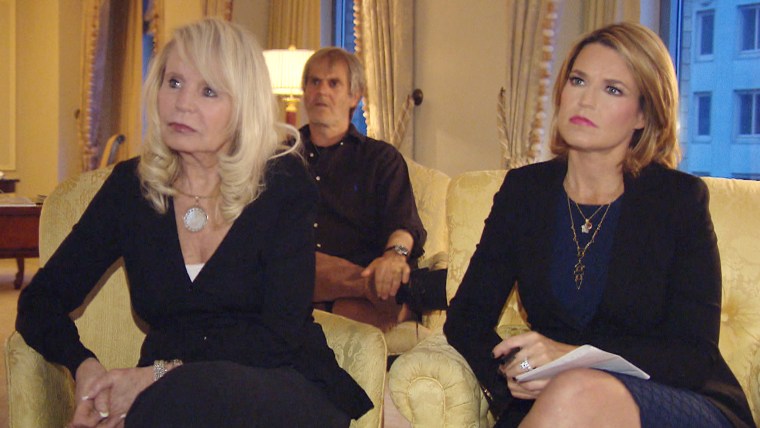 After watching the interview with Guthrie, Sterling said she believes her husband may be losing his faculties. 
"He's not the man I know, or I knew,'' she said. "There's something wrong. I really think, personally, he has dementia. 
"I don't think it happened overnight. I think it's been happening, but nobody really knew the reason. I mean, he gets crazy, and yells, and screams, and hollers one moment. The next moment he'll...talk about something else. I mean it's like nothing makes sense." 
"I think that's a poor excuse,'' Natalie Morales said on TODAY's Take. "As someone who has had a family member with dementia/Alzheimer's, there are behavioral changes, but you don't have that full-on, next-day wake-up and make those kind of statements." 
Guthrie noted that while dementia may make people delusional or nonsensical, it doesn't necessarily make them say racist things. 
"I don't make excuses for anybody,'' Sterling said, admitting that she doesn't know much about dementia. 
She told Guthrie she is estranged from her husband, even though the two had dinner together in recent weeks. She added that she has contemplated divorce for years and almost filed papers last week, but her lawyers advised her not to, because of the financial issues. 
"Shelly Sterling is angry and upset now, but did this just happen?'' Roker said. "She's put up with this for a long time, tolerated it as long as the times were good and she was benefiting from his largesse, and now that the gravy train is over she's trying to distance herself." 
Sterling believes the NBA's attempts to push her out amount to sexism.

"I really think so,'' she said. "Would an owner's wife say the same thing, and would the owner be asked to leave the NBA? Or would they just say, 'Well, she's only the wife.'''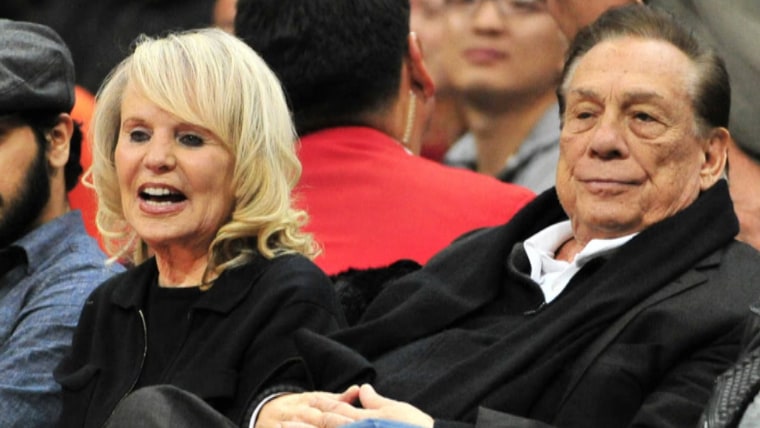 "The problem we have here is she's been sucked into the maelstrom and people say, you know, 'Off with her head,''' Sterling's lawyer, Pierce O'Donnell, told Guthrie. "She had nothing to do with it. Is this because she's a woman?" 
Still, Sterling agrees with the NBA's decision to force her husband to sell the team. 
"I think I agree with what...their decision is,'' she said. "I don't agree what their decision is for me. I wholly feel that I've done nothing wrong."  
Even the fans and team members, she said, have her back.
"Well, I went to the game about two days ago,'' she said. "I was sitting up in the box. All the fans right below me were high-fiving me, saying, 'Go girl. Don't give up.' I talked to some of the players. They hugged me."