Former U.S. Olympic gymnast Dominique Moceanu believes Simone Biles' decision to withdraw from the team and individual all-around finals at the Tokyo Olympics earlier this week is sending a powerful message about "abuse" in their sport.
Speaking with Craig Melvin and Al Roker on TODAY Thursday, Moceanu, 39, recalled her own experience at the 1996 Olympics in Atlanta when she suffered a vicious fall on the balance beam. She had already entered the Games with her right leg heavily bandaged after suffering a stress fracture in her tibia, but she still helped her team take home the gold at just 14 years old.
"Many of you have seen my fall from the event finals on balance beam where I fell on my head," she recalled. "I didn't even have anybody do a cervical spine X-ray at that time, and I think I still have a bump on my head from that time. ... Nobody ever checked it, and so right now, Simone is making a decision that could really be beneficial to her future. ... You have to know yourself and your body, and if you feel that fear of not having spatial awareness, you have to step back because these things are not cured overnight."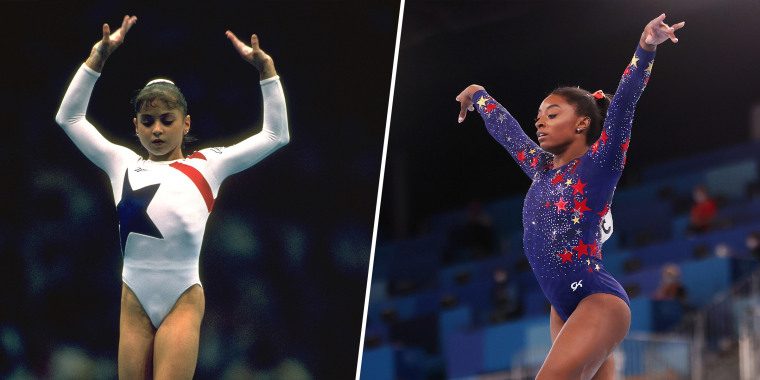 Biles first withdrew from the team competition after a shaky start in the vault on Tuesday and then later announced that she would not be participating in Thursday's all-around competition, which fellow Team USA gymnast Suni Lee won.
Biles, 24, cited her mental health as a reason she withdrew, which was reiterated by a statement from USA Gymnastics that said she was "prioritizing her well-being."
On her lone vault attempt, Biles performed 1½ twists instead of a planned 2½ twists, and then told reporters during a group interview afterward that she was "having a little bit of the twisties."
"I had no idea where I was in the air," Biles said. "I could have hurt myself."
Moceanu also praised Biles for showing that it's OK for elite athletes to refuse to risk their physical and mental health in order to compete.
"It's not worth it at this point in her career — or ever," she stressed to Craig and Al. "We didn't have that say in my generation. It was just robotic and we had to do it under any circumstance."
"Simone is human. We're all human beings, and at the end of the day, they need to be treated like human beings. This has been a fight that has been going on for a really long time to try to bring these issues to light that abuse is no longer welcome in our sport."
Moceanu previously tweeted her support of Biles on Wednesday, writing that she "made the right decision for the team and herself."
"I was 14 y/o w/ a tibial stress fracture, left alone w/ no cervical spine exam after this fall," Moceanu wrote. "I competed in the Olympic floor final minutes later. @Simone_Biles decision demonstrates that we have a say in our own health — 'a say' I NEVER felt I had as an Olympian."
"In our sport, we essentially dive into a pool w/ no water," Moceanu added. "When you lose your ability to find the ground — which appears to be part of @Simone_Biles decision — the consequences can be catastrophic. She made the right decision for the team & herself."
Following her withdrawal, Biles received an outpouring of support from many athletes and fans as well as criticism from others who said she quit on her team and should've just competed and tried her best.
Biles' former Olympic teammate Aly Raisman said on TODAY Tuesday that Biles may have gotten "lost in the air," which could've meant risking a potentially dangerous injury.
"If she did get lost in the air, I do want to say that that is actually very common, because she's doing such difficult skills and she can twist so much more than the average person," Raisman said. "She's human. Sometimes it happens, when you're in the air, and we just kind of get confused."
Biles has not yet indicated if she will compete in the individual events after qualifying for the finals in all four: floor exercise, balance beam, uneven bars and vault. The individual events kick off with the vault and uneven bars on Sunday.
Related video: