Who (or what) is God?
Does prayer work?
Is there an afterlife?
Can you be spiritual and not religious?
These are just some of the questions TODAY is asking this week in the series "Do You Believe?" An in-depth look at faith and spirituality, this series will examine the many ways spirituality can be communicated and displayed, and feature real-life stories of survival and how faith played a role.
An exclusive TODAY survey on these questions reveals a snapshot of what faith in America looks like today, as more than 1,500 people weighed in with their thoughts on spirituality, God, the afterlife and the power of prayer: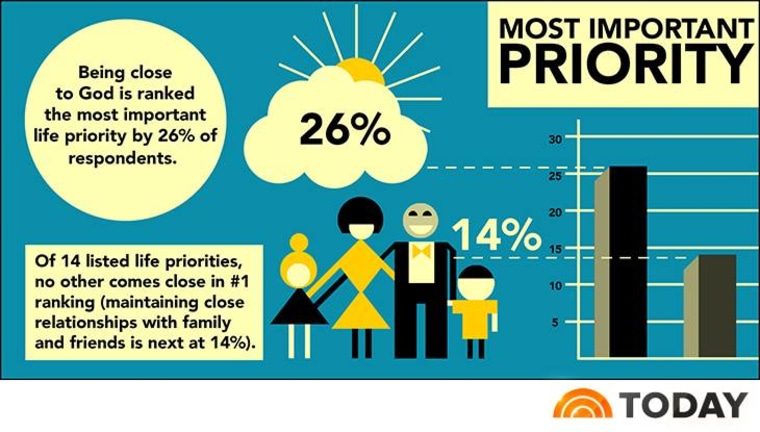 Sixty-eight percent of respondents said they are certain God exists.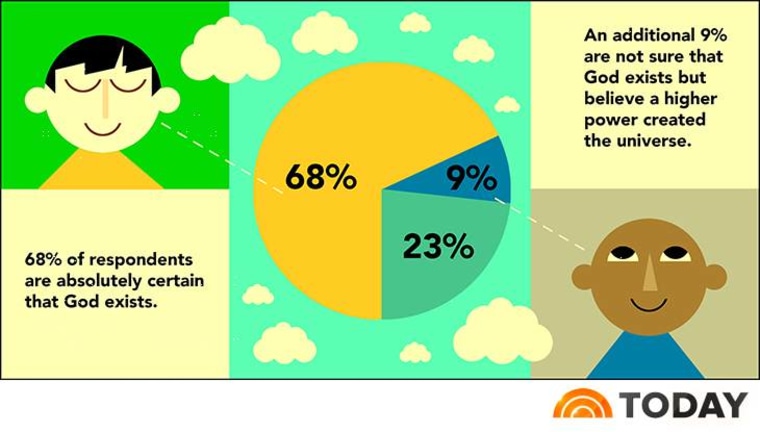 Of that group, 54 percent believe that God is a force or spirit that does not take a physical form, while 27 percent see him as a man, 12 percent believe God is a human in some form, 6 percent think God takes some other shape or form, and 2 percent believe God is a woman.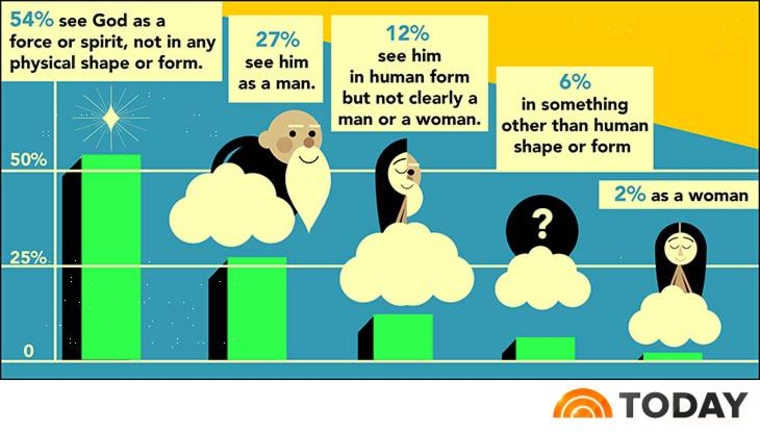 A majority of those surveyed believe the power of prayer is real, as 76 percent say it can heal. Roughly half (54 percent) said they pray regularly, while little over a quarter (27 percent) said they pray only in a time of need. Of those who believe in God, 94 percent believe God watches over them.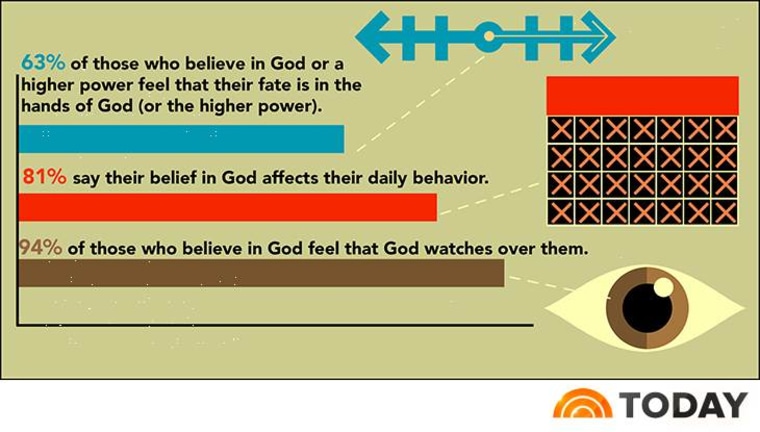 Respondents seemed to indicate a need to believe in things larger than themselves: 81 percent of those surveyed said they believe in miracles, 76 percent believe in angels, and 65 percent believe in karma.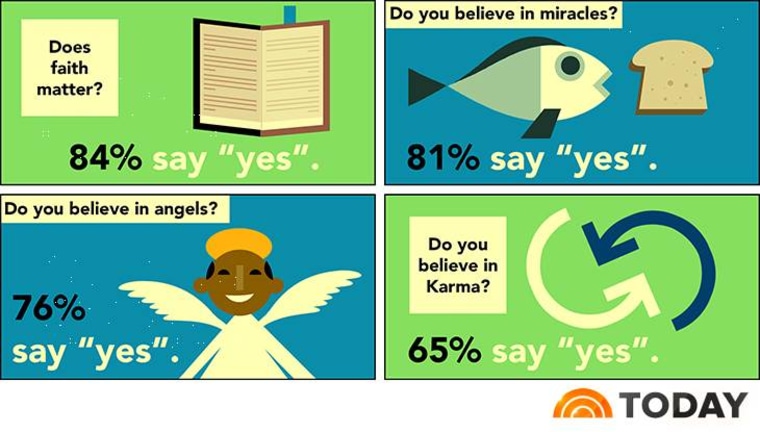 Spirituality is a regular part of the majority of Americans' lives — 62 percent of respondents said they do at least one of the following as a spiritual practice: meditation, mindfulness, reading religious texts, yoga, fasting, retreats or pilgrimages.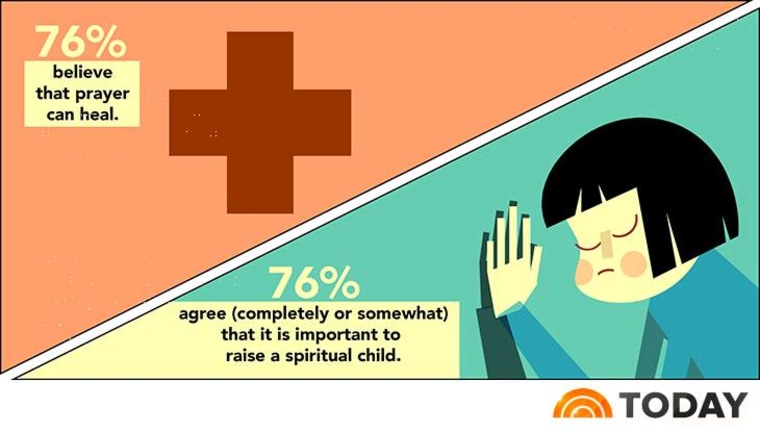 Seventy-six percent also believe that it is important to raise a spiritual child, and 70 percent of adults identify with a religion.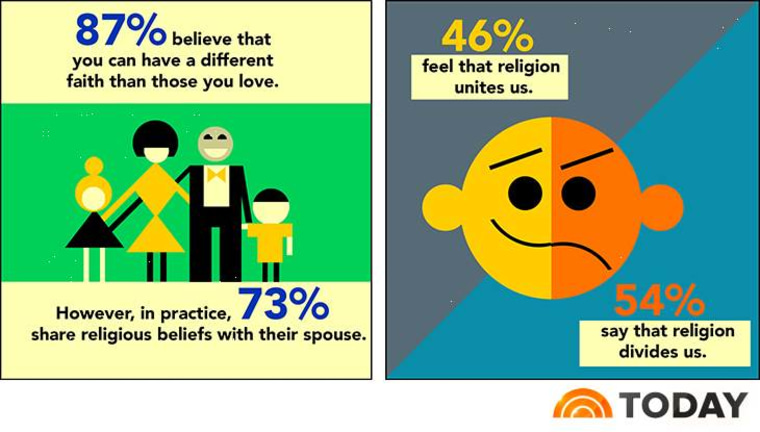 While 87 percent of respondents believe that you can be a different religion than those you love, in practice, 73 percent share the same religion as their spouse.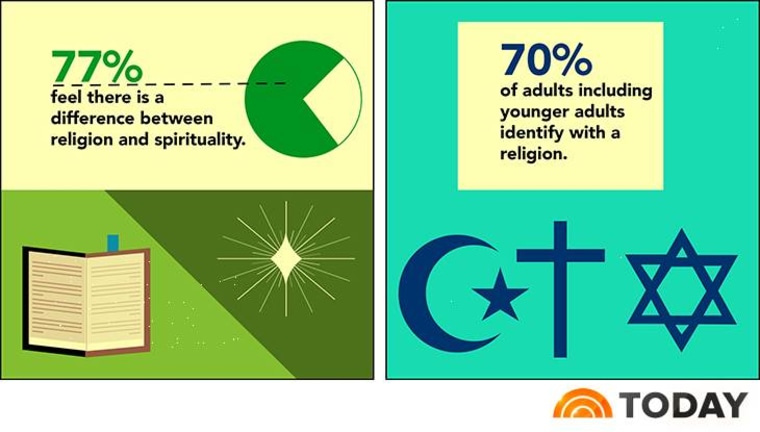 One question on many people's minds as they get older was also asked: Is there an afterlife? Of those surveyed, 55 percent said yes, and 76 percent believe there is a heaven. Of those who believe in heaven, 68 percent think they will go there when they die.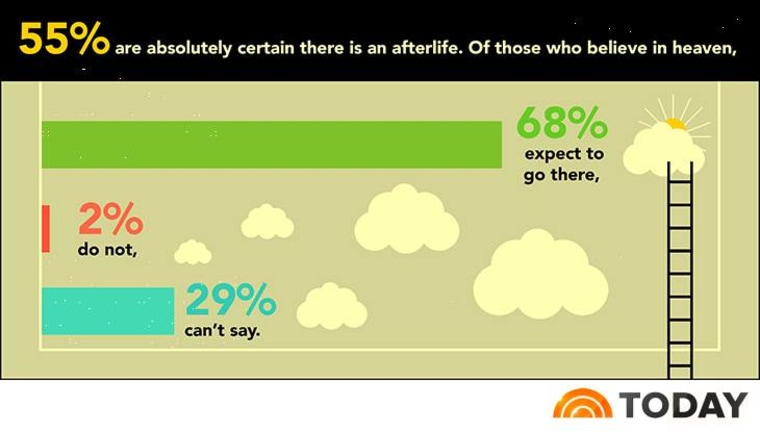 Follow TODAY.com writer Scott Stump on Twitter and Google+.
This article was originally published Mar. 29, 2015 at 8:42 a.m. ET.