A South Carolina man who witnessed a one-car crash saw what he and others now believe was a guardian angel watching over the driver, who survived.
Pastor Michael Clary told TODAY.com he was driving home from the grocery store in Honea Path on Dec. 3 when he saw another driver lose control of his SUV. The driver veered off the road, Clary said, and overcorrected when he tried to get back on the highway.
"All of a sudden, it started to flip over and started rolling," Clary said. "It rolled about four times, then hit a ditch. That threw the vehicle up again, and it hit a pine tree."
"And I saw what I thought was a wheel, but it was apparently the guy — he had gotten thrown out," Clary added.
Clary waited for help to arrive, and the driver was airlifted to the hospital.
Later, Clary posted photos he'd taken of the mangled Ford Explorer on Facebook. But it was one photo in particular that caught people's attention — an image Clary believes proves an angel was present at the crash.
RELATED: Did an angel save girl from dying in the hospital?
"It looks like a fog or a silhouette," Clary said of the hazy figure at the right of one of the photos. "If you look close, it looks like an image of a face."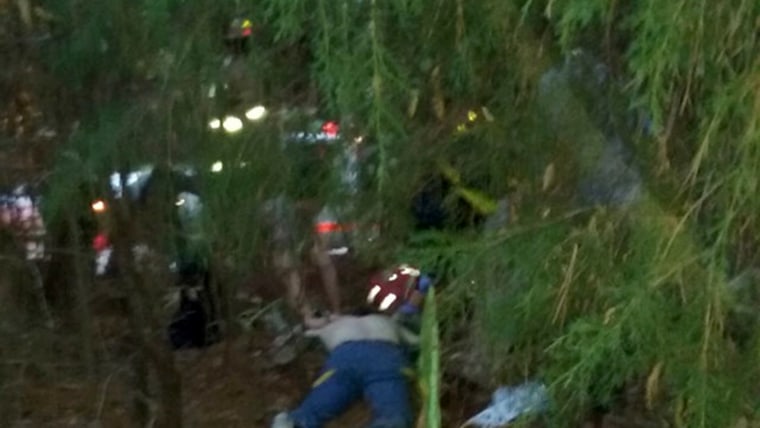 Some of the victim's family members agree. Lynn Wooten told TODAY.com she thinks a higher power is the reason her cousin survived the terrible crash: "I truly believe it was his guardian angel."
The driver had several broken ribs and a broken collarbone, but is home recovering after spending a few days in the ICU, Wooten said.
Not everyone believes an angel was involved. Photography expert Matt Sweetwood told TODAY.com the blur is likely just a trick of the light.
RELATED: Bride paralyzed in crash learns to walk down the aisle for wedding
"There are so many different reflections in this picture because of the way the lighting was coming at him from the emergency vehicles and the the flashlights," Sweetwood said, adding that those conditions can affect how the photo turns out.
But for Clary and many others, the photo is proof of divine intervention.
"God just had it in control," Clary said.