/ Source: TODAY contributor
Nelson E. Bailey learned the hard — and excruciatingly painful — way that the cure can sometimes be worse than the disease.
The Palm Beach County, Fla., judge had surgery last October for diverticulitis, a digestive disease of the large intestine. But the 67-year-old found his stomach pain only became more pronounced following his operation at Good Samaritan Hospital in West Palm Beach.
While doctors puzzled over Bailey's discomfort, it was a full five months before he was opened back up and found to have a 12-by-12-inch surgical sponge festering inside his body, left there during the initial surgery.
Needless to say, Bailey was angry — and a respected veteran judge is probably the last person a hospital wants to face in court. They reached a settlement for an undisclosed amount with him, but Bailey also insisted he be able to talk about the case publicly.
"I am not the same person I was before," Bailey told NBC affiliate WPTV in West Palm Beach. "I expected to get the same treatment anybody else got. Didn't turn out that way."
Underestimated problem
The Journal of Radiology calls the leaving behind of surgical objects in patients a "highly underestimated problem," and a recent report says that some 1,500 patients in the U.S. find themselves in the same boat as Bailey every year — with foreign matter left in their bodies after surgery. And the most common items left behind are surgical sponges, though not all are as large as the one found in Bailey.
Bailey told the Palm Beach Post newspaper that he was in agony following his surgery, but repeated trips to his primary doctors, and repeated CT scans, failed to pinpoint a reason. Meanwhile, the sponge left in him was soaking up pus and bile, literally rotting him away from the inside.
When he finally had additional surgery in March, Bailey couldn't believe his eyes when doctors showed him what had been left inside him. "I was expecting something the size of a kitchen sponge — I was shocked," he told the Post.
The sponge had done considerable damage to his insides, he added to WPTV.
"When they opened me up, the medical report shows that [the sponge] was rotting," he said. "Because the sponge was left there and it was rotting, it created perforations in my intestines, so when they removed the sponge, they had to remove a section of my intestines as well."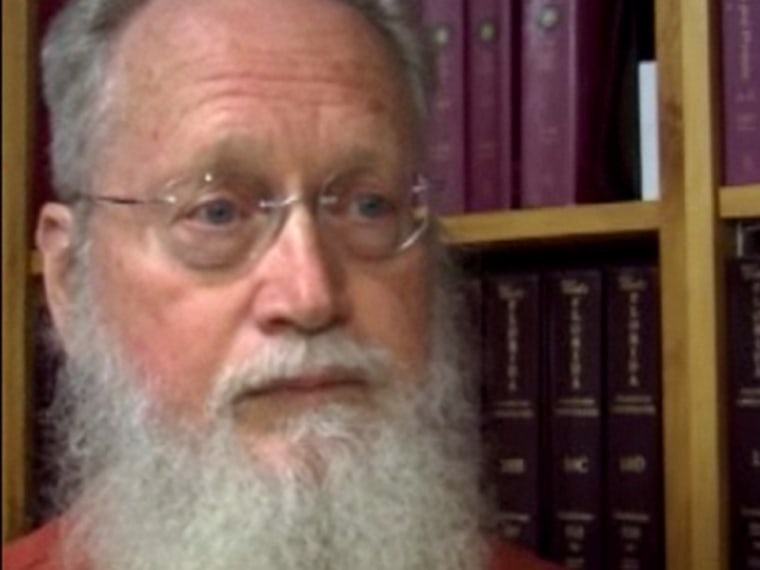 'They nearly killed him twice'
Amazingly, the left-behind sponge wasn't the only error the hospital made in treating Bailey. He was also given the wrong post-op medicine at the hospital last fall — one that speeded up his heart rate instead of one to lower his blood pressure — and he nearly had a heart attack as a result.
"It was the only time in my life that I knew I was actually dying," Bailey told the Post. His wife, Carol, along with friends, feared the worst.
"Sadly, they nearly killed him twice," fellow county judge Peter Evans said. "If he wasn't such an ornery old coot, they may have."
Indeed, Bailey remains ornery, and he isn't finished pursuing his legal options. He served notice on two radiologists of his intent to sue, and said he plans to sue his surgeon as well. He says his quality of life has been damaged by the medical foul-ups.
Bailey, with his long beard and gift of gab, is a popular speaker around Florida, performing as a "Florida Cracker Storyteller" from the late 1800s. He often informs and entertains at events with his horse, and he told WPTV he and Carol like nothing so much as to ride across the state on their horses.
"I can no longer contemplate a day, or a half a day, on horseback," he said.
Shelly Weiss Friedberg, a spokeswoman for Tenet Healthcare Corporation, owners of Good Samaritan, told the Post the hospital is bound by privacy and confidentiality agreements not to comment on the Bailey case, and said that the 90-year-old institution takes pride in giving safe, quality care to its patients.