Fred Richardson is a brave man with a big heart. He grew up on Chicago's toughest streets. Became a doctor, but returned to his old neighborhood to open a one-man practice.
The other day, Craig Remied limped into Richardson's office. "I thought I wasn't going to make it," he said with a grimace. He'd been shot in an alley behind his mother-in-law's house.
Richardson knew exactly where the shooting had happened, because he makes house calls there. That night he revisited the home of Remied's mother-in-law, Louise Cannon.
"It's not nearly as red as it was," Richardson said, gently touching the rash on Cannon's back. Remied's 79-year-old mother-in-law has been bedridden in the dining room for 15 years.
Richardson leaned down and gently kissed her on the forehead. "You're looking better," he said. "I'll be back." Cannon smiled.
Richardson's wife, Julie, grew up just across the alley from the Cannons. She knows violence firsthand: Her brother John was killed in front of his 3-year-old daughter. Julie guides Richardson down dark streets to all of his house calls.
"Do you ever get scared?" I asked her.
"No, never," she said. Neighbors have kept them safe.
Richardson nodded in agreement. "They knew that we were gonna come back later and take care of them." Night after night, for a quarter of a century.
Later, over coffee, I remarked: "I feel like I should look out the window and see your horse and buggy."
Richardson grinned. "Yeah."
"How come you do it?"
"These old guys can't get out," he explained, referring to his house call patients. Unless they trip or fall and end up in the emergency room, that is.
"How do you make ends meet?"
"Medicare will pay for a home visit — actually will reimburse better than [for] an office visit."
That surprised me. "Really? How come more doctors don't do it?"
"Its not efficient."
But house calls allow Dr. Richardson to study family relationships and make better medical decisions. And that saves time and pain.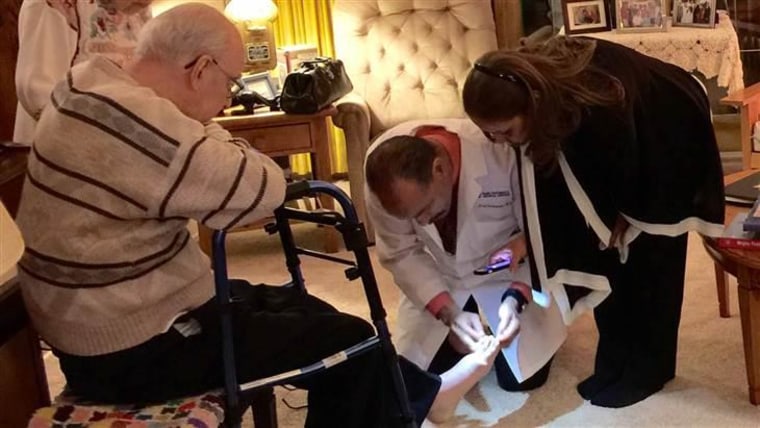 "How do you do anything with your hands?" he asked Lillian LeCoure, examining her arthritic fingers, which had curled into a ball. She made him laugh by grabbing his white coat. Richardson laughs often.
Most of his elderly patients have seen a lot of specialists. What's so special about their family doctor? "Not only cute, but he's smart!" LeCoure teased.
It was 3 below that evening in Chicago, but the streets where Fred Richardson grew up can be cold even when the mercury is high. It was Richardson's mom who instilled warmth in his heart, once staying up all night to help him write a book report.
That kind of dedication fills his clinic with more than patients. Three nights a week, after all those house calls, Richardson teaches minority medical students who are struggling. He accepts no pay because in every one of those faces, he sees himself. His was the only black face in his medical school class.
"I was told many times, 'Your grades aren't high enough to do this,'" Richardson recalled. "But I did it."
And so far, he's helped 50 students become successful doctors, including his daughter Jessica. "I think I was supposed to be a doctor since I was 4," Jessica said with a laugh.
She was working in her dad's clinic on a night so cold, you could spit and watch it bounce. An old man stepped out of the dark and walked ramrod straight into an exam room. As he waited, Wash Wesley vowed to keep living until Jessica was old enough to take over her dad's practice.
He had just turned 112 — the one patient who did not need a house call.
Do you know someone outstanding for an upcoming American Story? Email us.