/ Source: TODAY Contributor
If it really is better to give than to receive, Americans may be in for a very happy holiday season.
A whopping 65% of Americans believe that we have a responsibility to make the world a better place by getting involved, according to the NBC News State of Kindness online poll conducted as part of our Season of Kindness by Survey Monkey among a national sample of 2,650 adults age 18 and older.
And in the survey results released on Giving Tuesday, most respondents say they're spreading kindness by letting others cut in line (83%), helping elderly or disabled people (70%) and giving money to charity (70%), among other kind gestures.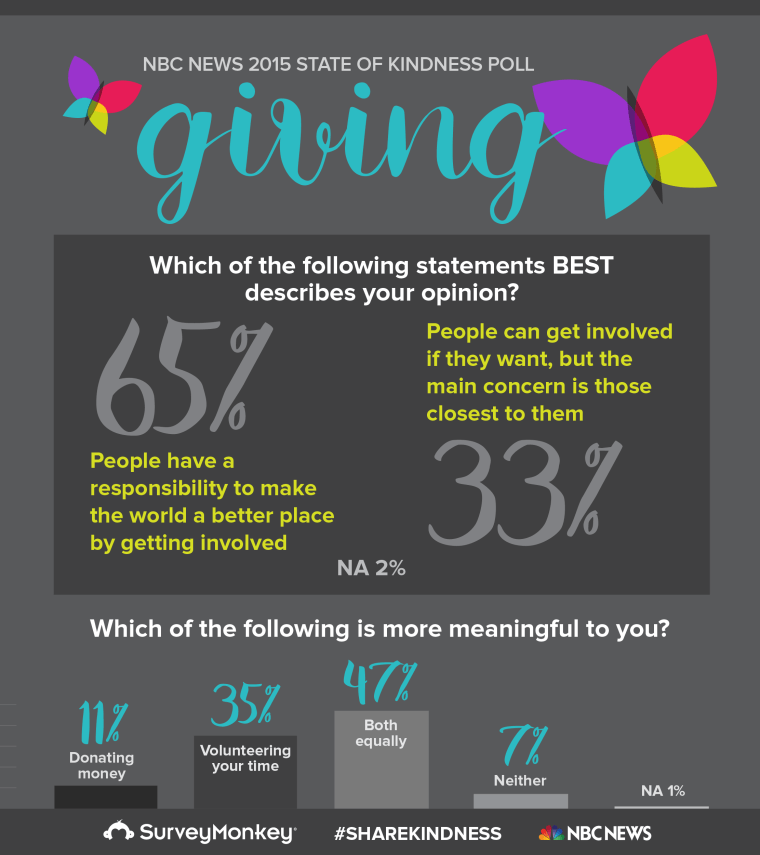 Although 33% of participants say an individual's main concern is to look out for those closet to them (but they can get involved if they really want to), research does indeed show that acts of kindness seem to be contagious, spreading far beyond the recipient of a kind act.
What's better, money or a nice boss? NBC News survey shows what we really think
In a study published in the Proceedings of the National Academy of Sciences, Harvard and University of California, San Diego researchers found that when people benefit from kindness, kindness spreads from one person to the next, creating a kind of tsunami of good deeds that can potentially affect dozens — maybe even hundreds — of people.
The good news is that Americans seem to be putting their beliefs into actions — spreading goodwill just about everywhere.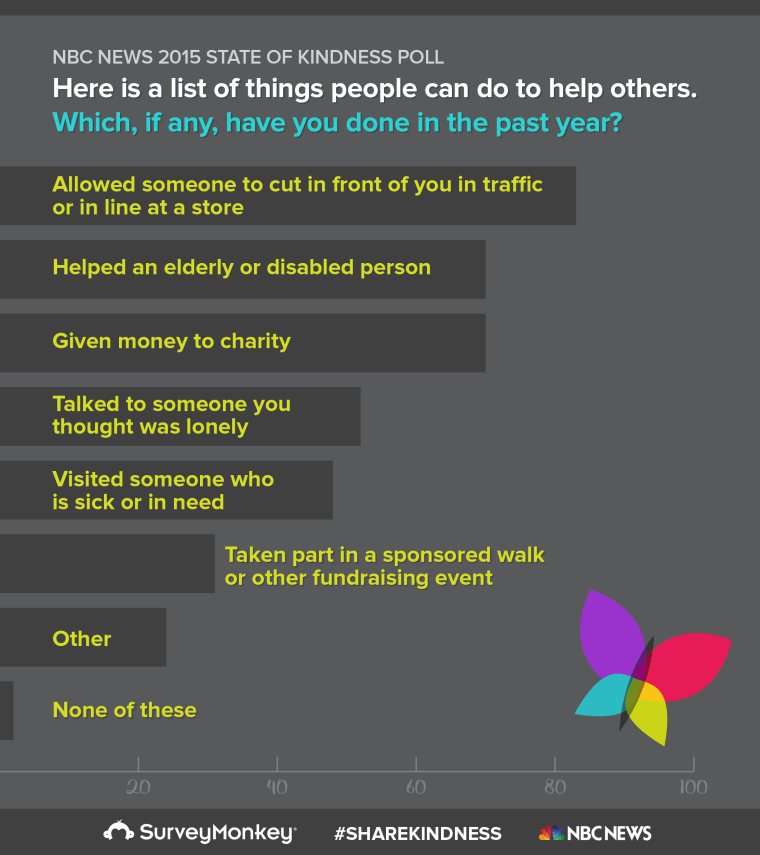 For those stuck in a traffic jam or jostling groceries and kids while standing in a supermarket checkout — never fear. More than 80% of respondents say they have let someone cut in front of them.
And we aren't stingy with our wallets, either.
Seventy percent of our respondents show their goodwill mojo by giving money to charity, with an equal percentage of folks saying that charity also extends to lending a literal helping hand to those in need. In other words, they got off their duffs and did something.
Kind candidates? The presidential candidates you'd most want a drink with are...
In the past year, 70% of survey participants also say they have helped an elderly or disabled person, while 52% of respondents say they have talked to someone who is lonely. Almost half say they have visited someone who is sick or in need, and slightly more than 30% participated in some type of fundraising endeavor.
How best to show our giving natures?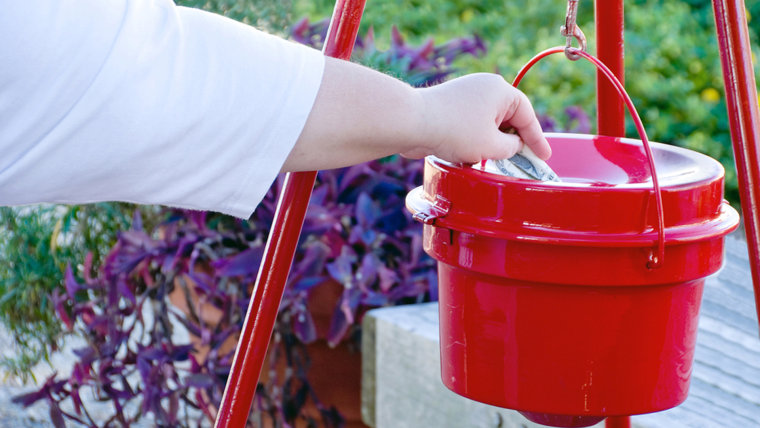 Among our participants, 47% feel that donating time and giving money are equally important and meaningful. Slightly more than 10% do think donating money is more meaningful to them, while 35% say it's volunteering that has the most meaning.
But there is a bit of a generation divide when it comes to how best to spread kindness.
In our survey, the majority of millennials (55% of those survey participants ages 18-24) say that volunteering time is more meaningful than simply giving money. But seniors (65 and above), say that donating money and volunteering are equally important to them.
Millennials reject 'lazy, entitled' label: 'Who are they talking about?'
That divide may possibly be explained by the fact that people who are just starting careers or who are still in school have fewer discretionary funds than those individuals who are more established.
Nonetheless, it's clear that all we really want to do — no matter what our age, no matter how fat our wallets, no matter how strapped we are for time, and no matter what the season — is to spread a little bit of cheers — whenever or wherever we can. And that's good news for all.
This story is part of NBCU's Season of Kindness. Follow the series on Facebook, Twitter and Instagram. #ShareKindness