/ Source: TODAY contributor
A backyard barbecue is one of the pleasures of summer — but if you're the designated grill master, it also involves a little elbow grease. Smart grillers know that the key to easy, effective cleaning is to act right away, instead of putting off the task to tomorrow or the next time you grill (we know it's tempting). Burnt-on grease and gunk can inhibit the way your grill operates and affect the taste and quality of your food.
Read on for our favorite tools and techniques — and strike while the iron is hot!
What to use: BBQ cleaning tools
Arm yourself with the proper tools for cleaning. There are plenty of preassembled toolkits on the market, but many grilling experts agree that it's wise to handpick high-quality barbecue cleaning gadgets individually; they'll last longer and keep the job frustration-free. Retailers like , and are great resources for top-notch, open-stock barbecue tools. Try these:
Stiff-wire grill brush: This is your best friend when it comes to barbecue cleaning. Use it every time you grill to remove food particles from the cooking surface. Grill brushes typically come with either stainless steel or brass wire. Cooking site recommends brass, as it's softer and less likely to damage the cooking surface.
Barbecue tongs: Protect your hands from hot grill grates by using tongs to hold cleaning cloths. Stainless steel tongs are sturdier than their aluminum counterparts.
Grill scraper: This tool is meant to accommodate the contours of your grill, so it's great for scraping away at hard-to-reach areas.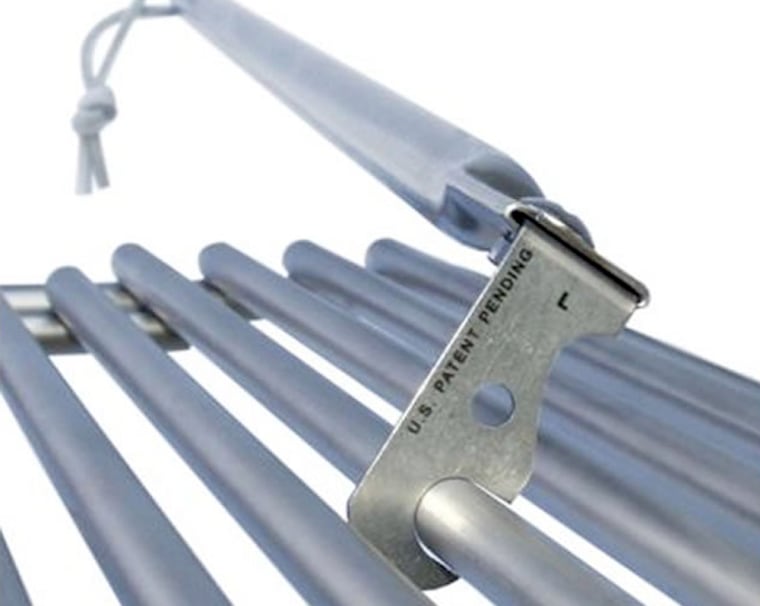 : This beloved grill-cleaning product is peerless when it comes to cleaning grease and food residue from the crevices and underside of barbecue grates and other hard to reach places, especially while cooking.
How to clean: Best household products
While plenty of people swear by heavy-duty cleaners to do the dirty work, there are products in your pantry right now that will get the job done:
Baking soda: Mix up this fridge staple with water to create a paste that's a gentle abrasive. Coat the cooking surface of your barbecue with the solution. Let the paste sit for an hour or so, then rinse it off with water. You can use baking soda and water to clean gunk off of the grill's knobs too.
White distilled vinegar: Reach into your pantry for an all-natural cleaner with grease- and rust-fighting power. Fill a spray bottle with equal parts white vinegar and water, then spray down grates and let the solution sit for about an hour. (Safety tip: Never spray vinegar on hot grates, and if you're using a gas grill, turn off the gas supply first or remove the grates before spraying.) Then wipe off the vinegar solution with a cotton dish towel.
Cooking spray or cooking oil: Oil is a great preventive measure; spray or rub it on before you cook to keep food from sticking. (Safety tip: If you're using a gas grill, turn off the gas supply first or remove the grates before spraying with cooking oil to prevent fire.) You can also use cooking oil to buff the casing of your grill if it's made of stainless steel.
Aluminum foil: Proper barbecue tools are best for scraping off grease and food residue safely, but in a pinch, some balled-up aluminum foil can help you scrub off the gunk too.
Pre-gaming cleanup: Before you grill
It's important to prep your grill for cooking for two reasons: to catch any buildup you may have missed last time and to prevent new buildup from forming. Barbecue grates and hot plates are generally made of stainless steel or cast iron. Here are three tips for tackling them:
1. If you're using a gas grill, turn the "clean" knob on your gas grill to preheat the grill so you can soften the grease and residue and remove it more easily. Use your stiff-bristle brush or aluminum foil to dislodge food particles and baked-on gunk.
2. Coat racks with a cooking oil-soaked paper towel to prevent grease from sticking to the surface. If you prefer to use cooking spray and you're using a gas grill, make sure the propane gas supply is disconnected first, or simply remove the cooking surface and spray it separately.
3. If you're using a charcoal grill, clean out ashes from the bottom of the grill before cooking.
The after-party: Cleaning once dinner's done
The old adage "clean as you go" applies to outdoor cooking too. That's why the post-barbecue cleaning session is the most crucial of all. Think of it this way: Do you really want to be scraping furiously the next time you've got a backyard full of hungry guests? Keep your grill clean and your attitude cool by following these rules:
1. If you're using a gas grill, burn off the grease by turning the burners to high and leaving the lid open for a few minutes. Then turn off the gas supply (this step is very important for safety purposes; in fact, it's wise to turn the burners back on for a minute with the lid open to let remaining gas escape before proceeding).
2. While cooking surface is still hot, use your stiff-bristle brush to loosen and remove still-soft food particles. A bottle brush is a great for clearing gunk out of burners.
3. For more heavy-duty cleaning, remove grates and cooking plates and soak them in a solution of warm water, mild dish soap and vinegar — or just spray them with a vinegar and water solution.
4. For gas grills, clean food particles from lava rocks and replace any rocks that won't come clean. For charcoal grills, remove any old, used-up coals and dump ashes. Clean out the rock bed with warm soapy water or a baking soda and water solution. Rinse well and dry well.
5. Coat the grates with cooking spray or cooking oil and keep the lid firmly closed to keep water out and rust from developing.