After one of the wildest finishes in the women's 400-meter final in Olympic history, U.S. star Allyson Felix was initially wondering who had actually won the race.
Watch this interview on NBCOlympics.com
"I wasn't sure,'' she said on TODAY Tuesday. "I was just kind of staring up at the board trying to see how it was going to sort out."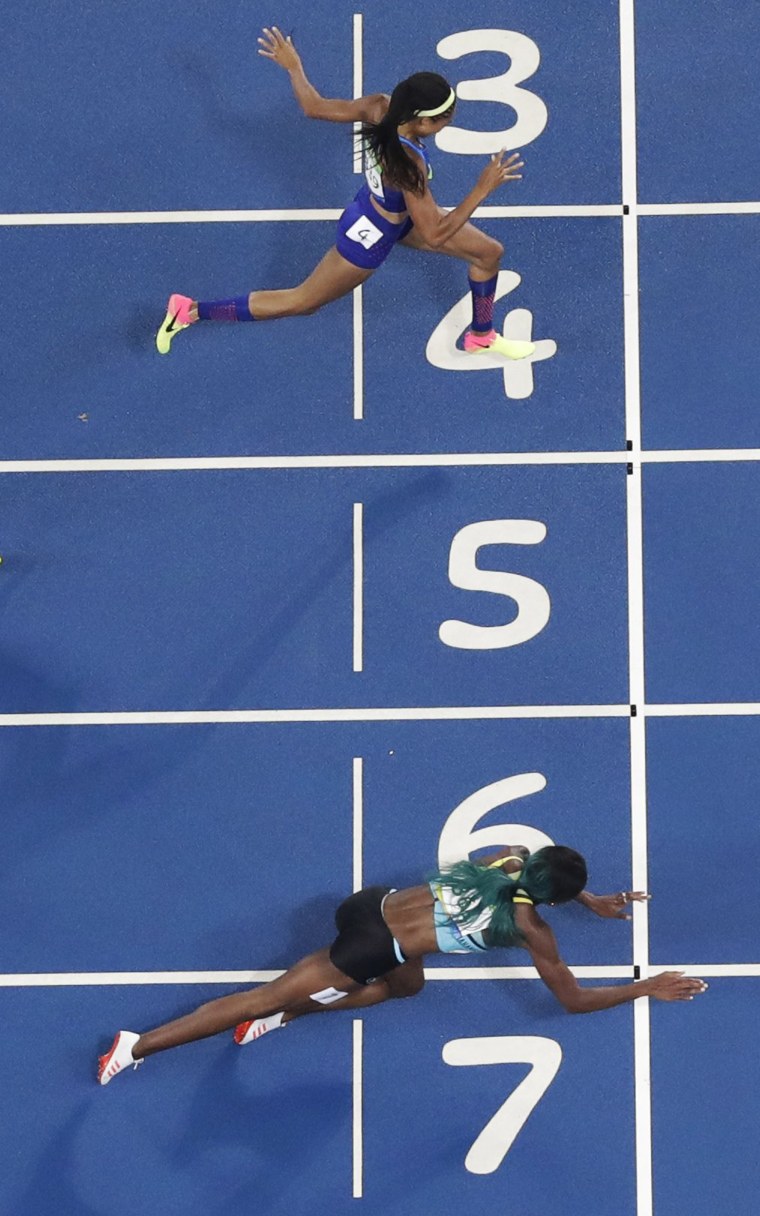 In a race that tied for the closest finish to the women's 400-meter in Olympic history, Shaunae Miller of the Bahamas dove across the finish line to edge Felix by .07 of a second in a photo finish.
Despite not getting the result she wanted, Felix was proud of her effort.
"I just dug deep,'' she said. "To me, this year has been all about fighting, and I knew I was just going to give all I have and fight, and I felt like I did that, and I left it all out there."
While it was a frustrating end in the final individual race of her brilliant career, her silver medal still makes Felix, 30, the most decorated woman in U.S. track and field history. She now has seven medals, including four gold, to pass the six by Jackie Joyner-Kersee.
"It is something that I'm definitely very, very proud of,'' she said. "To be in the same sentence at Jackie Joyner-Kersee, a mentor, an idol, that's going to take some time to sink in."
Felix, who won three gold medals at the 2012 Olympics in London, is wrapping up an Olympic career that began at 18 years old in 2004.
She initially intended to run the 200 and 400 in Rio de Janeiro, but failed to qualify for the 200 after finishing fourth at the U.S. trials. That made Monday night's race her only shot at individual gold.
"It wasn't my best race,'' she said. "I felt like it got a little bit away from me. It's outside my comfort zone. I feel like I'm a sprinter and it's stepping a little outside what I'm used to."
Felix still could potentially have one race left, as she is part of the eligible pool of runners for the 4x400 relay on Saturday.
Regardless what happens, Felix's fighting spirit despite injuries and hardships leading up to the Games has left its mark.
Watch on NBCOlympics.com: Allyson Felix explains why immense sacrifices are worth it
"I hope that I just can get across that you're going to have obstacles, there's going to be adversity, but let your spirit shine through, keep fighting no matter how the cards are stacked against you, don't let it get you down."
Follow TODAY.com writer Scott Stump on Twitter.