A resource officer at a South Carolina high school has been placed on administrative leave as disturbing video of him aggressively detaining a student in the middle of her class is investigated.
Cell phone videos shot by students in the classroom have gone viral depicting Richland County Dept. Ben Fields confronting a female student for disrupting class at Spring Valley High School in Columbia. After she refuses multiple times to come with him after he asks her, the confrontation escalates and he pulls her to the ground and throws her across the floor in another video shot by a student.
The female student was charged with disturbing schools and was released to her parents. The video was trending on Facebook and Twitter with the hashtag #AssaultAtSpringValleyHigh, and the American Civil Liberties Union and the Richland Two Black Parents Association have called it "egregious" and "unacceptable."
"I've never seen anything so nasty-looking, so sick to the point that you know, other students are turning away, don't know what to do, and are just scared for their lives," student Tony Robinson Jr., who shot the video, told WLTX. "That's supposed to be somebody that's going to protect us. Not somebody that we need to be scare off, or afraid."
"I had never seen nothing like that in my life, a man use that much force on a little girl,'' fellow student Niya Kenny, who was also charged with disturbing schools, told WLTX. "A big man, like 300 pounds of full muscle. I was like 'no way, no way.' You can't do nothing like that to a little girl."
Richland County Sheriff Leon Lott asked the FBI to conduct an independent investigation of the incident, according to NBC affiliate WIS. Federal officials have opened a civil rights investigation into the confrontation.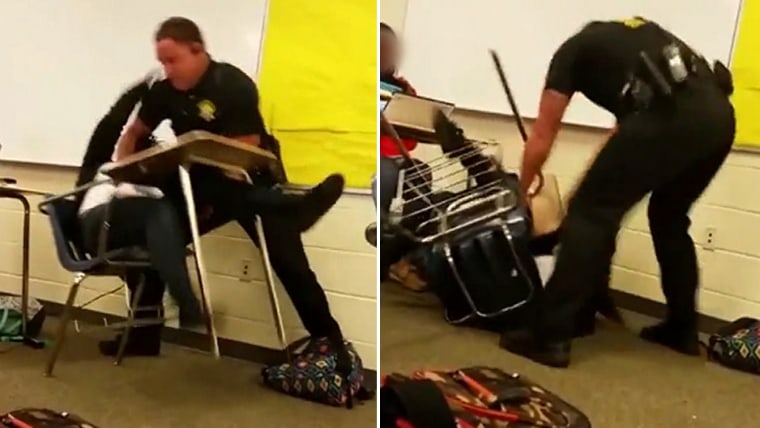 Fields has declined to be interviewed pending an investigation. In 2007, Fields and several other officers were sued for excessive force but won the case.
Fields and other school officials are also in the midst of a lawsuit filed by a student in 2013 claiming in part that Fields "unfairly and recklessly targets African-American students with allegations of gang membership and criminal gang activity." Fields has denied wrongdoing, and the case is still pending. Sheriff Leon Lott has also requested that the FBI and the U.S. Justice Department conduct an independent investigation, according to WLTX.
RELATED: Further cellphone video of the confrontation emerges
"The sheriff fully understands the seriousness of this incident, and he will address this again once the investigation is completed,'' Richland County Lt. Curtis Wilson said at a news conference.
Fields was not brought into the room until after the student refused to leave the classroom, according to the sheriff's office.
"Student safety is and always will be the District's top priority,'' the district superintendent said in a statement. "The District will not tolerate any actions that jeopardize the safety of our students. Pending the outcome of the investigation, the District has directed that the school resource officer not return to any school in the District."
Follow TODAY.com writer Scott Stump on Twitter.