Police in Denver, Colorado, are investigating allegations surrounding a high school cheer coach's intense training methods which left young team members in excruciating pain.
Shocking video released overnight by NBC affiliate KUSA shows footage of teenagers from Denver's East High School in severe pain as they are forced into split positions while their arms are held in place — despite their screams and pleas to stop.
(Warning: The video may be intense and disturbing for some viewers.)
One of the girls in the video, incoming 13-year-old freshman Ally Wakefield, told the network that she was forced into the split position against her will by the newly-hired cheer coach. "It was tearing my ligament and my muscle at the same time," said Wakefield, one of three East High School cheerleaders to speak to KUSA. "He was pushing down on the back of my right leg. He was pushing like with his other knee on my back to try to keep my posture straight."
The cheer coach at the center of the investigation has been placed on leave, along with the school's principal, assistant principal, an assistant cheer coach and the Denver Public Schools deputy general counsel.
"This is a grown man pushing my 13-year-old girl so hard against her will while she's crying and screaming for him to stop that he's ripping tissues in her body," said Kristen Wakefield, the girl's mother.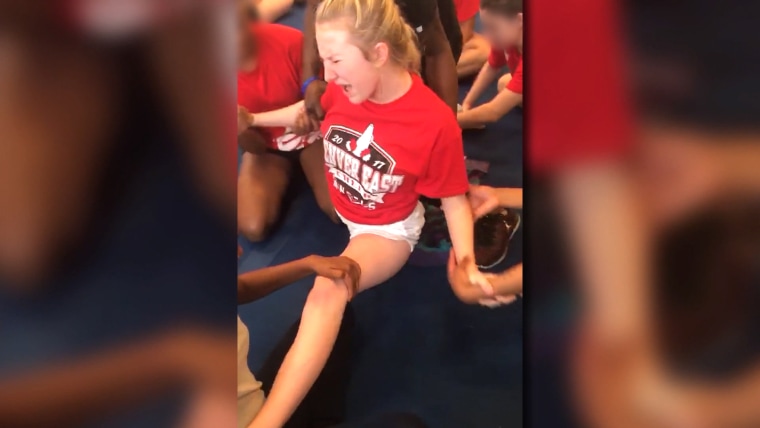 The elder Wakefield sent an email alerting school officials on June 15, but a police investigation wasn't started for more than two months.
"We absolutely prohibit any practices that place our students' physical and mental health in jeopardy," Denver Public Schools Superintendent Tom Boasberg said in a statement. "We do not and will not allow any situation in which a student is forced to perform an activity or exercise beyond the point at which they express their desire to stop."