Get ready to hit the beach. If you're ready to leave your life behind for fun in the sun, you are in luck. the editors have chosen the 30 best island beaches in the world. Find out where they are:

The ultimate island beach finder
Islands and beaches. Both promise pleasure, escape, beauty. Combined, they create that most elusive destination — paradise. After twenty years of global reporting, we present the thirty best island beaches in the world today. Sheltered by reefs or pounded by surf, edged by lagoons or on the brink of the deep, they range from remote alabaster arcs to hip-and-handy sandbox playpens. And they deliver on every desire. Pick your paradise.The whole idea of a beach changes when it's on an island. Whatever the lures of a mainland beach (and they are many), something is missing. The very act of crossing water seems to decisively remove us from the anchorage of the everyday. Even if only 120 feet separate the Greek island of Lefkas from the mainland, by crossing that narrow channel you know you've left the mundane for the magic of the Ionian chain, where the beaches amplify the sense of apartness — of having been shaped like the islands themselves, by some primal force. Sand is, after all, debris—the fine dissolution of rock or coral, and the agent of our passage back to where we ourselves began, as fish.
The delirium of finding such a beach, stripping down and plunging in is truly elemental. This experience is just as keenly felt if the island is — like Hawaii — a five-hour flight away from our continent, where the islands are actually the tops of volcanic mountains. The reductio ad absurdum of this island delirium is the desert island of cartoons — what Stephen King, in the July 1990 issue of this magazine, described as "no more than a hummock, somewhere in the Pacific, with one sickly palm tree growing on it." That island is all beach. And yet the literary conceit remains that a castaway rescued from such a place is not altogether happy to be back in civilization, any more than Tarzan was when reacquainted with his noble pedigree. A curious, primitive rapture has been left behind. Certainly, you won't leave any of these great beaches without regret. The writers who went forth and diligently gumshoed the diverse qualities of beaches — from the Caribbean to the Baltic, the Mediterranean to the deep Pacific — have delivered. They leave no doubt that island beaches are a breed apart.
GreeceShipwreck Beach, ZakynthosAn Ionian Sea beach that would be worth the trip even without the centerpiece rusting hulk of a smuggling vessel embedded in the sand — the result of a pirate raid that went wrong. Wow Factor: Scooped out of a vertical wall of white rock, this is an idyllic and isolated beach.  Best Bed: The stone-walled Hotel Nobelos is five miles from the beach, in a lovely rural setting (30-26950-27632; nobelos.gr; doubles, $380-$570).Fair Warning: The only way to reach the beach is in one of the small excursion boats leaving frequently from several ports on Zakynthos and piloted, one hopes, by better captains than the smuggler (whose illicit cargo was cigarettes).
United States
Cumberland Island, Georgia
For nearly a century, members of the Carnegie family owned most of Georgia's largest sea island. The National Park System has since become an equally protective steward. Wow Factor: Animals far outnumber people (cimuseum.org lists fauna), with only 300 visitors allowed per day — about 18 per mile of beach. Best Bed: Actually, the only beds. They're in the Greyfield Inn, an old Carnegie manor where guests gather for superb dinners (904-261-6408; greyfieldinn.com; doubles, $350-$575).
Brazil
Baia do Sancho, Fernando de NoronhaTurquoise seas rolling into a secret cove of golden sand make this perhaps the most visually stunning beach in South America. Wow Factor: The reward is a heaven of sand with no hotels, bars, or peddlers. Best Bed: The newest and most luxe stay on the island is Pousada Maraviha (55-81-3619-0028; pousadamaraviha.com.br; doubles, $615-$740). Hint: Fly from Recife or Natal to Fernando de Noronha.Andaman Islands
Beach No. 7, Havelock IslandThis nearly untouched, mile-plus sugar-white crescent, backed by the kind of hardwood forest you pray that makers of lawn furniture never hear about, is known simply by a number — proof that marketing people haven't discovered the Andamans yet. Wow Factor: Divers — at least the romantically inclined ones — say the water lapping it has all the greens and blues of a December birthstone. Best Bed: Barefoot at Havelock's cottages and villas face the beach (91-3192-282151; doubles, $75–$105). Go to barefootindia.com for island and resort details.Fair Warning: Havelock is two hours by boat from the islands' capital, Port Blair.
Antigua and Barbuda
Palmetto Point Beach, BarbudaThe breathtaking seven-mile southwestern beach is totally unspoiled, possibly because this is one of the less charming Caribbean islands. Wow Factor: Barbuda's abundant shell-pink sands are one of its main exports. Best Bed: Coco Point Lodge lures WASPy families, some of whom have been returning for generations (268-462-3816; barbudaful.com; doubles, $810–$1,485, all-inclusive; open Nov.–April), while the new kid on the beach is the sleek, white, sexy Beach House, which has its own boat and lobster cookouts on the sand (631-537-1352; caribbeanclubs.net; doubles, $750–$975).Hint: Bring amusements — there's nothing to do.Seychelles
Anse Victorin, Fregate IslandSome of the few who have actually gotten to it consider this among the world's perfect beaches. Wow Factor: Soft sand; clear, tranquil water; a backdrop of palms and cliff; and a crescent beach 230 steps from end to end — a paradise which is all that, and often yours alone. Best Bed: There is but one resort, Fregate Island Private (49-6102-50-1321; fregate.com; doubles, $2,400, all-inclusive).Fair Warning: The resort's tariff, as much as Fregate's remoteness, keeps away all but the most determined sybarites.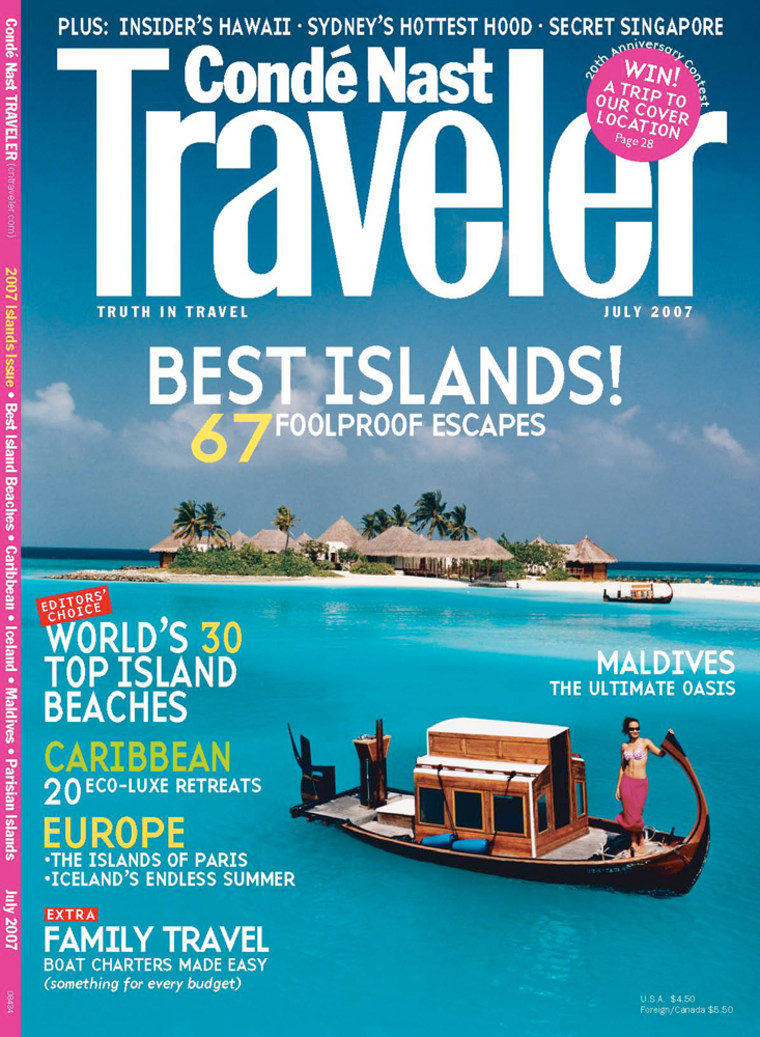 Australia
Lizard Island, Great Barrier Reef More than 20 beaches of all shapes and sizes ring this quietly luxurious 40-unit single-resort island of great charm, 18 miles off Queensland's coast. Wow Factor: All guests get motorized dinghies so they can search for their favorite beach or reef. The kitchen is outstanding, and the huge marlin mounted in the main restaurant celebrates the island's preoccupations: game fishing and scuba (a tall weigh-scale on the main beach is in regular use). Rates include meals and much more (61-2-8296-8010; lizardisland.com.au; doubles, $1,320). Fair Warning: Getting here is expensive: $330 round-trip from Cairns.
Whitehaven, Whitsunday Isles
A perfect six-mile crescent of acacia forest protects a curve of wedding-white sand, forming perhaps the best beach in Australia — high praise, indeed. Wow Factor: Strictly enforced national park rules allow only limited visits and no overnighting on land, so solitude is ensured. Best Bed: None. For options nearby, check thewhitsundays.org or whitsundaytourism.com. Fair Warning: A thin wet suit, or "stinger suit," is advised if you plan to swim from October through May: Local Irukandji jellyfish are transparent and dangerous.
Bahamas
Pink Sands, Harbour Island Whoever named this beautiful beach did not lie — the sand is pale pink. Better yet, it's virtually deserted. Wow Factor: Harbour Island itself is only four miles long, and the entire east coast is beach. A few palapas dot the sand in front of the few hotels, but otherwise this beach has nothing — no bars, no plastic chaise longues, no people hawking necklaces. Best Bed: It does have the Pink Sands hotel, where you can walk barefoot from your bed to the beach every morning for a pre-breakfast swim (242-333-2030; islandoutpost.com; doubles, $600–$700).
Brazil
Lopes Mendes, Ilha Grande
Ilha Grande is just one of the 350-plus islands off Angra dos Reis, south of Rio. Wow Factor: Its 22 beaches of soft white sand, however, make it the most alluring. And Lopes Mendes, with almost every one of its elements in just the right proportion, is the finest of the 22. Best Bed: Visitors so unfortunate as not to be sleeping aboard a yacht can find simple accommodations at Sagu Mini Resort, overlooking a rocky cove (55-24-3361-5660; saguresort.com; doubles, $127–$157). Fair Warning: It can get crowded from December through February.
Cook Islands
One Foot Island, AitutakiThis tiny uninhabited mote is one of the most photographed islets in the South Pacific, no doubt because it is everybody's idea of what their island would look like if they were Robinson Crusoe — white sand, bending palm trees, azure water. Wow Factor: The wide lagoon is so shallow you can walk to the next island at low tide. Best Bed: The two-year-old, eight-bungalow Etu Moana is right on the beach (682-31458; etumoana.com; doubles, $313–$350). Fair Warning: Too many day-trippers.
Fiji
Vatulele IslandFrom the moment you step barefoot out of the seaplane and wade ashore, you have no desire to wear shoes again until someone makes you get back on the plane — the half-mile stretch of sand is that soft. Wow Factor: With the resort's sunset-facing bures strung along the beach, there's just one reason to wander away from the tide line: the excellent wine list. Best Bed: The bures are well spaced: Nos. 1 through 9 flank the Main Bure; 10 through 17 are a secluded walk away (679-672-0300; vatulele.com; doubles, $1,386, all-inclusive).Bonus: Vatulele is a real Fijian island, with four villages and coconut and taro farming. Germany
Sylt, Schleswig-HolsteinThis quaint island resort has no fewer than 20 miles of sand dunes and its very own style of beach furniture, a three-seater basket that serves both as a windbreak and a territorial marker. Wow Factor: Nudism is ubiquitous, particularly with the middle-aged liberal intelligentsia. Best Bed: Kampen is the most attractive tourist village, with easy access to beach and golf from the Rungholt Hotel (49-4651-4480; hotel-rungholt.de; doubles, $318–$380).Fair Warning: The North Sea is predictably chilly at 54 degrees latitude, but the trade-off is long hours of summer sunshine.
Greece
Porto Katsiki, LefkasLittle known even to Greeks, this ranks as one of the most perfect beaches in Europe — island or continent. Wow Factor: Contained between two huge precipices of white, gold, and red limestone, the beach is a feast of contrasting textures. The central section is of the finest white pebbles, perfect for sunbathing, while huge rounded boulders provide shade. The sea here is a color found nowhere else — a solid turquoise that might have been poured directly from a can of paint. Best Bed: No standouts. Stay in the nearby fishing village of Vassiliki or in Nidri, on the other side of the island. Fair Warning: Not easy to get to. Come by boat from Vassiliki or by rental car, driving through a forest of pine trees (lefkada.gr).
Indonesia
Nusa Dua, BaliWhen the Indonesians were looking for an ideal stretch of sand on which to build an enclave of upscale beach hotels, they chose Nusa Dua, in the southern part of the island, not far from the airport. Wow Factor: The sand is white, the water is blue, and the hawkers remain notably absent. Best Bed: Plenty. An exception to the massive scale of most of the hotels is the 35-suite Amanusa, sitting tranquilly on a hillside above the beach (65-6887-3337; amanresorts.com; doubles, $700–$1,500).Italy
Lido, VeniceThe ultimate in seaside swank. The Lido was made forever famous by Thomas Mann's novella "Death in Venice" and Visconti's lush movie of the story. There are two enormous public beaches at each end of the island. Wow Factor: In September, it hosts the prestigious Venice Film Festival, first held in 1932, where film stars arrive elegantly by boat or private plane. Best Bed: Two pricey, grande dame hotels — the Westin Excelsior (39-041-526-0201; starwoodhotels.com; doubles, $1,130–$1,290) and the Hotel des Bains (39-041-526-5921; starwoodhotels.com; doubles, $940–$1,180) — boast what is probably the world's most expensive beach huts, which Venetians lease by the season for $10,000 (weekly and daily rates are also available). Next-Best Bed: The charming Albergo Quattro Fontane is more reasonable, and it has a good restaurant (39-041-526-0227; albergoquattrofontane.com; doubles, $584).Jamaica
7-Mile Beach, NegrilThere's a reason — besides the glorious sunsets — that this seven-mile stretch on the west coast is a perennial favorite. Wow Factor: Just the right mix of white sand, tranquil water, and enough beach life to keep you from getting bored after the first few hours of bliss. One-Love Factor: Visitors most easily mix with locals at Alfred's, a beachy restaurant and bar with live reggae Tuesdays, Fridays, and Sundays (alfreds.com). Best Bed: If you are here to stay on the beach, Couples Swept Away is on a good section (954-416-1280; couples.com; doubles, $565–$769, all-inclusive).Maldives
Cocoa Island
It's hard to go wrong in the Maldives, which has eighty-seven one-resort islands on its atolls, all with worthy beaches. Wow Factor: Tiny Cocoa Island is virtually all beach, all of it white sand, complemented by palms and a lagoon of tranquil sky-blue water. Best Bed: Cocoa Island resort has diving, small-boat sailing, and a spa (960-664-1818; cocoaisland.como.bz; suites, $590–$805).Bonus: If that's too much activity for you, they'll drop you off on your own private beach, where you can remain blissfully isolated for as long as the sunscreen holds out. Philippines
White Beach, Boracay
This three-mile stretch of sand has the color and consistency of baby powder, and is one of the world's classic beaches on which to mix with locals. Wow Factor: From one end to the other, there's a frenzy of life: hotels, bars, dive operators, windsurfing schools, massage stations, hair braiders, and scam artists of every description. Best Bed: The Boracay Regency fronts the beach and is in the middle of the action (63-36-288-6111; boracayregency.com; doubles, $124–$216).Fair Warning: From Manila, you fly to Caticlan; from there, it's a half-hour boat ride right onto the beach. Note, too, that the community has issues — overdevelopment, erosion, pollution.
St. Vincent & The Grenadines
Petit St. Vincent A two-mile-long idyllic beach almost completely encircles this islet near Union Island. Wow Factor: PSV has sand so cushy that guests risk sinking up to their piña coladas. Best Bed: The 113-acre island's only occupant is the Petit St. Vincent Resort, whose 22 cottages are just secluded enough — some beachside, some cliffside — to make this one of the most romantic spots on the planet, as well as one of the most private. No phone, TV, A/C, or room key (945-963-7401; psvresort.com; doubles, $605).
Spain
Playa de las Salinas, IbizaEvery beach is a party beach on Ibiza, but this is the hippest. Wow Factor: A mile-long stretch of sand backed by pines, it's where people who have the stamina to party all day after partying all night come to dance — and to pretend they don't notice just how little some people can get away with wearing to the beach. Visitors with an interest in either should come in the summer or not at all. Best Bed: To party where you sleep, stay at urban funky El Hotel Pacha, connected with Club Pacha, an institution among Ibiza dance venues (34-971-315-963; elhotelpacha.com; doubles, $488).Tanzania
Bwejuu, ZanzibarThis 12-mile beach on the southeast coast is populated mostly by locals—fishermen wading to their boats, brightly dressed women husking coconuts or gathering seaweed, kids with dreams knocking around a deflated soccer ball. Wow Factor: Zanzibar is one of the most exotic of African islands, and Bwejuu is its wide and blindingly white beach. Best Bed: You'll find a few guesthouses, but for pampered luxury stay at The Palms, six large villas associated with the more modest Breezes Beach Club (225-777-437-007; palms-zanzibar.com; doubles, $1,235, all-inclusive).Thailand
Kamala Beach, Phuket The western shores are thick with beaches, and many of those beaches are thick with commerce — food vendors, souvenir kiosks, girlie bars, and other distractions. It is possible to escape the commotion by retreating to an exclusive resort, but you risk missing the local color. Wow Factor: Kamala is the antidote. The beach itself is much like Phuket's others, and mostly obscured under the regimented rows of chaise longues, but Kamala Bay's main street is a convivial integration of seafood restaurants, shops, and bars that are notably tamer than nearby Patong's strip. Best Bed: If you're keen to experience well-appointed pampering, you needn't go far: The luxurious Chedi is a short ride up the coast (66-76-236-550; phuket.com/chedi; doubles, $160–$250).Tonga
Mounu Island, Vava'uA luxurious eco-resort — for real. Mounu Island utilizes solar power, and rainwater is filtered for drinking. Wow Factor: The white beach that fringes this 6.5-acre coral atoll always feels deserted, even when the sole resort is full, because Mounu has only four units and a communal fale (a traditional Tongan house) where gourmet meals are served every evening. Bonus: Turtles nest here in summer, and there are two boats for humpback whale–watching from July through November. Best Bed: You can sometimes even see the humpbacks from your own fale (676-59070; mounuisland.com; doubles, $150–$175).United States
South Beach, FloridaRollerblades and prominent pecs are as essential as sunblock on the southern stretch of Miami Beach. Wow Factor: SoBe can be rowdy, but it is 23 blocks long, with plenty of quiet spots to plant an umbrella. Best Bed: There are many to choose from. The Ritz-Carlton, a restored Morris Lapidus–designed hotel, is smack on the white beach (786-276-4000; ritzcarlton.com; doubles, $399–$675). The hotel scene here is as hyper as the nightlife, but the all-suite Sanctuary South Beach makes good on its name (305-673-5455; sanctuarysobe.com; suites, $175–$225).Fair Warning: Traffic is constant. Walk or ride the Electric Wave bus on Washington Avenue.Waikiki, Oahu, HawaiiThe "little collection of cottages under coconut trees" that Mark Twain admired has become the world's most famous island beach, with more than 100 hotels along a two-mile shore. Wow Factor: There's no such thing as boredom in Waikiki. The gentle surf invites haoles of an amusing range of skills to give it a try. Join them, or choose your vantage point at a beachside café or bar. The shops, restaurants, and parks of Honolulu are a block away. Best Bed: Choices include a Gold List classic: the Halekulani, a century old this year (800-367-2343; halekulani.com; doubles, $405–$635).Gibson Beach, Sagaponack, New YorkThe reports of toplessness at Gibson Beach, titillating though they may be, are sadly exaggerated. Wow Factor: With no amenities of any kind, this wild swath of dunes, surf, and fabulously wealthy homes is one Hamptons beach that attracts more thongs than throngs. Best Bed: Southampton's tall-hedged, big-lawn Village Latch Inn hits the right notes of grandeur and privilege befitting the area (631-283-2160; villagelatch.com; doubles, $250–$425). For something longer-term, Roy Scheider's beachfront property is reportedly for sale for $18.75 million. Perhaps he's gonna need a bigger house.Fair Warning: With minimal parking, bicycling is a preferred transport.Ocracoke Island, North CarolinaThe horses that once ran wild on this low-lying barrier island are now fenced in. Wow Factor: Unlike the horses, a wide, wild, big-surf beach still runs virtually the entire length of this 16-mile-long stretch in the southernmost section of the 75-mile Cape Hatteras National Seashore (nps.gov). Best Bed: Skip the beach campgrounds in favor of Ocracoke village, where Captain's Landing delivers harbor views from your private deck (252-928-1999; thecaptainslanding.com; doubles, $200–$260). Hint: Arrive via the free ferry from Hatteras Island.
South Padre Island, TexasNo wonder this barrier-island strand is America's number-one spring-break party beach. It's plenty warm by March, and it's legal to drink beer from a keg on the beach. Wow Factor: You don't need a college degree to recognize that the water here is as clear as any on the Gulf Coast. Best Bed: The Sheraton is on the beach, with great views, although before making a reservation, ask how the construction work is going (956-761-6551; starwoodhotels.com; doubles, $199–$289).Venezuela
Cayo de Agua, Los RoquesBring an umbrella and claim your own sandy realm in this sparsely populated archipelago of several hundred small islands — most, unlike Cayo de Agua, unnamed. Wow Factor: Los Roques has some of the most pristine beaches in the Caribbean. Best Bed: The all-inclusive Macanao Lodge will drop guests off for the day at various islands as part of its service (58-212-708-9898; macanaolodge.com; doubles, $380).Hint: Arrange day-trips from the main — and only inhabited — island, Gran Roque.–Mike Di Paola, Ron Hall, Beata Loyfman, Bob Payne, and Gully Wells
For more travel news and tips, check out the Conde Nast Traveler Web site.