/ Source: TODAY contributor
It's a divorce with enough intrigue for even the most jaded gossip hound. Larry King and his wife Shawn raced separately to an L.A. courthouse to file competing divorce papers Wednesday —with the CNN host, a longtime horse-racing buff, beating his seventh wife by a nose.
In between, shouts of infidelity echoed back and forth: Shawn accused her husband of 13 years of carrying on an affair with her look-alike younger sister, while reports also claimed Shawn had a romance with their sons' Little League baseball coach.
The filings mark another chapter in the romantic misadventures of venerable newsman King. His latest divorce is his eighth with seven different women (he married and divorced former Playboy bunny Alene Akins twice).
Coming out swinging
"It's a crazy story that's been going on, and if anyone had been paying attention, all the signs were there," former Us Weekly editor Janice Min told Meredith Vieira on TODAY Thursday. "Larry King is not a Kardashian; he hasn't been covered by the celebrity media a lot in the last few years."
Part of the relative inattention to the 76-year-old's love life stems from the fact that he's, well, 76. But more than that, King's marriage to the former Shawn Southwick appeared to be solid — the first of King's eight marriages to last more than 10 years. The pair married in 1997 and have two sons, Chance, 11, and Cannon, 9.
But news outlets are having a field day picking up on recent tabloid stories from the National Enquirer. The supermarket tabloid reported in December that King had engaged in an affair with his 50-year-old wife's sister Shannon Engemann, lavishing her with gifts that topped $1 million.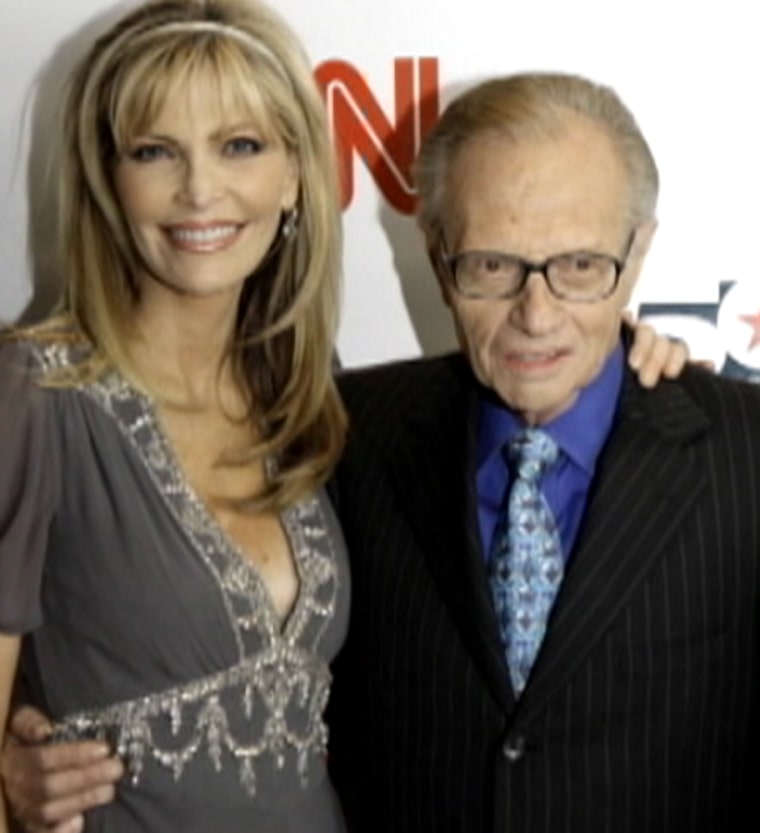 Engemann came out swinging Wednesday over the charges she bedded her brother-in-law. "[I] never had an affair" with King," she told "Access Hollywood." "I am not the reason for this."
Though she didn't know the source of the rumors, she added that "it's a lot easier than Shawn taking responsibility" for her own marriage.
Reports claim King had bought her a "$160,000 car," but Engemann, 46, told "Access Hollywood" he had simply helped her — and her family. "He also helped my mom get a car, my dad get a car," she said. "Larry is very sweet, he's always been very generous to our entire family."
As for Shawn King, she has made headlines of her own — first for entering rehab in 2008 for an addiction to painkillers, then for a National Enquirer report that claimed she carried on a yearlong affair with Hector Penate, a handsome youth baseball coach 19 years her junior. Shawn King denied the affair.
Signs of troubleThere have been other signs that the Kings' union was unraveling. RadarOnline.com claimed the couple engaged in a knock-down-drag-out fight Feb. 7 at a restaurant in Beverly Hills, one of Larry's favorite hangouts. According to the report, the pair argued inside the eatery, and when Shawn King bolted outside, King grabbed her arm to lead her back in. She responded by slapping him in the face, according to the report.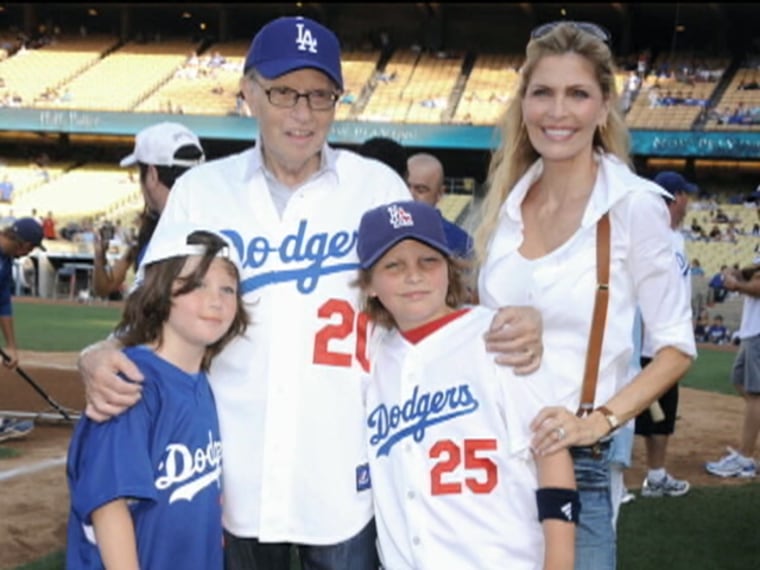 The marriage drama may well lead to fireworks in divorce court. Larry King seeks joint custody of the couple's two young sons, while Shawn seeks sole physical custody.
Former judge and prosecutor Jeanine Pirro told Vieira on TODAY Thursday that Larry King may be in good standing for joint custody. "There is nothing that we know about Larry King that would suggest he would not be a good father to those children," she said. But in reading Larry's divorce filing, Pirro says she still sees potential drama ahead.
"What's curious about the papers is that he doesn't want to pay her any support, and he wants her to pay the attorney fees," Pirro told Vieira. "So I'm getting the sense here that there may be a fight coming down the road."
Could the CNN host benefit professionally from the divorce drama? He's seen his audience erode in his 25 years hosting "Larry King Live" on CNN. Min told Vieira that she doesn't see King getting a ratings bounce like David Letterman, who saw viewership for his late-night talk show soar after admitting he had affairs with female staffers. "It's not like college kids are obsessing over Larry King, or women in their 20s — there's not a reality show on Larry King," Min said.
In a brief statement, Larry King's spokesman, Howard Rubenstein, said King's "major concern is the welfare of his children."