As she waited with the family of a student shot in last week's rampage at a Florida high school, Brenda Louis couldn't help but think about her own teenager.
The Broward County Sheriff's Office deputy had been assigned to detail the hospital floor of 15-year-old Kyle Laman. She spoke with the boy's mother and aunt as doctors operated on the teen's leg.
"They told me how scared they were and how blessed they felt because Kyle survived, but they were also so sad because other kids didn't," Louis said. "I told them I couldn't imagine being in their shoes because I have a 16-year-old."
Later, as Kyle recovered from surgery in his room, Louis asked his parents if she could lead a small prayer.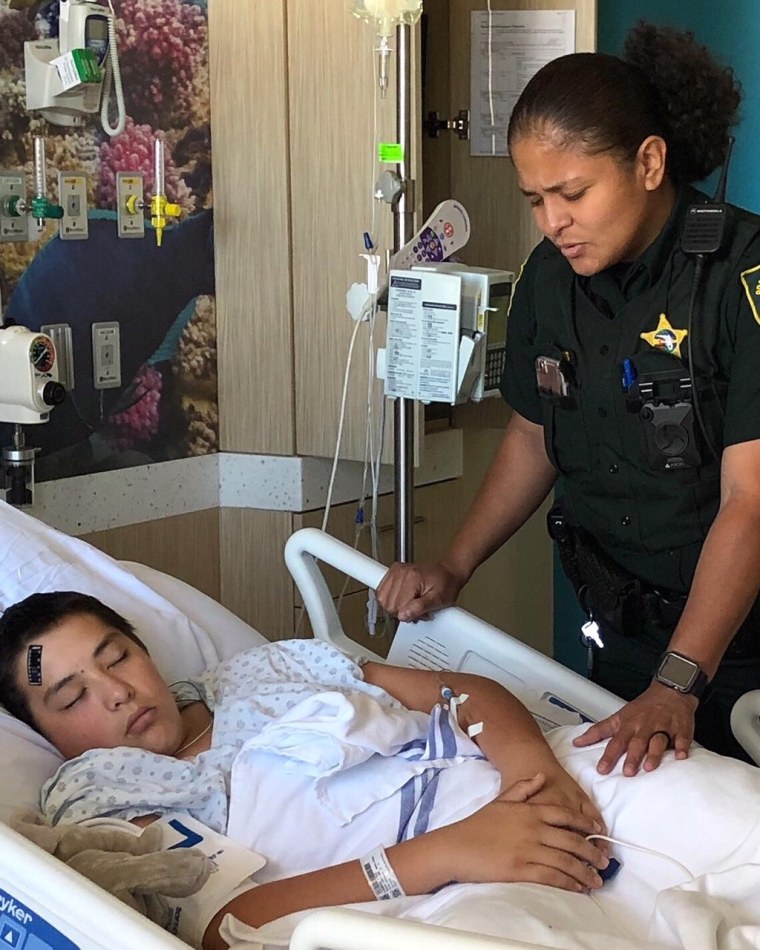 "I asked them, 'Do you guys mind if I pray for Kyle?' And I was happy about how they received it and how open they were to the request," she said.
Kyle was among the dozens injured on Feb. 14, when a gunman opened fire inside a South Florida high school and killed 17 people.
Louis doesn't remember what she said in her prayer.
"I asked God to choose my words. I didn't want the words to come from me, I wanted them to come directly from God," she told TODAY. "All I know is that I was praying for healing, specifically for Kyle, and especially for the parents who lost their loved ones."
As Louis prayed, she rested one hand on Kyle's leg and closed her eyes. She doesn't know who took the photo that would ultimately get shared online.
"I was expecting everyone to have their eyes closed. I never thought they were going to take a picture and post it on social media," said Louis, who joined the Broward County Sheriff's Office two years ago.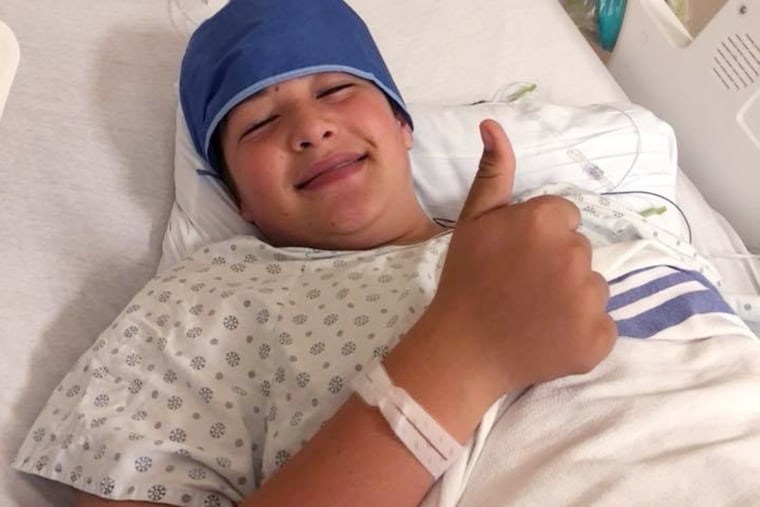 Calls and messages by TODAY to Kyle's parents were not returned, but in a GoFundMe account they have thanked the community for their support and prayers. Kyle's mother also provided a recent update about her son's most recent surgery, an eight-hour procedure that she said went well. However, she noted he still has a long recovery ahead of him.
Louis said on the night of the shooting, she didn't have a chance to process everything that happened earlier until she got home.
"I just broke down and cried. I came home and hugged my kids," said Louis, who also has a 4-month-old son. "I was thanking God to be blessed to have my kids, and I prayed for the other families. So when I walked with Kyle and his family the next morning, my heart was still heavy and I was really sad."
Louis said she has received a range of feedback to her prayer photo.
"I've been hearing a lot about prayer doesn't do anything and that we should do more than just pray," she said.
She understands that notion, but said prayer also has provided hope to many in a community that is trying to recover and heal.
"I respect everyone's opinions and faiths and beliefs, but prayer is my No. 1 weapon," she said. "I have a gun, I have a badge, but my No. 1 weapon that I use on a daily basis whether I'm at work or not is prayer."