A Delaware woman who said she was brutally attacked and left for dead while vacationing at a Dominican Republic resort is sharing her story to caution others against letting their guard down, even in so-called "paradise."
"I just remember, thinking at that point, I wasn't going to make it home to see my boys and my husband. That they weren't going to find me," Tammy Lawrence-Daley told NBC News about what was going through her head during the alleged attack in January. "And I remember that last breath I took and then I just went unconscious."
The Delaware mother said the attack occurred on the second night of a vacation she and her husband took with some friends at the Majestic Elegance Punta Cana resort, a five-star resort on the east end of the Caribbean island.
Lawrence-Daley said she headed out around 10:30 one evening to get a snack. As she walked through a rotunda between the buildings, she said she heard heavy footsteps behind her. Someone then grabbed her and pulled her into a maintenance room, where she said she was savagely beaten and choked.
Lawrence-Daley recalled fighting back "with everything I had," but was overpowered.
She regained consciousness shortly later to find her attacker "beating me and kicking me in the head."
The attack continued for hours, she said.
"I have no idea what he did to me. I just knew I was in this pit and I couldn't get out because I couldn't see," she said.
Lawrence-Daley said she caught a glimpse of her attacker's clothing and saw he was wearing a uniform with the resort's logo.
"I just knew I was dead," she said. "The rage coming off of this man, you could feel it, it was palpable."
Eventually, her attacker dragged her into a basement crawl space and left her for dead, she said.
Hotel workers found Lawrence-Daley eight hours later.
Her husband, Chris Daley, said he barely recognized his wife.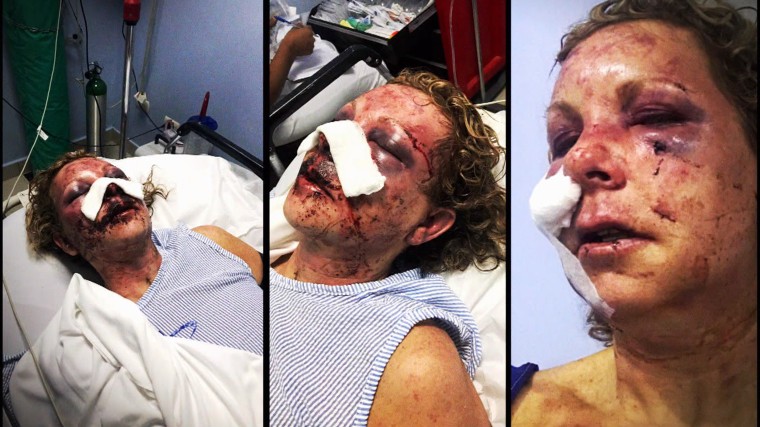 "It didn't look like her. She was bruised. Eyes were shut swollen," he said. "And I just lost it, yelling for people to get help."
Lawrence-Daley spent five days in the hospital. But she said returning home to face her family was another painful part of the trauma.
In a statement released Wednesday, the Majestic Elegance said staffers began searching for Lawrence-Daley as soon as her husband reported her missing, which was at 2:30 a.m.
"At around 6:40 a.m., an employee found Tammy Lawrence in a restricted area of the hotel and an ambulance was called to take her immediately to the hospital," the hotel said.
Lawrence-Daley had "bruises on her face and had broken the nail on her little finger," but "no other signs of violence on her body and still had her purse and cell phone with her," the hotel said.
The hotel also said Lawrence-Daley later asked for $2.2 million as compensation, but was denied, and that authorities involved in the investigation "doubt her testimony" about the attack.
"After their investigation, authorities understand that the scenario is still unclear, and that there are weak points and unanswered questions to answer in this strange and unusual case," the hotel said, adding that it was continuing to cooperate with authorities.
Dominican police have not made an arrest in the case.
Lawrence-Daly first shared her ordeal along with graphic photos of herself after the attack in a lengthy Facebook post on May 29.
"This man thought he killed me, but he failed," she wrote. "He is still out there, a predator, waiting for his next victim. Only the next woman may not be so fortunate. Please, please do not walk alone."