Check these nifty neck numbers that DailyCandy discovered just in time to spice up your holiday party look and to round out the gifts you'll give the girls on your list.
Right now, some pretty dramatic things are happening around that trusty body part between your head and your shoulders. Fashionable necks are being adorned with high collars, wrapped scarves, bold jewelry and sweet bows. Your neck is the smartest spot to decorate if you want a high-impact style update. Who has time to plan a new outfit each evening after scurrying around like the busiest elf all day long? A change in neckwear is all it takes.
It's an easy, inexpensive and downright practical trend to follow: You'll ward off the winter chill and look snazzy at the same time. And as a gift, neckwear is like a hug she keeps getting every time she puts on your present! Here are three ways to, er, stick your neck out.
Deck the neck with boyish bow ties
Just a bit menswear-inspired, the bow tie is festive, frisky and extremely fun. Timo Weiland's silky bowtie bib puts you in a party mood the instant you slip it on. Added to any top, from tank to tee to similarly satiny blouse, it imparts ladylike glamour and calls for a night on the town. This also provides an excellent way to disguise wearing the same shirt again and again (which is our advice for making it through the holidays with your sanity).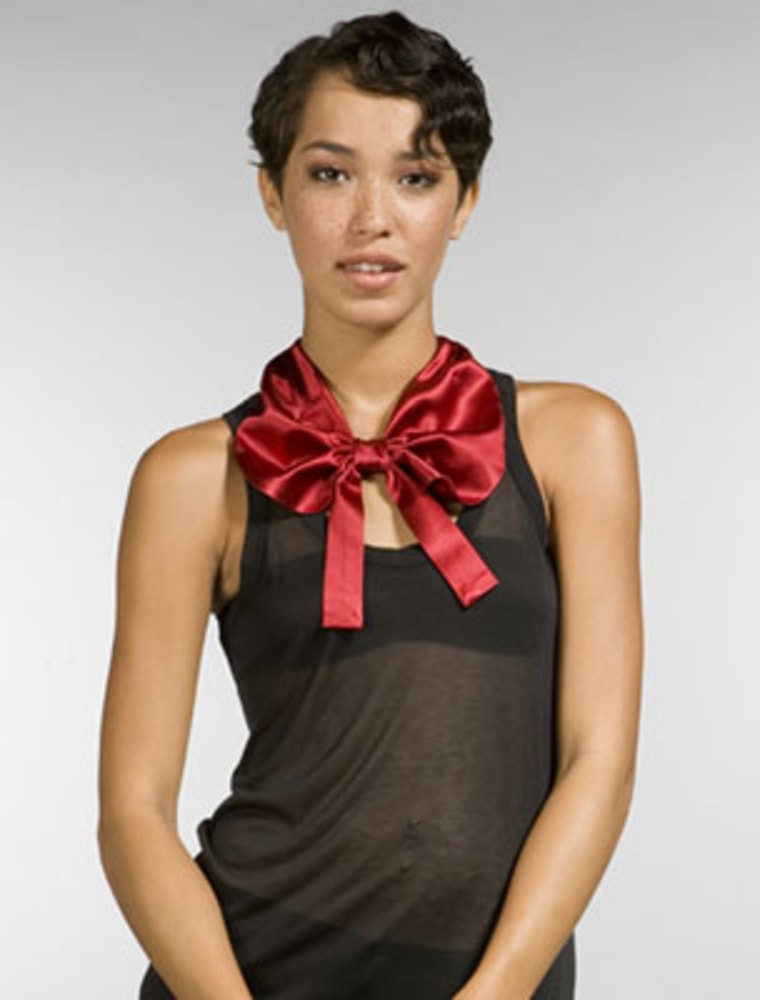 A resourceful option that's a bit friendlier on the budget is to commandeer a boy's bow tie and sport it loosely as a necklace. J.Crew's crewcuts makes an adorable number patterned with friendly bulldogs for just $18.50. Slide the adjustable strap until you can casually sling the tie around your neck. Bold souls try two at once!
Or make it a more subtle nod to the image with a truly hipster leather piece designed just for Target by the talented Boos & Besito. The necklace adds edge, but just the right amount, so that anyone can give this a try.
Don we now our neck apparel
Ladylike, old-school glamour (a la "Mad Men") doesn't require a costume change, just a quick addition to the neck. They knew how to do it back then, and you will too when you channel the ghosts of Hollywood past. From entertaining at home to flitting from party to party, a little sleight of neck makes you appear totally transformed each evening, no matter how hard you've been working all day.
A sparkly, Betty Draper-esque neckpiece from the sunny mother-daughter team behind Old Soul, New Heart dresses up anything, even a tee (seriously!). Sliding into it after a day of cooking feels like cheating, but we swear, it's not.
The Princess collar from Ban.do is so very right this minute, it's a scream. Think Chloe Sevigny, on or off "Big Love," or maybe a plucky heroine from a Charles Dickens novel. It's a bold choice, but one that will make all those holiday snapshots really memorable.
How fun and swinging is this Forever 21 faux fur neck-wrap? At less than $10, it feels like a fabulous find at some grand dame's estate sale. Keep the rest of your look simple and subtle and this is a winner every time.
The weather outside is frightful
Warm and toasty neckwear options soothe freezing Northeasterners and Midwesterners without turning them into living snowmen. For your cousin in Phoenix, a lightweight scarf helps her get into the "winter" spirit. (Everyone craves seasonal change once in a while.) For the rest of us, some warm-ups that won't let us down stylewise.
Sometimes an exaggerated version of the trend is what becomes most wearable, and such is the case here. So funnel-y and bold, Madewell's chunky cowl collar is like a big tube of sweater around your neck, but it actually looks awesome. A piece like this makes getting out of bed on even the chilliest days less daunting. It's a piece she will wear each and every day, at least until April.
The braided rope scarf Denada crafts by hand in Peru is elegant and almost Grecian, a polished way to keep off the chill. You can keep this one on once you're inside, too. It's almost a scarf-necklace hybrid.
Just the right pick for those in warmer climates (Los Angeles or Florida) who are craving something wintery, the "I'm so cool all I did was casually throw this scarf around my neck and wrap it a few times" look will not go away … and why should it? Get it on the cheap, in a bold, updated animal print. Even if they're decorating palm trees, their necks will look quite seasonal.
For the insider's guide to what's hot, new and undiscovered — from fashion and style to gadgets and travel — visit .