Start working, Congress! 
That's the message tweeters using the NBC News hashtag #DearCongress are sending political leaders amid the government shutdown. 
The #DearCongress hashtag has been used more than 75,000 times across Twitter and Facebook since TODAY's Carson Daly launched it in the Orange Room Tuesday. TODAY analyzed 10,000 tweets — 5,000 sent Thursday and another 5,000 posted midday Tuesday — comparing the number of times 100 editorially selected keywords were used to create two word clouds: 
TUESDAY: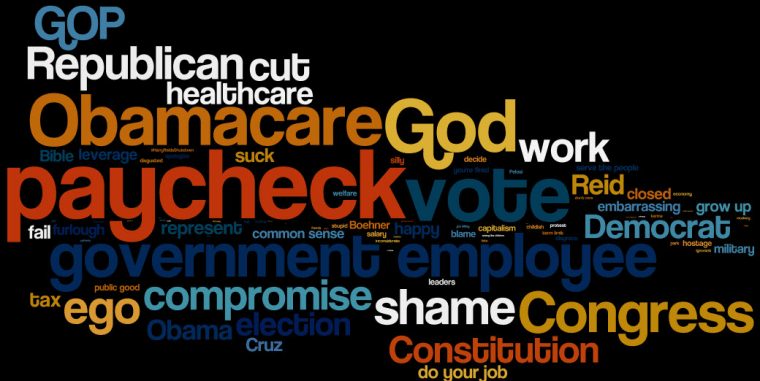 THURSDAY: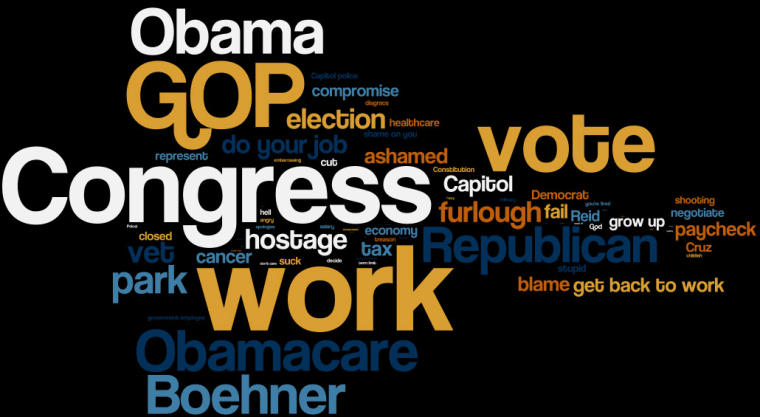 "Work" was the top term Thursday with 410 mentions, "Get back to work" accounted for 68 mentions and "Do your job" accounted for 88 — all substantial increases from Tuesday. 
Many on social media were also using "work" to talk about the safety of their own jobs:  
"Paycheck" — the top term earlier this week — was mentioned 81 percent fewer times by Thursday, perhaps since most members in Congress have agreed to forgo or donate their paychecks. 
The data also reveals there's a sharpening focus on the actors perceived as being involved in keeping the government shut down.
As of Thursday, the terms "Republican" and "GOP" were mentioned nearly 6 times more than "Democrat" and "Dems," a much wider gap than earlier in the week suggesting that their party is being scrutinized more as the shutdown drags on. 

Speaker of the House John "Boehner" and President Barack "Obama" are also getting much more attention on Twitter as the shutdown wears on. Boehner received about 3.5 times and Obama about two times more mentions now than before, and they are now about equal in total mentions now. 
On the other side of the spectrum, Senate Majority Leader Harry "Reid" and Sen. Ted "Cruz" (R-Texas) are being mentioned about 50 percent and 33 percent fewer times respectively, suggesting the public isn't focusing on their actions in terms of the shutdown.
Americans tweeted their outrage that Rep. Randy Neugebauer (R-Texas) confronted a "park" ranger for keeping Neugebauer and others out of a World War II memorial due to the shutdown. Mentions of "park" increased seven times since last Tuesday:  
The use of the #DearCongress hashtag dropped precipitously Thursday afternoon as news that a woman had rammed her car into a White House gate, leading to a car chase that ended with shots fired near the Capitol. The hashtag got some of its fewest tweets per minute Thursday right after 4 p.m. ET as the public pieced together what exactly happened in D.C. Tweeters also started using terms like "Capitol,""Capitol police" and "shooting" as focus shifted to first responders.

The terms "Obamacare" and "healthcare" dropped quite a bit, and there was only one mention of "Romneycare" on Thursday compared with eight "Romney" mentions on Tuesday. "Government employees" also lost their Twitter support, with usage of the term falling precipitously.

On the other hand, the wonky term "Furlough" is catching on, with about twice as many mentions than before as people start to understand what it means. 
One effect of the shutdown the public seems to be shrugging off? The National Zoo "panda" cam shutting down. Nobody mentioned the keyword "panda" with the hashtag #DearCongress during the Thursday period TODAY analyzed. Perhaps viewers found these other critter cams just as cuddly?
Steve Veres is a social media editor for TODAY.
More on #DearCongress: 
'I am embarrassed to be an American': Nation sounds off on shutdown
Government shutdown just one big joke on the Internet