Hey, hey, they were The Monkees, but back in 1966, my grade-school pals and I only had eyes for one: Davy Jones, with the floppy mop of hair, big eyes and luscious lips. He was the safe version of Mick Jagger, the boy who might actually live down the street.
To my horse-loving pals, there was the added bonus that he was a former jockey who loved the ponies as much as we did. And when we grew a little older, we knew exactly how Marcia Brady felt in 1971 when she encountered Davy and vowed never to wash her cheek after he kissed her.
Last August, that now grown-up little girl got to meet her childhood crush in person as he promoted a PBS show "60s Pop Rock: My Music," which aired last December.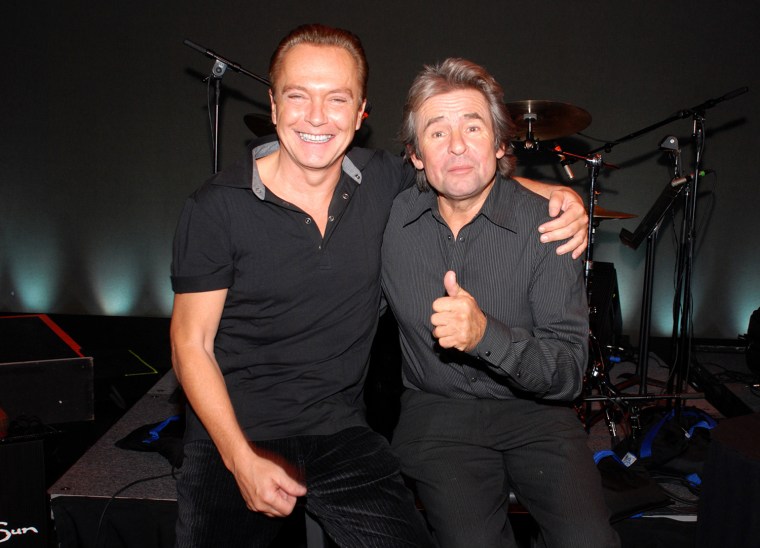 He didn't disappoint.  The consummate showman, then 65, took charge of the session from the start, joking about his age ("Hi. I'm Davy Jones' dad. Davy will be out in a moment") and telling cheesy jokes about his pop contemporaries like Peter Noone. ("Now he's singing 'Mrs. Brown, you've got a lovely walker…")
And, in what seems horribly ironic in the wake of his death Wednesday, he noted that he was chosen to host the show because he had the best chance of survival among his colleagues.  Although he also joked people watching the show would probably say, "Oh, Davy Jones. I thought he was dead."
Best known as a member of The Monkees, the singer was also seen everywhere from "The Brady Bunch" to Broadway to "SpongeBob SquarePants."
He was so full of life, talking about riding his horses, going on tour, and enjoying his four grown daughters and his beloved grandchildren.  He had grown into the kind of man we all knew that he would be back when we were young and hadn't yet seen what a sordid world entertainment can be.
After the session, I got a chance to talk to him face to face. It was still a delightfully young face despite the wrinkles. He still had the wiry body of a jockey, and energy crackled through his entire being.
Remembering those childhood days, I had to chat with him about his passion for horses.
"I have six thoroughbreds, some other park horses and I have a driving horse and an Amish carriage and I sometimes drive it around the track in the back of my house," Davy said. "I was still racing thoroughbreds until a few years ago and I'm still not afraid to get on the back of any horse."
He talked about buying an old house in Pennsylvania back in 1980s.
"People think I'm in the witness protection program," he said, laughing like the mischievous boy I'd loved so much. "I like it there because I'm unknown, I'm anonymous and that's where I like to be."
Unless, of course, he was performing. And giving out T-shirts saying "Davy Jones Knows Your Mother" to the Epcot Center concert crowds each year
"I'm feeling better. I'm singing better. My voice is better and I'm very happy with my life," he said. "I'll be 66 this year. I'm sitting on a racehorse or two every morning. I'm physically fit and I'm mentally active."
I didn't want to gush and tell him how much he had meant to me, back in the days when I didn't know much about boys but I knew I wanted one just like Davy Jones. 
I wish that I had. But I think he knew.
Who was your childhood idol? Did you ever see him or her in person? Tell us on Facebook.
Related content: