Caroline Smith, 10, was mourning the loss of her father in last week's Dallas sniper attacks when she decided to do something special for another little girl who suffered the same heartbreak.
During a public memorial for the slain Dallas police officers on Monday, Caroline, the daughter of Sgt. Michael Smith, gave a special bracelet she made to Lyncoln Zamarripa, 2, the daughter of officer Patrick Zamarripa.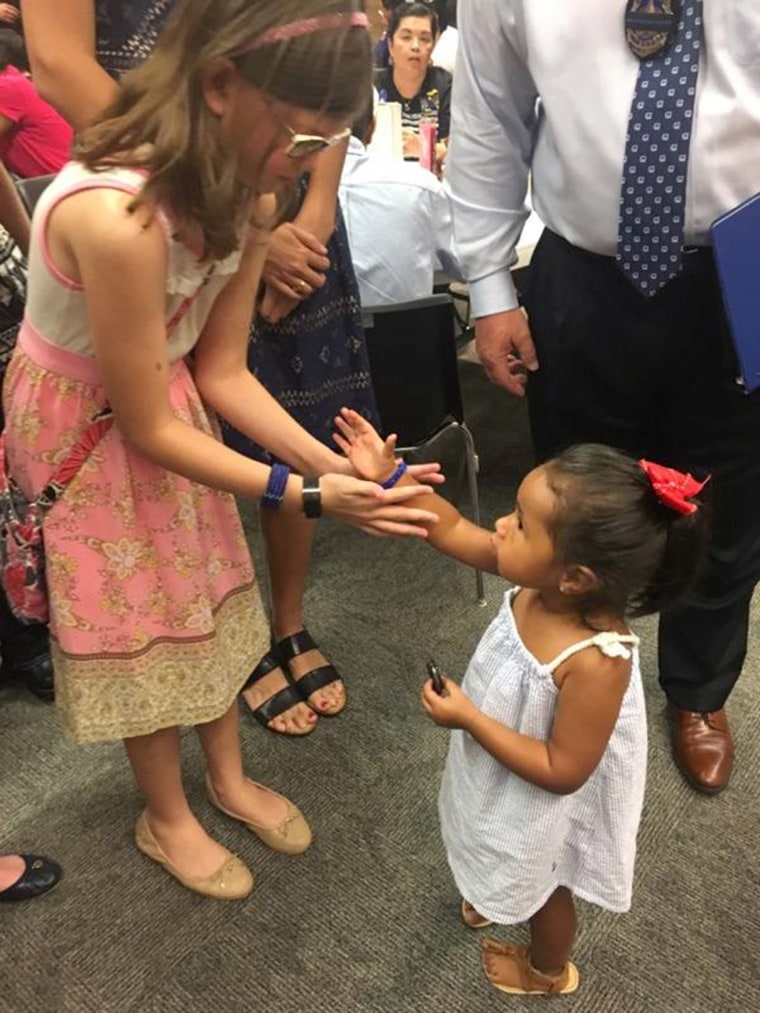 The touching moment was captured by Monica Vasquez, 32, a friend of Zamarripa and his longtime partner, Kristy Villasenor, who is Lyncoln's mother.
"It was just sweet to see this little girl, who will be growing up without her dad, being so unselfish and thinking of Lyncoln at that time,'' Vasquez told TODAY. "Just seeing Lyncoln put her hand out, even not really knowing what it meant, was such a touching moment."
RELATED: Girl spends birthday money to buy lunch for police in wake of Dallas shootings
Vasquez had known Zamarripa since they were in sixth grade together in Fort Worth, Texas.
A staff sergeant in the Army, Vasquez joined the military at the same time as Zamarripa, who joined the Navy right out of high school and also worked for the military police in Iraq.
"We just want (Lyncoln) to know for years to come how much of a great person her father was,'' Vasquez said. "I just want to capture what I can to let her know how everything happened and who was there for her."
RELATED: Mom urges people to 'extend love' in wake of police killings, protests
Smith and Zamarripa were two of five officers killed in the attack by gunman Micah Xavier Johnson on July 7 at the end of a Black Lives Matter protest in downtown Dallas.
Both have been honored in public memorials all week. Smith was laid to rest Thursday in a funeral attended by thousands at the community church where he worked security several times a week, The Dallas Morning News reported.
Zamarripa is set to be buried at Dallas-Fort Worth National Cemetery on Saturday.
"The whole time, we've had the other families in our prayers as well because we know they are going through the same thing,'' Vasquez said.
"(The memorial) was really emotional, but it was also heartwarming to see the support we've had from the community."
Follow TODAY.com writer Scott Stump on Twitter.