Rachelle Chapman considers her daughter "the missing piece" to the home she and her husband created.
"I got hurt right before the wedding, so for a long time, all I wanted was to get married," said the North Carolina mom known around the world as "the paralyzed bride" after a fall into a pool at her bachelorette party left her a quadriplegic. "We were happily wed for a long time, but then I felt that I really wanted a child with Chris."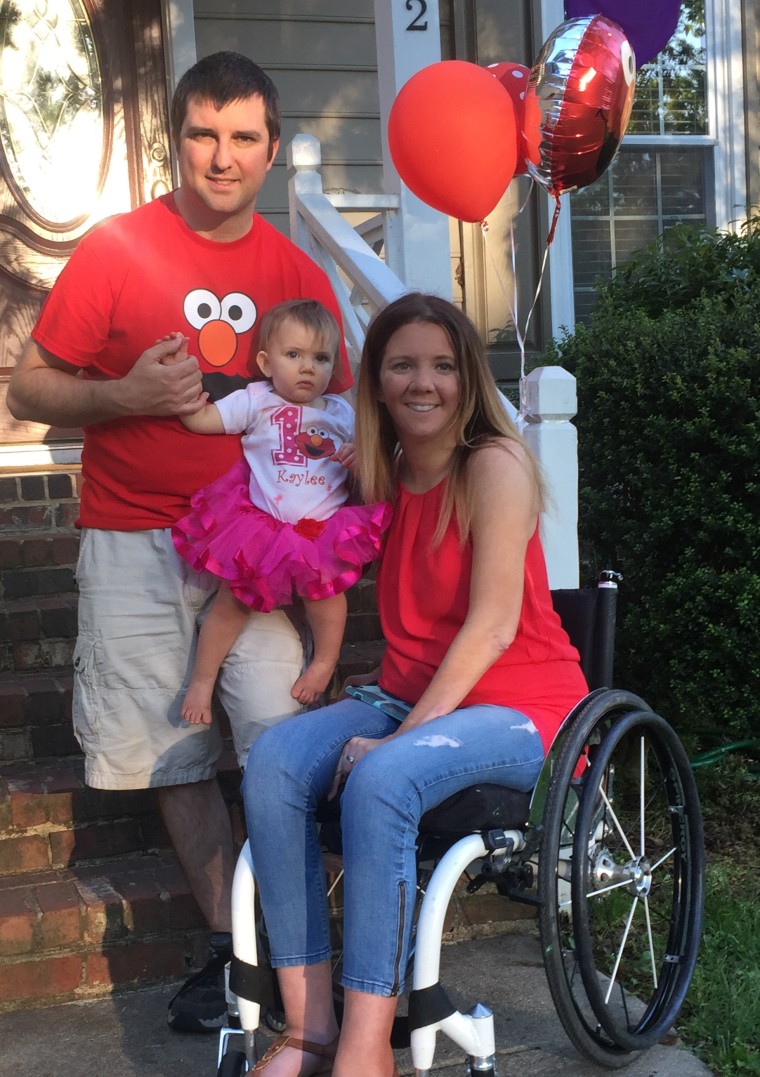 The couple's daughter, Kaylee, turns 1 on Tuesday. Relatives and close friends, including the woman who served as the girl's surrogate, celebrated over the weekend with an Elmo-themed birthday party "because Kaylee is completely obsessed with Elmo," Chapman told TODAY. "It's been a blessing and super annoying at the same time!"
Chapman said her daughter recently learned how to walk by using her mother's wheelchair as a prop.
"She got a lot of practice holding on to the back of my chair. She would pull up and hold on to the wheel, and then walk to the back and hold on to the bar in the back," she told TODAY. "My wheelchair was good practice for her. She would basically push my wheelchair. It was so cool she learned how to do that."
Kaylee also has learned to use her special wheelchair-accessible crib to her advantage. She recently learned how to crawl out of it by scooting backward on her stomach and onto her mother's lap.
"It's really hard to just to pick her up and pull her towards me, so this tactic works," Chapman said. "And she figured it out on her own. Knowing that I can't reach out and pick her up like everyone else, she just crawled onto my lap on her own."
RELATED: 'Paralyzed bride' finds happiness as a new mom: 'It is a dream come true'
Chapman said milestones such as these help quell the criticism she still gets from people who call her selfish for wanting to have a child because of her partial paralysis. Chapman said that single parents rarely get questioned about their fitness to be parents.
"Chris and I together as a team are more than capable of taking care of a baby, especially with the help of my mother, who was all in from the beginning," she said.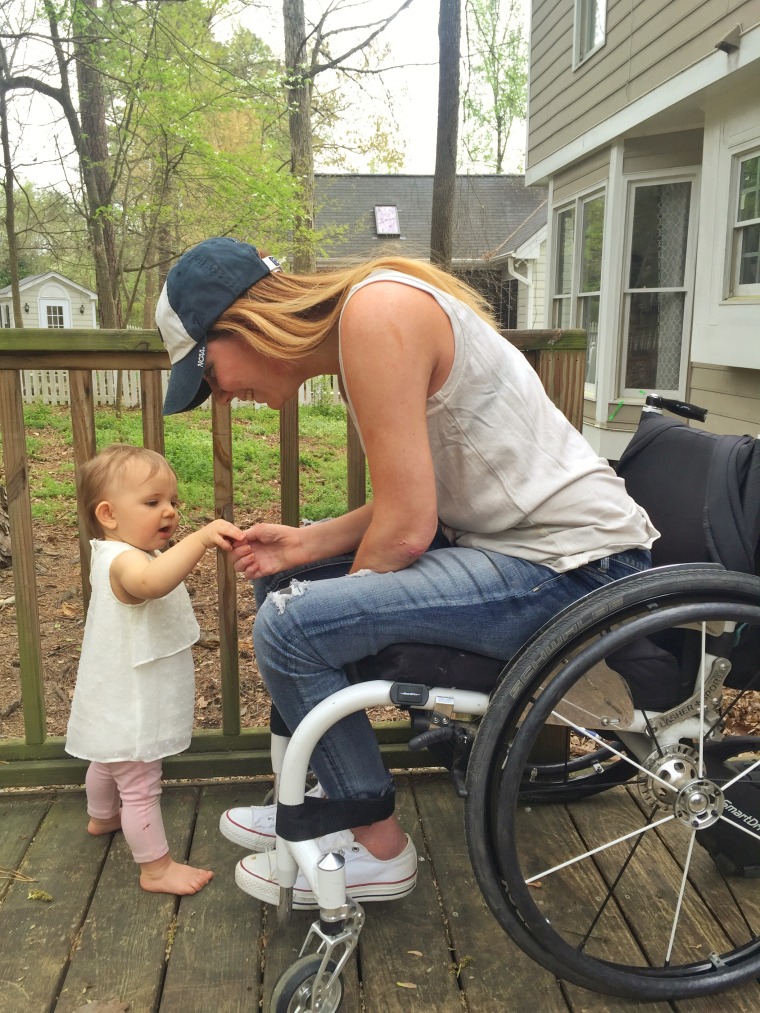 Chapman's mother lives with the family during the week, mainly to help Chapman get out of bed and into her wheelchair in the mornings, when her husband has to leave for his job as a middle school science teacher.
"I want people to realize, yeah, even though my fingers don't work, I have found a way to manipulate my hands to do a lot of things. I can hold Kaylee. I can feed Kaylee and I can play with her while Chris is washing bottles or whatever. We have a system that works for us," she said.
"And beyond love, Kaylee has a house over her head and food in her tummy. She's a happy, happy baby who doesn't realize that I'm different. This is normal for her."
RELATED: 'What I always wanted': 'Paralyzed bride' expecting first child through surrogate
Chapman said she'd love to have more children but doesn't know if she and her husband could afford the cost of another surrogate. Chapman is unable to sustain a pregnancy on her own because of blood pressure medication she has taken since her accident.
"I'd love to have more. We did IVF and I have these healthy embryos sitting in California, but I'd still require a surrogate, and it comes down to money," she said.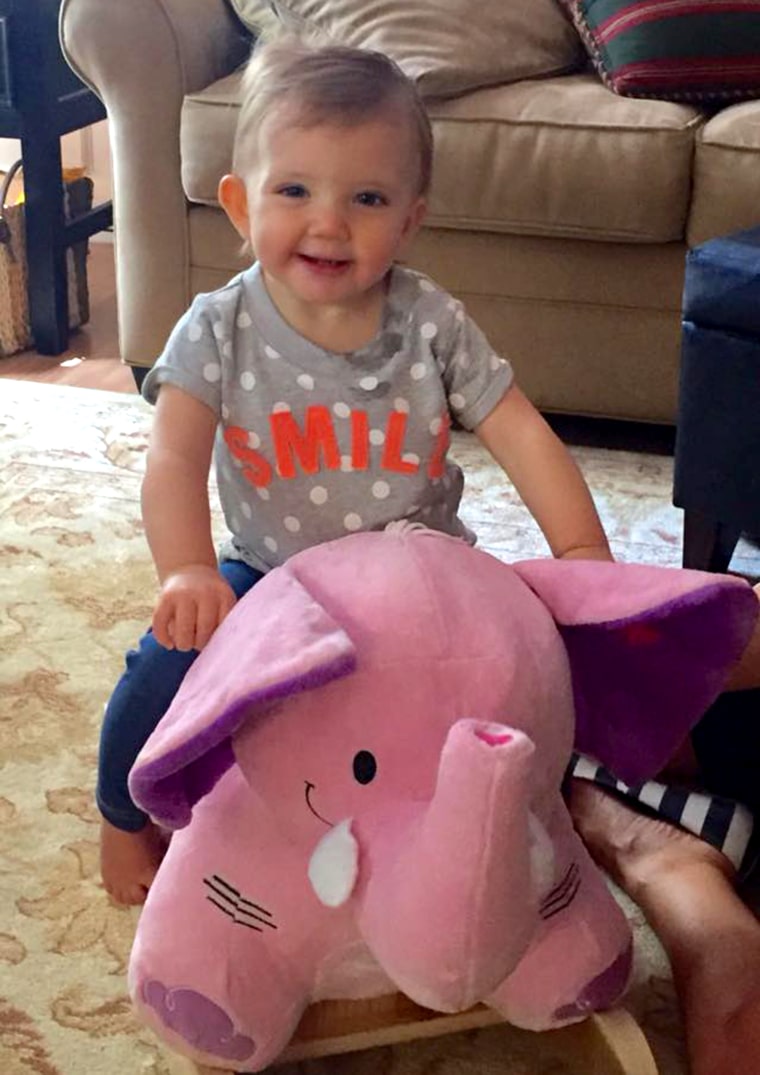 Chapman has been working with the cable network TLC over the past year on an upcoming one-hour show that focuses on her journey to becoming a mother. The show also will feature her talking publicly for the first time about her relationship with the friend whose playful push into the pool led to her accident.
"I didn't blame her for hurting me, because we've all pushed somebody in a pool and I was very supportive of her. The first year I made sure that she was OK, even more than me," said Chapman, who still refuses to disclose the woman's name. Eventually, the relationship grew strained.
"We aren't very close friends anymore and I talk about it for the first time on the show," she said.
In addition to becoming a mom within the last year, Chapman also learned how to drive her wheelchair-adapted van. She had delayed learning how, mainly because she's never driven a vehicle so large. But after realizing one day that she had no way of getting to her wheelchair rugby practice, she decided it was time to learn.
"Eventually, I want to be able to take Kaylee to dance class or tennis lessons and not have to rely on somebody else to do that," she said. "Once she can get in and out of her car seat on her own, or old enough not to need one at all, I'll be able to do that."
Follow TODAY.com writer Eun Kyung Kim on Twitter.