The Danish prime minister who snapped a high-powered selfie during the memorial service for Nelson Mandela is pushing back at critics who called the moment inappropriate.

Danish Prime Minister Helle Thorning Schmidt took the self-portrait after finding herself seated between President Obama and British Prime Minister David Cameron. She said the photograph captured the festive environment the three of them were sharing.
"There was dancing on the stands and singing and dancing, so the mood was positive. And then we took a really fun selfie," she told the Danish newspaper, Berlingske.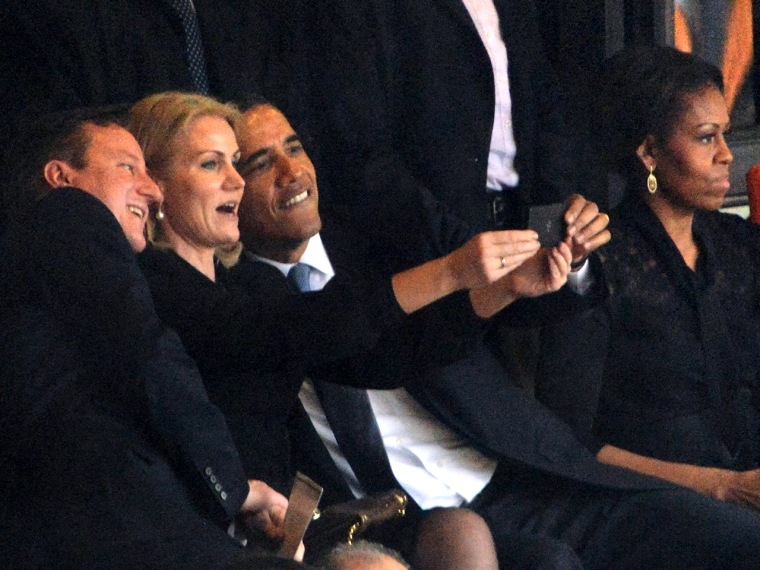 The description mirrors the one provided by the AFP photographer who took the picture of the three leaders that started the worldwide reproach.
"All around me in the stadium, South Africans were dancing, singing and laughing to honour their departed leader. It was more like a carnival atmosphere, not at all morbid," Roberto Schmidt said in a blog post, "The story behind the selfie."
Cameron also defended his participation in the photo, saying he was simply being polite since the Danish prime minister is married to the son of a former Labor Party leader, Neil Kinnock.
"In my defense, I'd say that Nelson Mandela played an extraordinary role in his life and in his death in bringing people together," he said. "So of course when a member of the Kinnock family asked me for a photograph, I thought it was only polite to say yes." 
Helle Thorning acknowledged there were times the memorial was somber.
"There was a sadness, but it was basically a festive event that also celebrated a man who has lived for 95 years and achieved so much in his life," she said.
But she insisted nothing about the photograph she took was inappropriate.
"There were lots of pictures taken that day, and I just thought it was a bit fun," she told the paper. "Maybe it also shows that when we meet heads of state and government. We too are just people who have fun."