It's been two long years since we've been treated to Harry Potter on the big screen, but Daniel Radcliffe has certainly been keeping busy — guest-starring on "Extras," making his much-talked-about debut on the London stage and filming the independent Australian drama "December Boys."  
TODAYshow.com caught up with the actor while he was promoting "Harry Potter and the Order of the Phoenix," his latest film in the series based on J.K. Rowling's books.
TODAYshow.com: Do you find making these movies gets easier as you go along, or more challenging in terms of developing Harry's character and bringing something new to the screen this time? What was your biggest challenge in "Order of the Phoenix" and bringing this version of Harry Potter to life?
Daniel: I'm finding the actual challenge much harder because the acting required of me is getting more and more difficult. But equally, it's easier and easier to make it fresh because it's getting so exciting now for me because I'm getting better at acting and I've been pushed more and more by ["Order of the Phoenix" director] David Yates.
TODAYshow.com: Is working with your third new director in five Harry Potter films difficult?
Daniel: It's not actually. It keeps it fresh and it actually really helps you. It keeps everyone on their toes, it keeps everyone from getting really complacent.
This film for me was the most fun I've had on any of the films simply because I've been pushed further and further by David Yates. I think he's made the best Potter film so far.
TODAYshow.com: I've read that the crew was very interested in watching the scene with Harry's first kiss. Was that awkward? 
Daniel: The thing is, they weren't. It was a closed set. Katie [Leung, who plays Cho Chang] was quite nervous. I was quite nervous. We've all known each other for so long, so they were very, very sensitive. They were very, very good about it. 
It wasn't my first on-screen kiss. I have done one before [for the film "December Boys"], so it's not as big a deal as people are making it out to be, but it certainly is for Harry.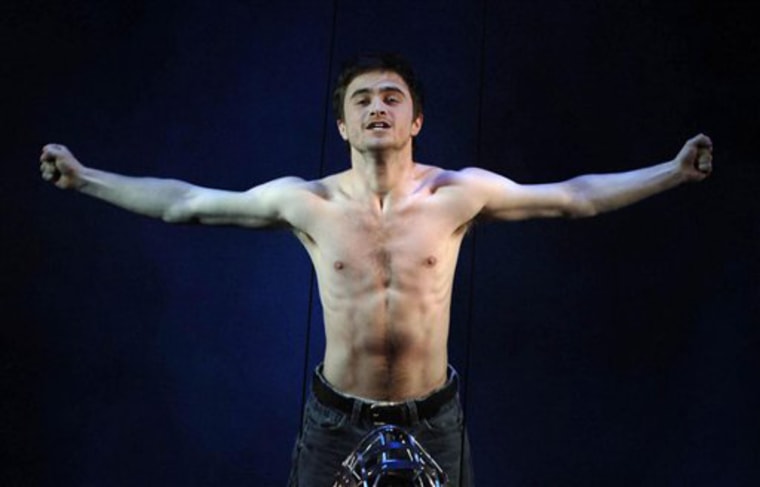 Daniel: It's absolutely, 100 percent doing a nude scene on a London stage! It's absolutely terrifying for the first time that you do it. The first time you do it is really, really scary. The second time is really scary. After that you don't care.
TODAYshow.com: You dominate this movie … is it possible to pick a favorite scene?
Daniel: I love the scenes with me and Gary [Oldman, who plays Sirius Black]. I think they're the best, the most pure. In terms of acting, I think they're some of the best in the film. I respond really well to Gary, and we're very close in real life, and that can't help but translate on film.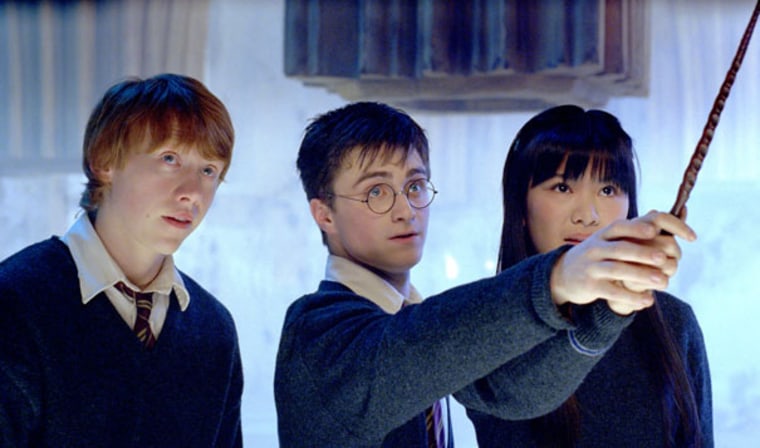 I also love the scene right after the kiss with Cho Chang. The scene after is a wonderful scene because it's me and Rupert [Grint, who plays Ron Weasley] discussing the kiss afterward in the Gryffindor common room. It was one of those days we couldn't keep it together in terms of laughing on the set, so all the laughter in that scene is completely genuine.
TODAYshow.com: With the final book coming out, do you ever get a sense of impending doom? Do you think you will survive "The Deathly Hallows"?
Daniel: I think I might die in it, but that's just my prediction. I think so, but I've no idea at all; I have no inside hints.
TODAYshow.com: For the first time filming these movies, you'll know the outcome of the series when you start shooting number six. Do you think that will change the way you approach the movie?
Daniel: I think it will be very interesting to do. I've got no idea. The thing we've got to be really careful not to do is to film to set up the last book. Other than that, I don't think it will change much.
Don't miss Daniel Radcliffe and his co-stars from "Harry Potter and the Order of the Phoenix" on TODAY next Wednesday, Thursday and Friday.
-- Jen Brown, TODAYshow.com