The TSA is under fire for patting down a 10-year-old girl for nearly two minutes after the California girl mistakenly left a juice pouch in her carry-on bag.
The girl's shocked father, Kevin Payne, used his cell phone to record what he described as an invasive confrontation.
"She just had a completely blank stare on her face," he told NBC News. "I could tell it was very uncomfortable for her."
Payne's video shows a TSA agent in Raleigh, North Carolina, slowly and meticulously frisking his daughter, Vendela.
"What was going through my mind is 'This is annoying. I don't like this. I want to run out the door,'" she said.
Payne said the screening took place after his daughter's bag also was swabbed and received a false-positive reading for explosive materials.
"The pat-down seemed to be the go-to option for them and I think they could've done a better scrutiny of what they were looking for prior to putting their hands all over my 10-year-old daughter," he said.
According to TSA protocol, "officers will work with parents to resolve any alarms at the checkpoint." The agency said it also has modified screening procedures for children 12 and younger to reduce the chance of pat-down screenings.
RELATED: Can the TSA find hidden weapons? Rossen Reports goes undercover
In a statement to NBC News, TSA said its "screening procedures allow for the pat-down of a children under certain circumstances. The process by which the child was patted down followed approved procedures."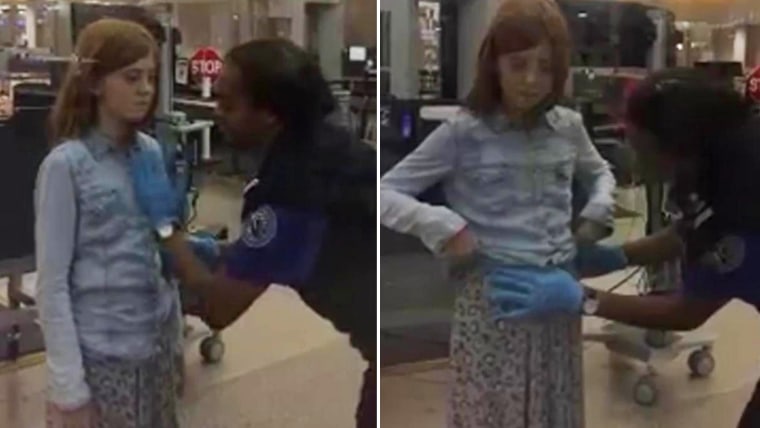 The TSA also noted that the frisking was observed by the girl's parent and that a cell phone alarm had gone off inside the girl's bag at the time, requiring additional resolution procedures.
Payne said he understands the importance of airline security procedures but there should have been a better way to resolve what happened to his family.
"Maybe they need re-training. Maybe they did everything by the book. I don't really know, but it was an uncomfortable situation," he said.
Payne said he has contacted his federal congressmen, who have told him they plan to file a formal complaint.
Follow TODAY.com writer Eun Kyung Kim on Twitter.