A Wisconsin father who took to Facebook to support his son in the face of bullying has received overwhelming support from around the world.
Matthew Bent said Wisconsin police brushed him off when he reported that his son, Shiloh, had been body-slammed by a bully at River View Middle School in Kaukauna, Wis. He posted a picture of himself on Facebook on March 26, standing behind Shiloh and holding a handwritten placard that reads "I stand behind my son in the fight against bullying. Please 'like' and 'share' to send a message loud and clear that bullying needs to stop now. Tell school districts that protecting bullies by turning a blind eye is wrong. Shame on Kaukauna area schools for protecting a bully in their school.''

The post quickly went viral, with more than 900,000 likes and shares.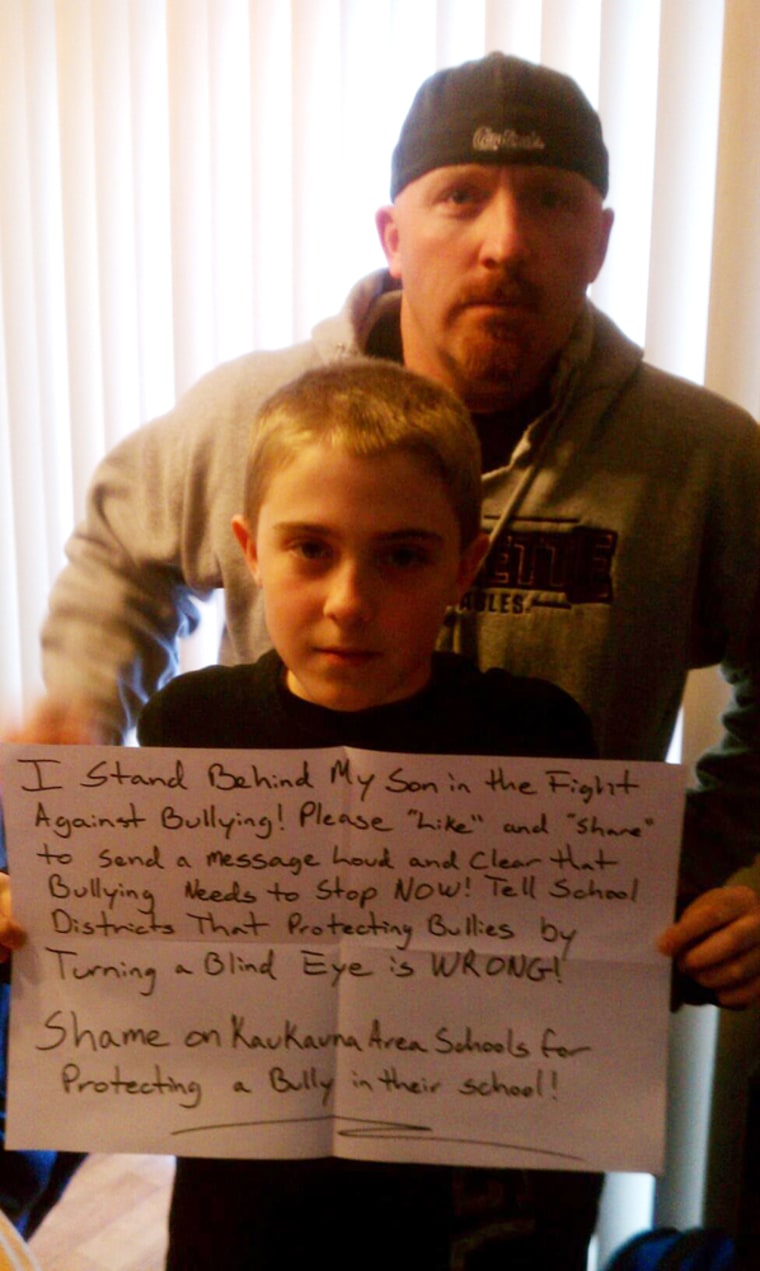 "The Facebook page has been unbelievable," Matthew Bent told Matt Lauer on TODAY Monday. "I've heard from people around the world. Some amazing stories on the good with people from all around the country — teachers in Florida, business people in Massachusetts to coaches in Oregon. Then you hear the heartbreaking stories, tens of thousands of emails that have poured in of it happening to their kids, (and) that it's going on everywhere. As we sit here today, there's kids that are in school right this minute that are dealing with this.''

"It's lessened the bullying in my school,'' Shiloh said.
Matthew claims that on March 25, Shiloh, who is in sixth grade, was slammed to the ground three times by a bully in gym class. Shiloh's necklace, a gift from Matthew to mark his first year in Little League, was stolen, Matthew says. He called the police but said he was told that because Shiloh voluntarily entered the area where his alleged tormentor was, there was nothing to be done about it.
"Sincerely, I share that all involved with this situation have an opportunity to reflect on and to learn from it,'' Kaukauna Superintendent Mark Duerwaechter said in a statement. "From my conversations and observations, I do believe this is occurring. I will continue to work with students, parents, staff and the community to increase our understanding of the behaviors of bullying, to improve prevention programs and to provide safe and enjoyable schools to work and to learn in.''
Matthew took his frustration to Facebook, where he stood behind his son in the photo.
"I wanted him to remember that I was always standing behind him, that I had his back at all times and that I was going to make sure that if things weren't going to happen the way that I thought that they would with the administration and police that at least we stood up and did something,'' Matthew said.
"I had worried about it,'' Matthew said. "I never knew that the day was going to come that (Shiloh) was going to come home to the dinner table and tell me that, but I'm very proud of him for standing up and saying something.''
"It was a really hard thing for me to tell my dad because it was like on one side, is it really bullying?'' Shiloh said. " I worry about that question and I worry, 'How is it going to end?' The first day, what really happened was I went to school, I got into class, and people said, 'Hey why did your dad put that post up?' And then some of the people that actually saw it started to explain it and now it's all over my school.''
Eleven students and one teacher were interviewed about the incident, according to Duerwaechter. The police school liaison determined that no crime was committed, and no legal action can be taken.
"We, as a school district, understand the deep frustration that the father, the mother and the son, as well as the community, are feeling about an incident like this, as well as perhaps others,'' Duerwaechter said. "However, it is not fair to say that River View Middle School and the Kaukana-area school district are protecting bullies and ignoring the victims."
At a school board meeting on April 8, Duerwachter shared the findings of the investigation, saying "the matter has been brought to a satisfactory resolution." He acknowledged the need to provide clear communication to families and that trust needs to be improved so parents can be confident that when a report is submitted, the school will follow up on it. He added that the school will continue to support and grow anti-bullying initiatives and programs.
Matthew Bent is urging parents to tell their children to speak to them if they are being bullied. The Bents have also partnered with the anti-bullying organization "Stop the Hate, Spread the Hope.''
"The only two things I have to say are one, it always will get better, no matter how bad, it will get better for sure," Shiloh said on TODAY. "And I just have to throw a big shout-out to my friends and I have to say thank you because they really helped me get through this.''