When David Rosenman of Rochester, Minnesota, took his 9-year-old to breakfast at a coffee shop Sunday, each was armed with an activity — he had his newspaper, and she planned to crochet.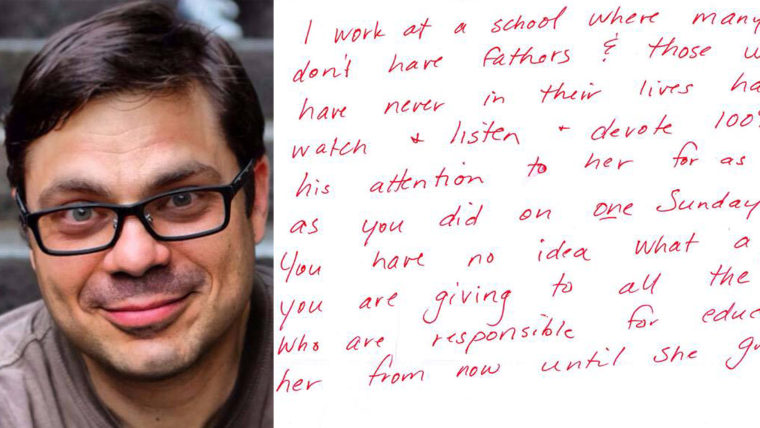 "This was going to be an outing not unlike others we'd had before: while sitting at the same table, we'd do our own things," Rosenman wrote in a Facebook post later that day that has since gone viral.
But then she suggested a change to their routine.
"Daddy, can you not read the paper or doodle or check email today? Can we just be together?" she asked.
Rosenman went on to detail the bonding time that followed.
RELATED: Single dad's touching posts about raising his infant daughter alone go viral
"She showed me her yarn project," he wrote. "I recalled the day she was born. We compared notes about whether or not couples at other tables were on 'dates' (she likes to impersonate people on dates — resting her smiling face on her hand and practicing a starry-eyed stare). She told me about her friends and their hamsters. I watched her chew her breakfast sandwich and melted a little bit as I thought about how much I love her."
"I wished it hadn't taken her past experience and her courageous reaching out for me to give her the attention she so wanted and needed," he added.
When the pair were getting ready to leave, Rosenman walked to the counter to order a snack to bring home to his son, and returned to find a mysterious note that a woman had left with his daughter.
"I work at a school where many daughters don't have fathers and those who do have never in their lives had him watch, listen, and devote 100% of his attention to her for as long as you did on one Sunday morning. You have no idea what a gift you are giving to all of the teachers who are responsible for educating her from now until she graduates," the letter read.
Rosenman shared an image of the note on Facebook, hoping that his experience would encourage other parents to spend quality time with their own kids.
RELATED: Firefighters stunned after kind stranger picks up grocery bill
"Please don't wait for your child or other loved one to plead for your attention like mine did — he or she might not," he wrote. "Expect that no one will leave a note for you — such beauty in this world is far too rare."
He also advised, "Choose to be present today — even for just a little while — for someone you love. If you see it happen somewhere, consider leaving a note — it sure does leave an impression."
Rosenman told TODAY.com that the note writer subsequently contacted him, after seeing his Facebook post, and they plan to meet for coffee.
"That new friendship will be an enduring gift of this story," he said.
He didn't expect the post to be shared more than 10,000 times, but he thinks it resonated with so many people because of its message: "There isn't anything more important than love. "
And, he added, "Each of us — even the skeptical, the cynical, and the pessimistic — can relate to once being a child and to feeling loved or not. "
Ultimately, he continued, "The moral is not that any one of our stories is more moving, important, or newsworthy than any other; it's that our world is better when each of us listens, observes, supports, and loves. The woman who left us that note was doing all of those things. "