A photo depicting the current reality of Baltimore streets has been called everything from "cute" to "heartwarming," but the person who snapped the picture says she still views the viral photo as heartbreaking.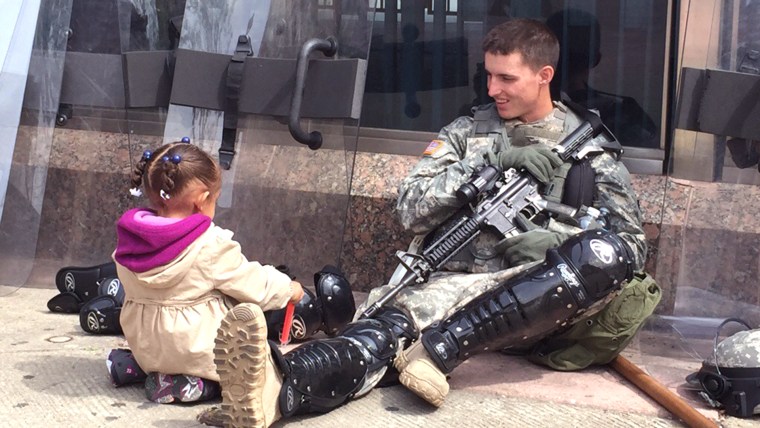 "Everyone thinks this picture is cute. I took it, and I think it's tragic," Amanda Moore wrote in a tweet about the photo she took Friday, which she hashtagged #BaltimoreUprising, just hours after city authorities announced criminal charges against six officers involved in the death of Freddie Gray.
The photo shows a young girl playing with a glow stick while kneeling in front of a National Guardsman. The soldier, sitting relaxed and leaning back amid a wall of riot shields, appears amused. His assault rifle rests upon his body, with the front of the weapon pointed on the ground just inches away from the girl.
"I just thought it was really strange, and it really was sad," Moore told TODAY.com. "It was sad for the National Guardsmen because they had to be there, it was sad for Baltimore. And it was sad to explain to your children what's going on."
Moore posted the photo to Twitter and on her blog, Manda Writes Things. She then submitted the picture to Reddit, where it has received more than 2.6 million views so far.
Moore, a 26-year-old writer and blogger who has lived near Baltimore for most of her life, said she took the picture with her phone at a scene she found surreal. She was in Baltimore's Penn North neighborhood, right by the CVS drug store that had been set on fire early in the April 27 riots, and people were celebrating news about the criminal charges filed against the police officers involved in Gray's case.
"It was such a contrast. All these men in uniform, and all these riot cops next to them, and then all these happy, cheery people. And then to see this little girl go up and interact with them?" she said.
The 2-year-old little girl in the picture, Mckenna Mack, was being watched at the time by an aunt and several cousins who live around the corner from where the photo was taken, said the girl's mother, Danielle Farnsworth.
"I definitely wasn't against her being there. That's literally a block from their house, and that's the reality of the situation," she told TODAY.com. "Her family would not put her in a situation where she would be harmed."
The girl is watched by her aunt several days a week while Farnsworth is at work. Last Friday, while McKenna was walking with her relatives, she became "obsessed" with all the National Guardsmen and other authority figures in the area, Farnsworth said.
"I actually thought it was extremely sweet," she said of Moore's photo. "Of course, what's going on is very tragic but there are moments, like this one, that you can bring up the positive in it and not focus on the negative.
"They were just sharing a moment. She's only two years old. She's innocent. She was enjoying herself bringing light to people around her."
And Moore said she's fine with the different views people have expressed in reaction to the photo she took.
"At the end of the day, if people look at the photo and it helps just one person say, 'Oh, I guess Baltimore wasn't a violent, terrible mess all week,' great. I want to get people back into the city, shopping at local businesses," she said. "That would be fine with me, even if it's everybody taking the picture the wrong way."
Follow TODAY.com writer Eun Kyung Kim on Twitter.