The Olympic men's curling team from Norway is currently ranked fourth in the world, but its uniform pants remain a clear No. 1. 

After dazzling (or blinding) the world at the 2010 Winter Olympics in Vancouver with its checkerboard-style pants, the team has cranked it up a notch for Sochi. The team members were easy to spot even in a Manhattan snowstorm on Tuesday, when they showed off their new look: matching jackets and pants featuring a zigzag print of the red, white and blue colors from the Norwegian flag. 
"Put it like this, you'll not see me wearing them," Norway coach Pal Trulsen told the Associated Press. "Except maybe at a bad-taste party or something." The Norwegians have become so well-known for their signature loud trousers that the pants even have their own Facebook page with more than half a million followers.
The team won silver at the 2010 Olympics, but made bigger headlines for its conspicuous outfits in a usually buttoned-down sport. (Even the TODAY anchors gave Norway's curling pants a try at the Vancouver Games.) The idea of the loud pants came when curler Christoffer Svae bought several pairs of checkered ones in the team colors after they had been given traditionally muted black uniforms by Norway's Olympic committee. 
From skaters to skiers, curlers to bobsledders, Olympic athletes sport flamboyant fashion and colorful gear at the Vancouver Games.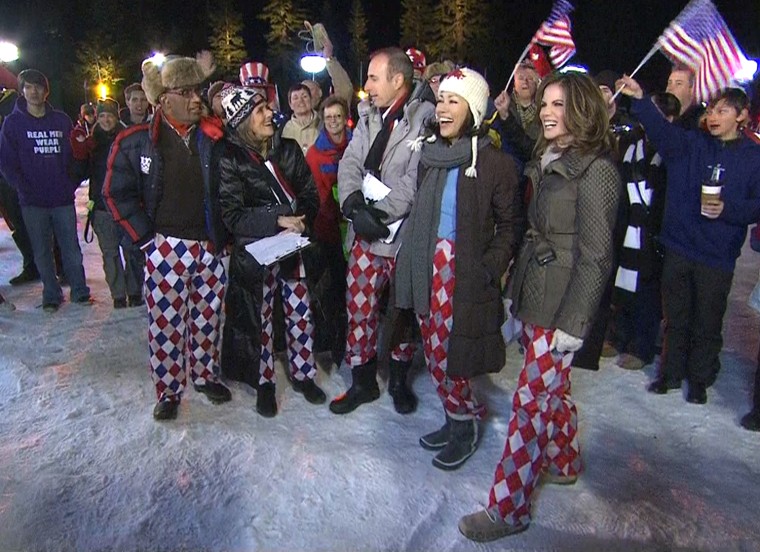 The team is now sponsored by the manufacturer of the pants, California-based Loudmouth, which created the new uniforms for Sochi. The Norwegians get a percentage of all the sales of the pants in Scandinavia, which took off after the 2010 Olympics. They each have 80 to 90 pairs of loud pants and even wear them in practice, according to The New York Times.