The Chicago Cubs' epic victory on Wednesday night to win their first title in 108 years was "one of the great Game Sevens" in World Series history, Bob Costas said on TODAY Thursday.
"The back-and-forth, it had heroics, it had misplays, it had strategy that was brilliant, strategy that could be questioned. Both teams got off the mat, it went right down to the last pitch of the game," Costas told Matt Lauer.
"It had everything even if didn't involve two franchises with such star-crossed histories."
The Cubs came out on top with a heart-stopping 8-7 victory in 10 innings that ended at 12:47 ET. Chicago vanquished a valiant Cleveland team that was gunning for its first World Series crown since 1948.
It completed an amazing comeback from a 3-1 Series deficit by the Cubs, who were playing in their first World Series since 1945.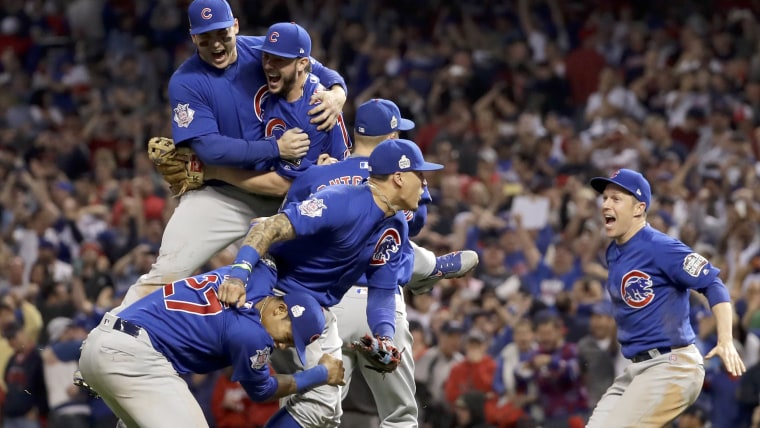 Chicago had to persevere through a 17-minute rain delay before the 10th inning after having relinquished a four-run lead in which Cleveland tied the game on a two-run homer by Rajai Davis in the bottom of the eighth. Ben Zobrist put the Cubs ahead for good with an RBI double in the top of the 10th and then Miguel Montero added a crucial RBI single to allow them to close out Cleveland for the win in the bottom of the inning.
"I think if you had to pick out one thing, it would be the Zobrist hit after the rain delay that gave them the lead in the top of the 10th, although the Indians battled back and pulled within one and had a man on when it finally ended,'' Costas said.
The Cubs also defeated the so-called Curse of the Billy Goat, which began in Chicago's last World Series appearance in 1945. Tavern owner William "Billy Goat" Sianis bought brought a billy goat to Game 4 of the Cubs' World Series game against the Detroit Tigers and was asked to leave after fans complained, reportedly declaring on the way, out, "Them Cubs, they ain't gonna win no more!"
"This is why I came here, to break the (curse of the) goat or black cat or God knows what,'' Cubs pitcher Jon Lester joked after the game.
Follow TODAY.com writer Scott Stump on Twitter.