A Danish luxury cruise ship was successfully pulled free Thursday morning after it ran aground near Greenland during low tide, stranding passengers for four days, authorities said.
The Ocean Explorer was pulled free from the East Greenland Fjord by a fisheries research vessel, the ship's owner SunStone Maritime Group said in a statement.
"There have not been any injuries to any person onboard, no pollution of the environment and no breach of the hull," SunStone Maritime Group said.
The Ocean Explorer, on a luxury cruise through the Arctic, ran aground on Monday with 206 passengers and crew on board.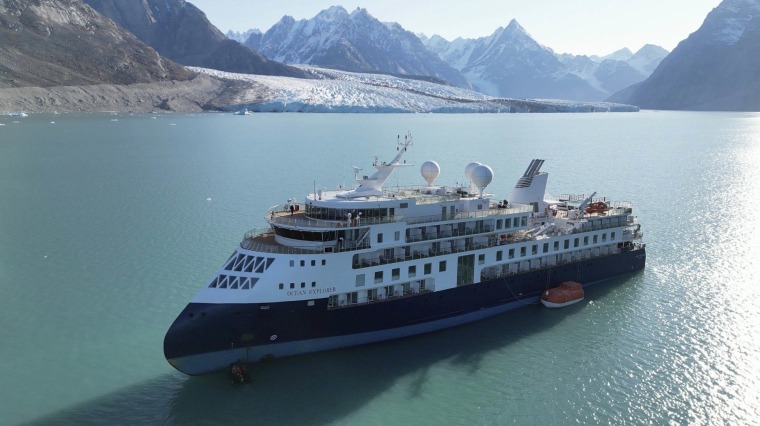 Joint Arctic Command Commander Brian Jensen said the Danish Navy believed the ship was stuck in mud and sand.
"Luckily it's not a rock that could have caused greater damage to the ship," Jensen said, according to a NBC News translation. "It's kind of stuck and will be more difficult to get free."
Danish authorities attempted to tow the vessel several times before it was freed Thursday. SunStone Maritime Group added it had requested additional tug assistance, but the assistance had been canceled.
While the ship was grounded, three passengers tested positive for Covid-19, cruise company Aurora Expeditions said. The patients were in isolation and doing well, according to the company.
Australian passengers Gina Hill and Steven Fraser told The Sydney Morning Herald they were among the passengers who had been stranded on the ship.
Fraser told the Herald he was one of the passengers with Covid, and added there was a doctor on the ship.
"It's a little bit frustrating, but we are in a beautiful part of the world," he said. "We're sitting right near the glacier when we open our window."
The Ocean Explorer will be taken to a port where the ship's "bottom damages can be assessed," SunStone Maritime Group said, adding the vessel's passengers will be "taken to a port from which they can be flown back home."