/ Source: TODAY contributor
If absence makes the heart grow fonder, could time spent together in extremely close quarters make the heart grow ... ummm ... considerably less fond?
Yes — and no. It all depends on the couple involved, and on their coping skills.
Consider Christy and Christopher Fidura. They're married truckers who work together and spend 10 months out of the year, 22 hours a day, rolling down the highway. Their home during that time? A 5-foot-by-5-foot truck cab. No bathroom. No kitchen. No privacy. And no escape, or even a door to slam, during a disagreement — that is, unless one of them wants to take leave of a truck going 70 mph.
"We've had to pull off the road, find a truck stop and have an argument," said Christopher Fidura, 33. "You can't go to your brother's house or go in the garage to have a cool-off period."
The Fiduras are among the thousands of couples across North America and around the world who dare to do a very brave thing: Spend almost every minute together inside a teeny-tiny space. The retirement dreams of millions center around boarding an RV or a boat and roaming for extended periods — but actually doing it can pose challenges for even the most devoted couples.
Marianne Edwards and Randy Sturrock have been together for 11 years now, and they've spent much of that time tooling around in a 19-foot Roadtrek camper van. The Ontario couple once spent a full year on the road.
"RVing has a way of testing us," Edwards, 59, wrote on her website, Frugal-RV-Travel.com. "Of all our arguments, some of the most memorable occurred on our extended RV trips and, yes, there were some doozies. Later, we seldom recall what we were fighting about but we always remember exactly where we were at the time."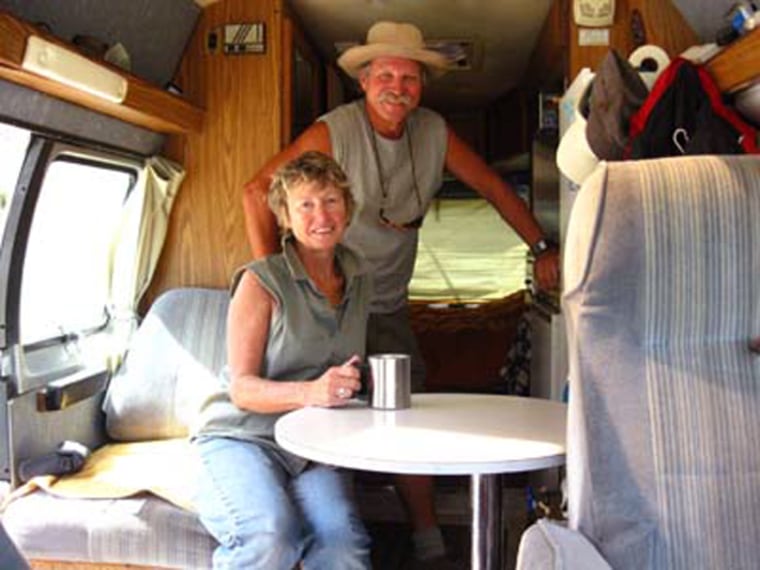 The annoyances that can build up during such long-haul journeys are myriad, culminating in a sort of "crankiness index," if you will. They could include, but are absolutely not limited to: traveling in crushingly hot weather; getting stuck in inclement weather; encountering traffic jams; hitting every red light; not being able to shower as regularly as you would at home; not agreeing on directions or routes to take; not agreeing on where to stop and sleep for the night; not agreeing on how long to stop; not taking criticism of one's driving habits particularly well; not being able to sleep, or read, or rest, or think, because the other person isn't being as quiet as you might prefer.
And yet ...
Couples who do successfully manage to sail across oceans or travel across the nation's highways together tend to be some of the closest-knit couples around. The ones who are able to make it work enthuse about the benefits of their lifestyles, and they almost uniformly say their experiences have strengthened their bonds more than strained them.
"Usually people who do this describe themselves as a team or as best friends," said Pepper Schwartz, a love and relationship expert for AARP and a senior fellow at the Council on Contemporary Families. "Their rhythms are so linked to each other that they would have given this up a long time ago if they didn't really enjoy each other's company. ...
"They've basically proven they aren't like the rest of us."
Rolling right smack into a relationship
The Fiduras were both working as truckers when they met in 2004. Their courtship was a whirlwind one; their initial dates happened in far-flung spots all over the United States. Just four months after they met, they told their employer that they wanted to join forces in the same truck.
"All of our trucker friends said if we could live on a truck together for six months without going crazy, we could survive anything," recalled Christy Fidura, 34.
Survive they have. They've accomplished major tasks from the cab of a fast-moving truck: Planned a wedding (complete with elaborate, handmade wedding invitations); had an entire house built in Colorado (a haven during those short segments of the year when they're actually off work); grew their family by adopting two dogs (loyal, happy travel companions named Summer and Flash).
They've also managed to see all 50 states, Mexico and Canada together and have plenty of adventures along the way. Christy loves to plan ahead meticulously so they can make quick stops at a Disney theme park, or a circus, or the Indy 500, or Graceland.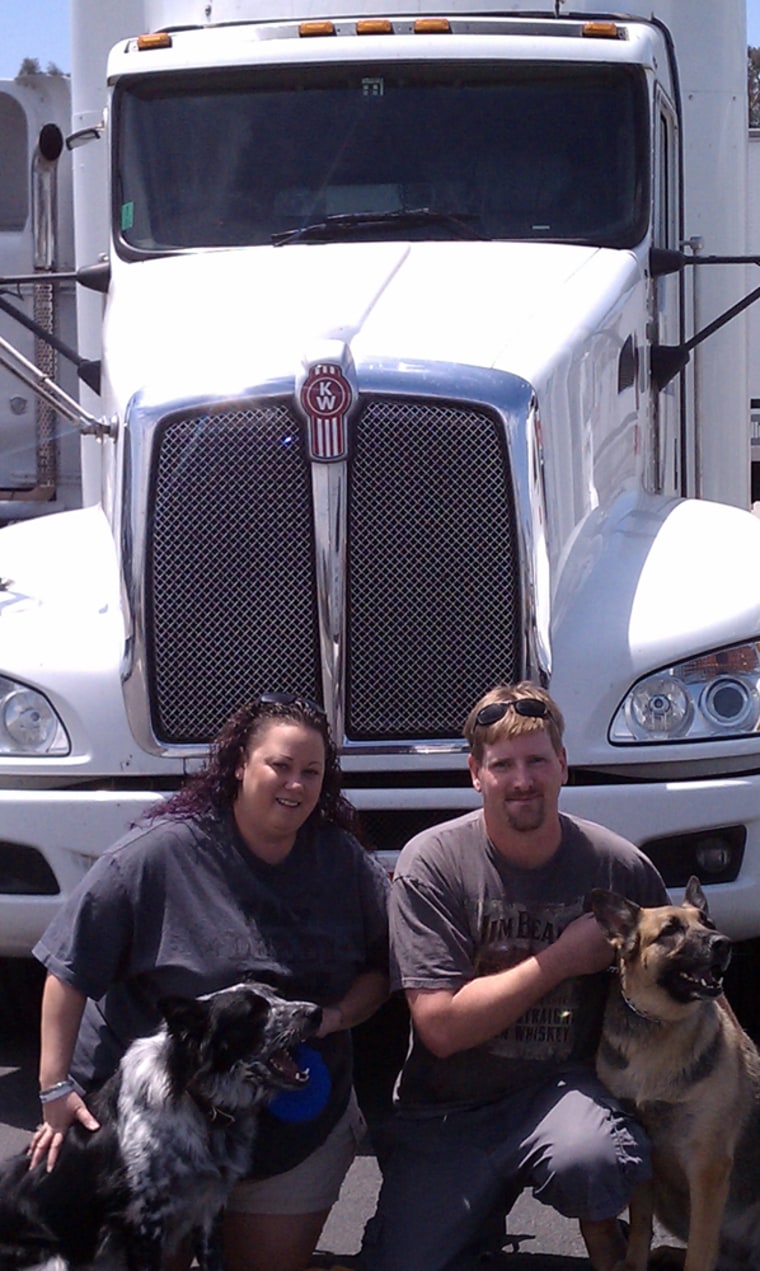 "I was just a workaholic before I started driving with her," Christopher confessed. "She reminds me about all the fun things there are to do out here."
As happy as they are to be work mates and soul mates, both Christy and Christopher readily say their living conditions can strain their marriage. Their often-grueling jobs — hauling sensitive freight for the military — require incredible focus. When one of them sleeps, the other one must drive, and neither activity can be done well with too much disturbance.
"It's strange because you can be so close and still be so far away from each other," Christy said.
"Yeah, we can be like two ships passing in the night," Christopher said. "It's so weird that we're here in this 5-foot-by-5-foot box and sometimes we don't talk. ... And then, you know, when you get tired, or cranky, or lost, or in a traffic jam, you're not always open to criticism!"
John Gottman, a therapist known for his work on marital stability and the author of "The Science of Trust," has done extensive research about the importance of couples' "withdrawal rituals" — that is, the ability to get away from one another at volatile moments. He marvels at couples like the Fiduras who literally can't do that.
"A 20-minute break of any kind — even to just read magazines — it's almost like a brain transplant," Gottman said. "People's heart rates drop. They gain better access to their sense of humor. ...
"Couples who choose this kind of life together have much more social skill. They're much better at coping and at self-soothing."
Taking breaks, chilling out
Edwards and Sturrock, the couple who take epic trips together in their 19-foot camper van, say they've devised "emotional protection" strategies over the years. When people ask them how they can stand living together in such a small space for months at a time, they share a pat and pithy answer: "We don't live in our RV. We only sleep, wash up and cook meals in it — but you should see the size of our living and dining rooms!"
"Seriously, the small space really allows us to live in this much larger space than we normally would — in this case, the whole continent," Edwards said. "It's a tradeoff, but it's worth it. ... We find it a bonding experience. The adventures we have, the people we meet — it gives us memories to talk about, really, when we're back living a more mundane and predictable life at home."
Nevertheless, there are plenty of hurdles to overcome. In a blog post about the emotional challenges of long-term, tight-knit travel as a couple, Edwards shared an abundance of coping tips, from scheduling "separate time" to finding goals to achieve, like maintaining a blog.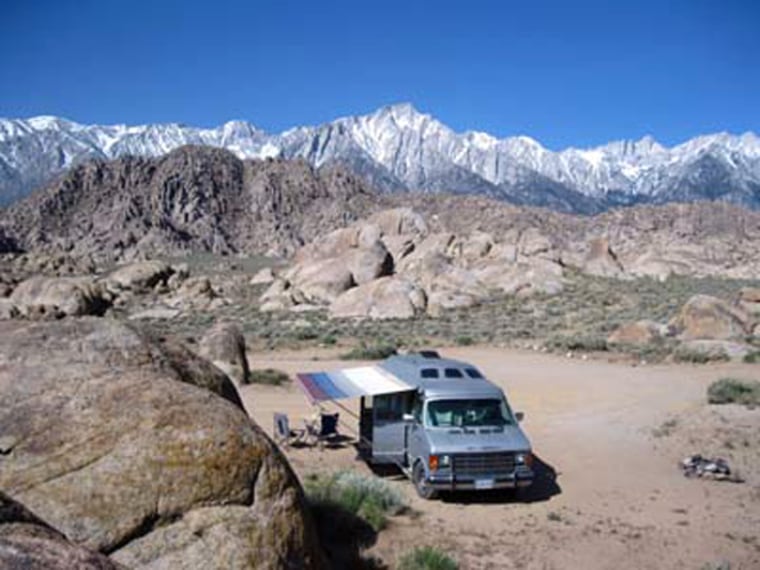 The Fiduras embrace many of these same principles — although, of course, they're not on vacation. They're working. Still, they're grateful that their dogs make them take breaks and get more fresh air than they otherwise would, and they cherish doing "normal" activities together.
"We're doing retirement in reverse," Christy Fidura said. "We're seeing the whole country now. When we do retire, we're going to sit in the driveway and drink beer while everyone else rents motor homes."
Need a Coffey break? Friend TODAY.com writer Laura T. Coffey on , follow her on   or read more of her stories at .