Proposals just keep getting bigger and better, but this one might be our new favorite.
Troy Reddington and Jennifer Storrar hadn't been dating long when they buried a time capsule in the woods near Mikisew Eagle Lake in Ontario, Canada, five years ago. When they went to retrieve it this summer, Storrar was surprised to find something else in its place: a note from Reddington, asking her to marry him.
When she looked up, he was on his knee, diamond ring in hand.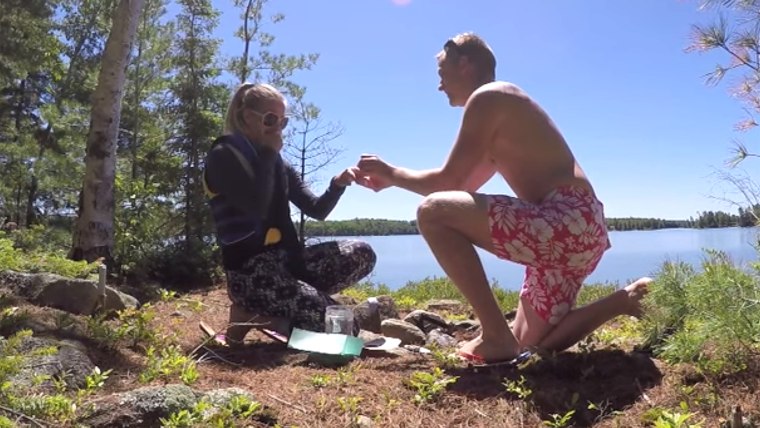 "It was such a priceless moment, seeing her face," Reddington, 25, told TODAY. "She broke down crying. It was just amazing — she almost made me cry. I don't even have words to say how amazing it was."
RELATED: Man films 1 clip a day for a year in epic video proposal
The romantic proposal took some planning, of course. And not everything went as originally planned.
Reddington had sneaked out to find their old time capsule in the woods (his original plan was to put the proposal note in it), but he couldn't find it. So he made a new capsule the same way they had made the original one — from a cleaned-out peanut butter jar wrapped in duct tape — and buried it in the same area.
The first jar had contained notes about what they wanted from their future, a list of songs they had been listening to, and even a BlackBerry as a reminder of what type of phone they were using at the time.
But the new capsule had only the letter, Reddington said. So when Storrar found it, she was confused.
RELATED: Will you marry my daddy? Mom-to-be gets surprise proposal during maternity shoot
"I was like, someone took our time capsule and emptied it out!" Storrar, 24, told TODAY. "Then I realized there was an envelope in there with a wax stamp, and I saw the hearts and I thought, oh, he did something!"
Storrar had no idea Reddington had been planning to pop the question, even though they had been filming their trip for a video (Reddington told her he wanted to test a GoPro he'd recently purchased).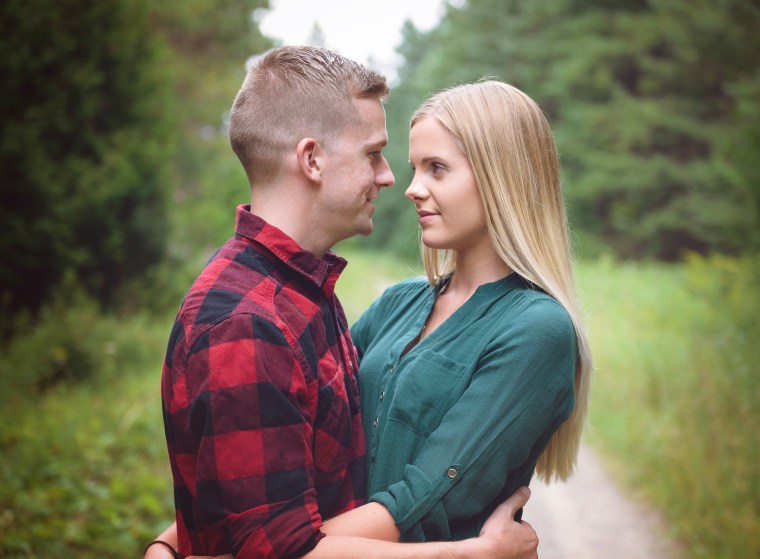 "I thought we were just playing around with the new camera!" Storrar said.
A video of their engagement posted on YouTube has gone viral. The clip shows the couple driving to the lake and then kayaking to the spot in the woods where they find the replacement time capsule and Reddington proposes.
RELATED: '1 second every day' video culminates in insanely cute proposal
The couple, from Caledon, a town in the greater Toronto area, aren't in a rush to tie the knot. They want to buy a house first, and plan on setting a date two or three years from now.
They also still have to find the original time capsule, which includes another romantic note from Reddington, and a telling prediction of the future.
"I'd written that I wanted to be married to her in five years," he said. "So it worked out!"