Kathy and Brandon Gunn of Northville, Michigan, were stumped on finding the perfect gift for a friend getting married this past May.
But when they thought back to their favorite items from their own registry, the one they couldn't get out of their heads was one they hadn't asked for — and actually hadn't opened yet.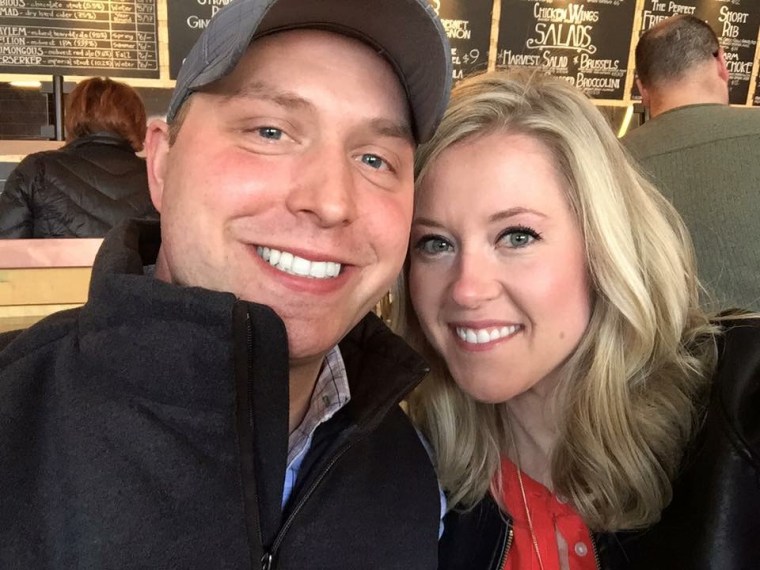 Kathy Gunn's great-aunt Alison, a "surrogate grandmother" figure to whom Gunn is quite close, had presented them with a mysterious box marked "Do not open until first disagreement."
RELATED: How to find lifetime love: 10 secrets from couples married for decades
Since Alison and her husband, Bill, had been married nearly half a century until he passed away in 2004, the Gunns assumed the box held some sort of profound secret — perhaps a heartfelt letter about struggles the older couple had faced and how they had overcome. "We didn't want to ruin the importance of taking that in by opening it after a silly fight," Kathy Gunn told TODAY.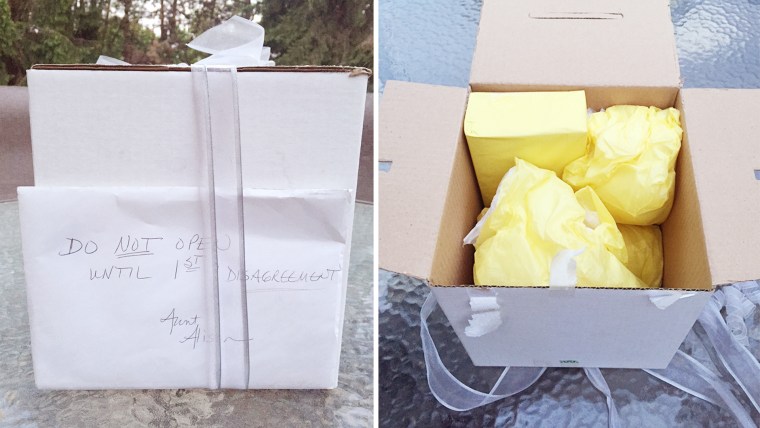 Nine years into their marriage, the Gunns had long passed their first disagreement — but the box remained wrapped in the closet.
"When you first get married, there are growing pains: learning how to live with someone else, finding out their crazy quirks," Gunn explained. "The issues change depending on how long you've been married and what's gong on in your life … first you fight about about picking up clothes off the floor, then later you fight about not getting sleep because of colicky babies."
She continued, "Problems evolve over time. When we would think about the box, we would keep that in mind. We'd say, 'We think this is a mountain, but maybe it's a molehill. Maybe we don't need it yet.'"
Fast forward to that May 2016 brainstorming session. "We were talking about the gifts we had cherished … I looked at my husband and said, 'We still have that box,'" recalled Gunn. "He said, 'If we've made it this far, I don't think we need the box to save us.'"
They decided to open it ... and burst out laughing when they saw what was inside.
Wine glasses, candles, and money for flowers and pizza. (Time-tested tricks, to be sure.)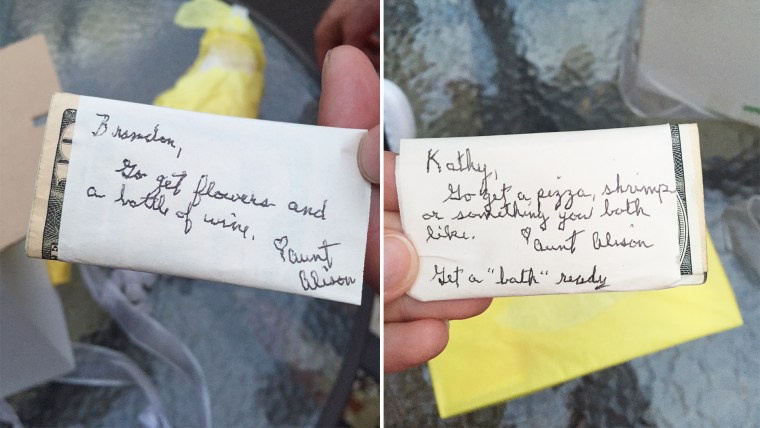 But over those nine years, the box had come to mean much more: Its very existence helped the Gunns keep their perspective and work through issues that could have otherwise broken them. "It really forced us, every time we had a disagreement, to think about the bigger picture and ask, 'Is it really that big of a deal?'" said Gunn.
Related: Bride and groom ask guests to commit random acts of kindness as wedding gifts
She felt compelled to write about the box and published a personal essay to the Love What Matters Facebook page. "It was kind of a way to thank aunt Alison for helping us out the last nine years," she explained
It turns out the great-aunt wasn't the only one touched by Gunn's words. The essay went viral, and Alison actually heard about it through friends before Gunn got a chance to send it. "She was flabbergasted!" said Gunn. "And tickled. She thinks that it's the funniest and the cutest thing, because she can't believe we even hung onto it for that long."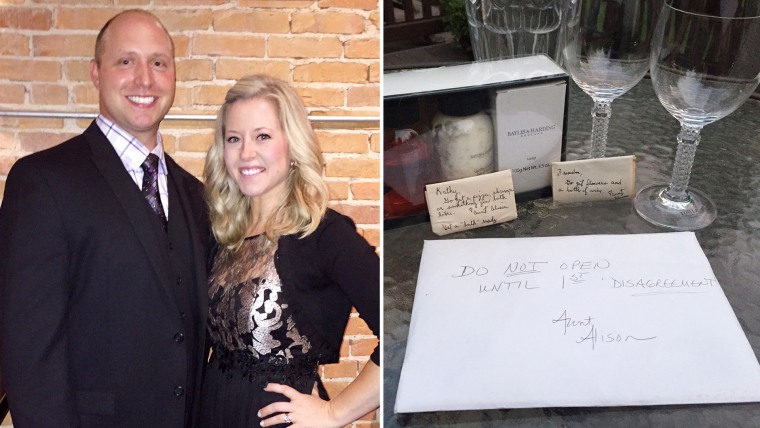 Gunn is thrilled her message has hit its mark. "I hope it will inspire people to reassess their situations and think about their love — why they got married in the first place," she said.
And of course, never underestimate the power of wine and pizza.