That's it, you can close up shop now on all of those amazing viral wedding videos. We have now reached peak wedding video, and everybody can go home.
Blame — or thank — Robert and Teresa, who enlisted their 250 wedding guests in creating a music video at their recent reception and got it all done in a single take!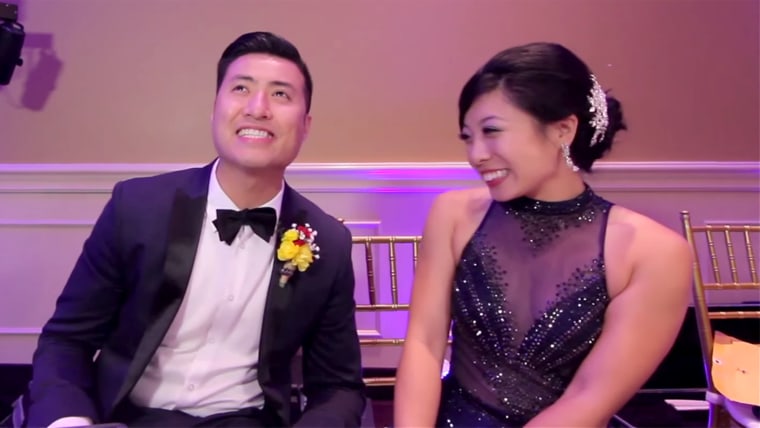 "If you know Robert & Teresa, it should be no surprise that this superhero-themed wedding turned into an epic mashup of all kinds of crazy," the description section attached to the YouTube video, which went up Sunday, explained. Additionally, the notes continued, "guests were briefed for a quick 10 minutes and put into position before the cameras started rolling."
MORE: Pro dancer surprises bride with epic wedding dance
Some highlights? The complete abandon with which both Robert and Teresa launch into the first tune, "Frozen's" "Love Is An Open Door." Suddenly, you're in the middle of a musical as the pair wind their way into the crowd and segue Sir Mix-A-Lot singing on Nicki Minaj's "Anaconda" with the crowd shaking their rumps all around.
MORE: Sing it! Sisters belt out best wedding toast ever
Naturally, they have to get Taylor Swift to tell them to "Shake it Off" before assembling in front of the group (many holding large plates) to the tune of Silentò's "Watch Me (Whip/Nae Nae)." A man with a guitar backs up Raymond as he croons Maroon 5's "Sugar" to Teresa and ... well, you'll just have to watch the whole video to see the ongoing choreographed craziness.
And be sure to stick around for the very romantic ending, in which the happy couple end up as they should: Crashed out, exhausted but happy, on the floor.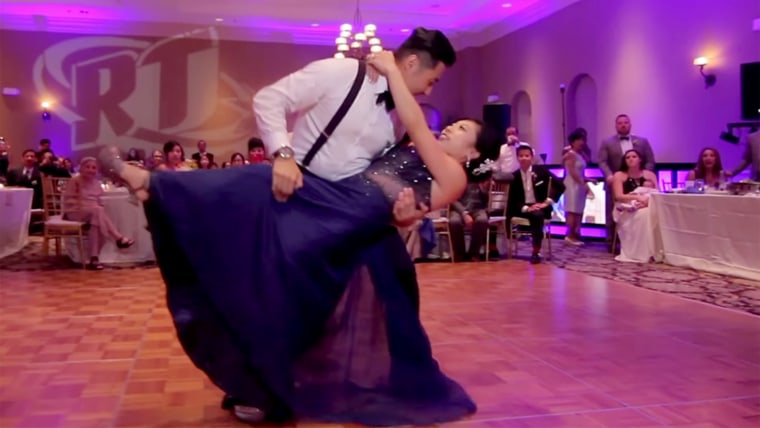 Ready? Sit back and enjoy the nearly eight minutes of amateur lip-sync amazingness and remember: You almost certainly can't do better than this.